Marseille is a city in the southeast of France, in the center of the province of Bouches-du-Rhône and in the Provence-Alpes-Côte d'Azur région. This is the second largest city in France with the largest commercial port in the Mediterranean. Marseille is a little European, a little Arabic and a little African being a cultural exchange hotspot. Marseille, the oldest and largest port city in France, exhibits the Mediterranean culture. Blending different cultures that have settled in the city throughout history, Marseille offers a hectic and fun environment as well as a constant crowd and chaos.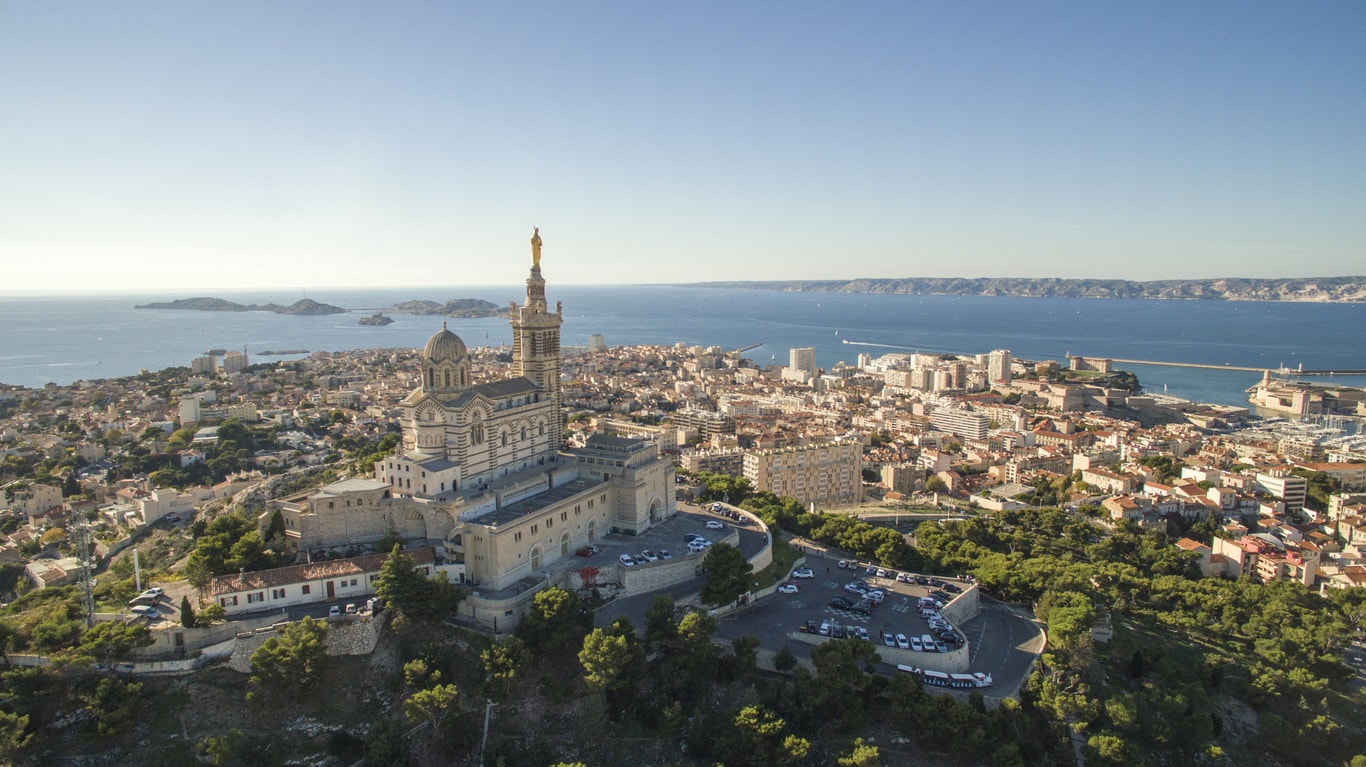 The city, especially inhabited by African and Moorish migrants, is considered to be the capital of French rap music. Therefore, although it is seen as a North African city by many people, it is important to remember that it is an important French city that gives its name to the French national anthem La Marseillaise. 
General Information
| | |
| --- | --- |
| Country | France |
| Region | Alpes-Côte d'Azur |
| Area | 240 km2 |
| Language | French |
| Average Temperature | 7 C (coldest) – 24 C (hottest) |
| Climate | Mediterranean |
| Flora | Mediterranean |
| GMT Difference | +1 |
| Phone Code | +33 – 4 |
| Currency | Euro |
| Plug Type | C |

How to Get to Marseille?
You can go to Marseille by plane with flights from Istanbul every day. If you want to go to France with Pegasus, one of the airports you can prefer is Marseille Provence (MRS) Airport. With Pegasus, you can fly to Marseille every day from Istanbul Sabiha Gokcen Airport. You can reach Marseille within 3 and a half hours. Marseille Flight Ticket is one click away.
Transportation from Marseille Airport to the City Center
The distance from the airport to the city center is 24 km. The cheapest and easiest way to get to Marseille city center from the airport is by bus. Buses move every 15 minutes. It takes 25 minutes to get to Marseille Station from the airport. You can read "Navette Aeroport-Gare St Charles" on the buses.. Once you reach the station, you can go to any point in the city by subway or bus.
Public Transport in Marseille
Since Marseille is not a very big city, there are no complex rail systems. Passengers can reach their destinations by subway services on two lines and tram services on three lines. In addition, buses with 30 lines serve passengers. You can buy single or 10 tickets during city transportation. You can learn any information you need from the website of Regie des Transports Metropolitans. In addition, with City Pass Marseille, you get access to unlimited transport as well as many museums and events.
Best Time to Visit Marseille

Marseille has a Mediterranean climate. Winter is mild and humid; summer is hot and largely dry. December, January, and February are the coldest months in the city. The temperature is around 12 degrees during the day and 4 degrees at night. July and August are the hottest months. During this period, the average temperatures during the day 28 to 30; the night is around 19 degrees. Marseille is the most sun-exposed area in France. France's average sun time is 1,950, while in Marseille this number is 2,900. It is also the driest city in France with an average annual rainfall of 512 millimeters.
Even if you need more time to truly experience all the beauty of Marseille, it is recommended that you stay for at least three days. Three days will be enough to savor this unique Mediterranean port city, visit nearby villages and natural beauties and spend time at sea.
Festivals in Marseille
Marseille can be visited at any time of the year. The energy of the city attracts visitors from all over the world. The Open 13 Marseille Tennis Tournament in February each year or the Fiesta des Suds music event in October each year are just some of the most famous in Marseille. Naturally, if you want to enjoy the beaches of Marseille, you should prefer the summer months. Summer is the most visited season of Marseille.
The prominent festivals in Marseille are as follows: 
Marsatac Electronic Music Festival (September)

La Fiesta des Suds Music Festival (October)

Le Festival de Marseille Dance and Theater Festivals (June-July)

Festival International du Documentaire (July)
Places to Visit in Marseille 
Notre Dame de la Garde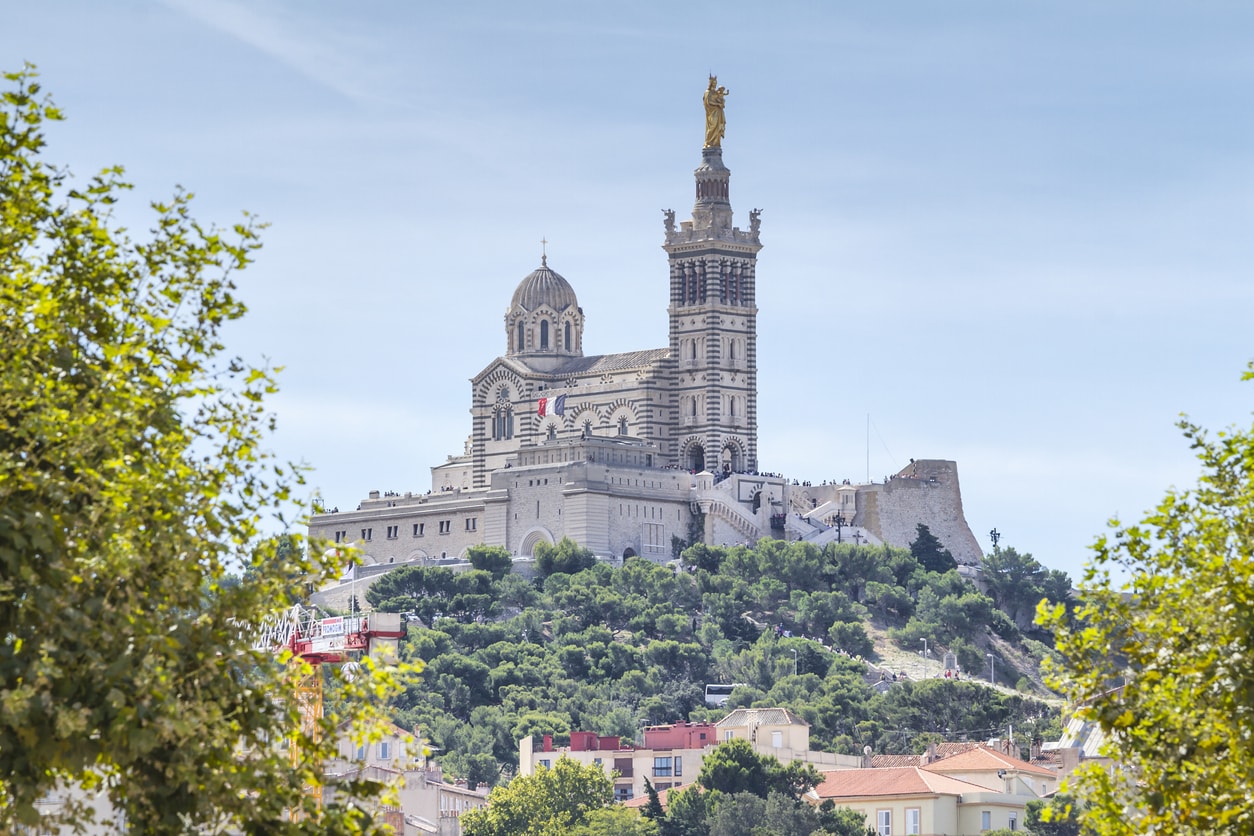 You can reach Marseille and pass under the famous mirror in the Vieux Port, and after a pleasant coastal walk along the Old Port, you can turn your route to the Basilica, which is built on the city's highest hill, Le Garde. Notre Dame de la Garde, which can be reached by open-top nostalgic trains or buses in about 20-25 minutes, will fascinate you with its magnificent structure designed with Neo Byzantine Architecture as well as its viewing pleasure. You can witness the history and culture of the Mediterranean geography from the past to the present in the Museum of European and Mediterranean Civilizations (MuCEM), which is built on 40 thousand square meters, next to Saint Jean Castle, right after the Basilica where you can watch the city from all its lines. In addition, Chateau d'lf Castle, Saint Jean and Saint Nicolas castles, where the Count of Monte Kristo is mentioned, are on our list.
Historic Streets
Like Paris, Marseille is one of the shopping paradises of the country. Because Rue de Roma, Rue Paradis, La Canebiere, Rue de la Tour, as well as the wide streets that host a wide range of domestic and foreign brands, home-made soaps, olive oil, lavender pouches, spices, antique shops, small colored chocolate shops to whet your appetite Rue de St Ferreol , Rue Edmond Rostand side streets will offer you more than you expect. 
Calanques
If you come to Marseille in the summer, you can go to Calanques, 20 minutes away from the city, to enjoy the sea and the sun, and immerse yourself in the turquoise waters at Casis, which is half an hour away. 
The Vieux Port
Although Marseille has a very old history, World War II has caused much damage to the city. The colorful houses you see especially in the Vieux Port have been rebuilt in accordance with the original after the war. After wandering around this area and seeing the fish market, you can turn your way into the neighborhood of Le Panier. The neighborhood to the north of the harbor is one of the most affected by the bombardment. You should definitely see La Vieille Charité in this region. It is an old nursing home and one of the few buildings that survived World War II with relatively little damage.   
Where to Stay in Marseille?
Marseille Old Port (Vieux-Port) is the most prominent area for accommodation. The port area has become the most popular area of Marseille today. Its proximity to the city center and historical attractions, cafes, and restaurants make Vieux-Port popular.
The second most recommended accommodation in the city is La Corniche. The 5 kilometers of waterfront offers holidaymakers a spectacular view of the Mediterranean Sea and a famous beach (Prado) where they can swim. The only disadvantage of the area is that it is relatively far from the city center.
What to Eat in Marseille?
The first answer to the question of what to eat in Marseille is undoubtedly a delicious soup called Bouillabaisse. Bouillabaisse is usually an expensive meal and is mainly served for 2 people. Even wine or pastis liqueur is added. In addition to this, it has a boat-like cookie called Navette, Aioli sauce added to many dishes, Pastis liqueur which tastes very similar to raki, Bourride, a kind of fish stew, is a kind of watery dish made of tripe and trotters. Pieds et paquets à la Marseillaise and Banon cheese are also the city's leading food and beverages. 
There are many good quality and affordable restaurants in the city where you can eat these dishes. Perhaps this is one of the most beautiful part of the city. You can reach both luxury and expensive restaurants as well as quality but very affordable restaurants. Marseille, which we know mainly with rosé wines, is also famous for its local beers.
Bouillabaisse: Chez Michel

Navette: Four des Navettes

Bourride: Chez Fonfon

Pastis: Le Maison du Pastis
Shopping in Marseille: The Best Souvenirs to Buy
As the second largest and most cosmopolitan city in France, shopping in Marseille is very rich. However, Marseille never has the variety to compete with the luxury boutiques of Paris. The city's shopping district is Rue Saint Ferreol and its surroundings, a few hundred meters from the Vieux Port.
Stores in Marseille are usually open from Monday to Saturday from 10:00 to 19:00. Smaller shops and boutiques can close for lunch at noon. Les Docks, Les Terrases du Port and Les Halles de la Major shopping centers are open on Sundays.
The most famous items from Marseille are Savon de Marseille (Soap of Marseille), Santon (tiny hand-made figurines made of clay), lavender products and cicada figurines.
Nightlife in Marseille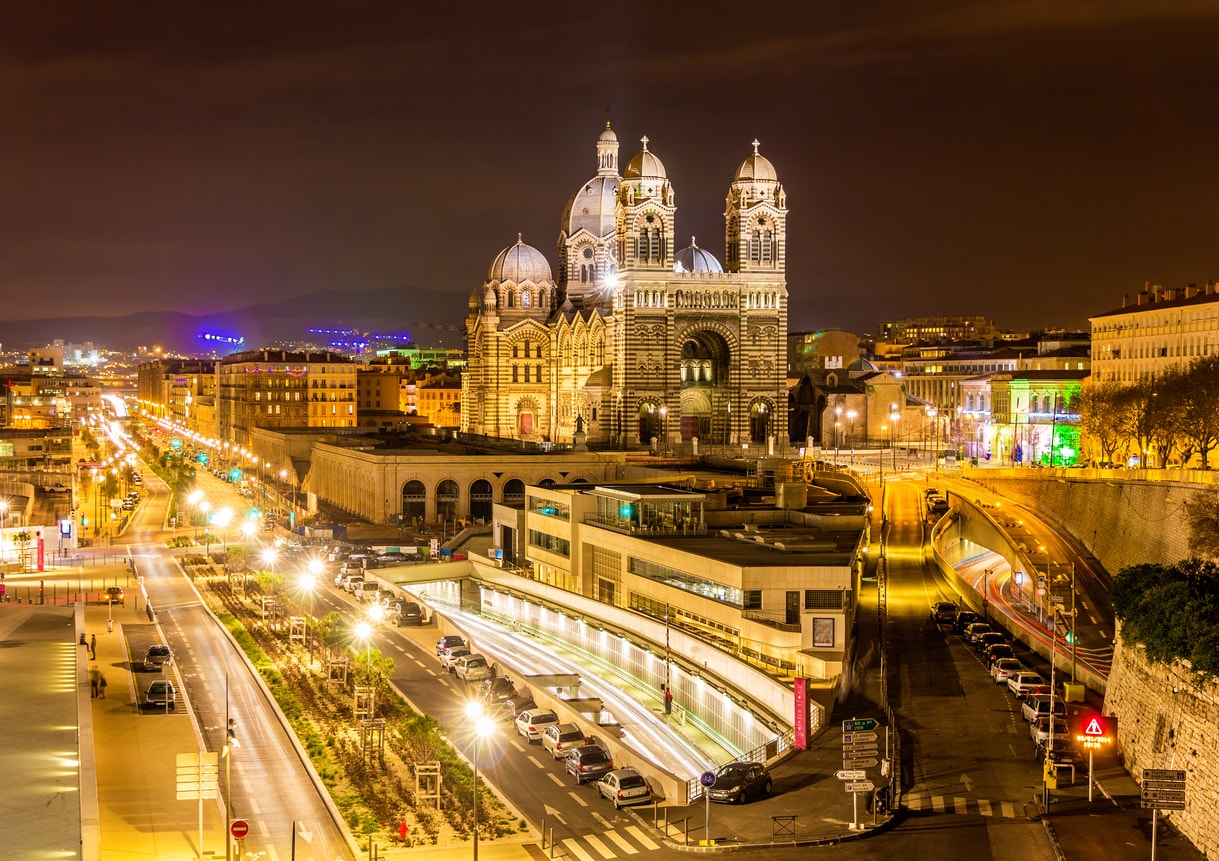 The nightlife in Marseille is also quite active. In fact, the places you can go about Marseille nightlife is entirely determined by your personal taste and budget. There are places for every budget and taste in the city. But especially if you are looking for an alternative and crazy entertainment environment, the Cours Julien District is the ideal place for this. Other than that, there are plenty of night clubs that are luxurious and at a certain level.
Things to Know Before Visiting Marseille
In France, the bills include a service charge. Marseille is no exception in this regard. If you are especially pleased with the service, you can leave a tip. However, it is neither expected nor obligatory.
Essential Phone Numbers to Know
Country Code: +33
City Code: 4
Airport: +33 820 81 14 14
Police: 112
Medical Emergency: 112