Sofia, the capital and largest city of Bulgaria, is located in the most important commercial and cultural center of the country. Sofia is located in the west of Bulgaria and has a rich historical past with its 1300-year history. The city, which bears traces of both Ottoman and Russian culture, promises a pleasant sightseeing experience with its historical buildings, museums and cathedrals.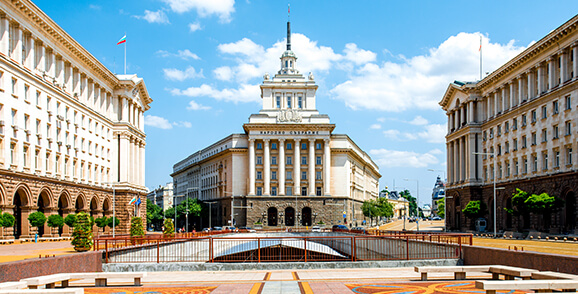 Sofia is a city that attracts attention with its historical monuments reflecting the deep-rooted history, pristine lush nature and cultural accumulations. The city makes you feel the Neo-Baroque and Neo-Renaissance influence with its unique architecture and fascinating architectural structures. It is possible to encounter impressive historical buildings in Sofia, which gives a completely different atmosphere on each of its streets.
General Information About Sofia
| | |
| --- | --- |
| Country: | Bulgaria |
| Region: | Southeast Europe |
| Area: | 492 km² |
| Language: | Bulgarian |
| Average temperature: | 14 °C |
| Climate: | Temperate continental climate |
| Vegetation: | Steppe, forest |
| The difference between GMT: | GMT +2 |
| Telephone Code: | +359 / 2 |
| Currency: | Bulgarian lev (BGN) |
| Socket Type: | Type C, F |
Location of Sofia
Sofia is the capital of Bulgaria, located in the Southeast European region. The city, located in the western part of Bulgaria, is located on the Sofia Basin. Sredna Gora Mountains surround the north of the city, Sredna Gora Mountains are located in the southeast, and Vitosha Mountain is located in the southwest.
Best Time to Visit Sofia
The winter months are cold and snowy in Sofia, where a mild continental climate prevails. Between the months of May - August is the most ideal period for visiting the city in this direction, when the rains decrease and the weather warms up.
Sofia, which has a rich historical accumulation, promises a pleasant holiday experience, especially in terms of cultural tourism, with its historical beauties, lush nature and lively social life. You can explore the historical and cultural texture and natural beauties of the city, which amazes itself with its interesting architecture, with a 3-day trip.
Festivals in Sofia
Sofia, which has many different cultures from the past to the present, hosts many interesting and entertaining festivals. So by planning your travel according to the festival dates, you can both get the opportunity to get to know the local culture closely and have a pleasant time in the colorful and enthusiastic atmosphere of the festivals.
Sofia International Film Festival (March)
Bulgaria Salsa Festival (March)
Sofia Jazz Festival (April)
Sofia Music Weeks (May)
Sofia International Folklore Festival (July)
Water Tower Art Fest (July)
How to Get to Sofia?
Airline is the fastest and most comfortable option for transportation to Sofia, the largest and most colorful city in Bulgaria. You can reach Sofia by direct flights organized by Pegasus Airlines from Antalya Airport (AYT). Also you can prefer connecting flights in Antalya to get to Sofia from different destinations. The landing point of the flights organized by Pegasus Airlines from Antalya International Airport (AYT) to Sofia is Sofia Airport (SOF).
You can buy your cheap Sofia flight ticket immediately by following Pegasus Airlines' campaigns.
Transportation in Sofia
Transportation from Sofia International Airport to City Center
Sofia Airport, which is approximately 10 kilometers from Sofia city center, is located in an easily accessible destination. Transportation from the airport to the city center is provided by buses, metro and taxis. Buses departing on the route of two bus lines (84 and 384) serve between 05.00 and 23.00 every day. In addition, you can go to many points of the city quickly and comfortably with the M1 metro line departing from the airport. You can also reach the city by taking a taxi from the stops at the airport terminal exit.
You can visit the Pegasus car rental page to travel around Sofia more freely and comfortably. You can choose the most suitable vehicle for your travel dates and pick it up at the airport.
Public Transport in Sofia
There are bus, metro and taxi options for public transportation in Sofia. Buses and subways provide transportation to every part of the city. With bus tickets arranged for single or multiple use, it is possible to reach your destination economically. In addition, you can quickly go to any point of the city with the metro, which consists of 4 lines and serves 43 stations. In addition, you can make your travel more comfortable by taxis or taking advantage of the car rental service.
Places to Visit in Sofia
Sofia, which attracts attention with its historical buildings and impressive architecture, is an attraction for domestic and foreign tourists. The must-see places in Sofia can be listed as follows:
Alexander Nevsky Cathedral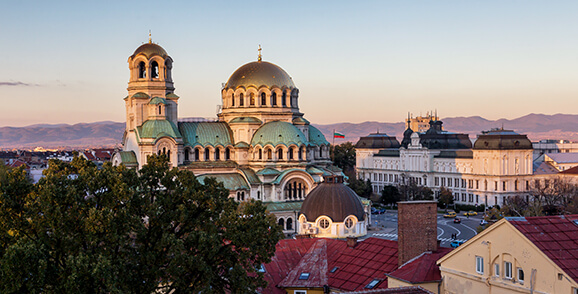 Alexander Nevsky Cathedral, one of the most important landmarks of the city, is one of the most visited places by tourists. The building, which amazes with its impressive appearance reflecting Neo-Byzantine architecture, is known as one of the largest Orthodox churches. You can visit this building, which serves as an Orthodox church, between 07:00 and 17:00.
National Art Gallery
The most important works of art of Bulgaria are exhibited in the National Art Gallery. The gallery contains more than 30 thousand works of art and is divided into three main exhibitions of high quality paintings, graphics and sculptures. It is also possible to see the paintings of all the great artists of the past in the gallery, which includes paintings from the 19th and 20th centuries.
Boyana Church
Boyana Church, which is on the UNESCO World Heritage list, is one of the most valuable structures of the city. The church, which is an Orthodox church built in the medieval period and mostly preserved in its original form, is one of the places you should definitely see, especially with the frescoes on the walls.
Borisova Gradina Park
One of the oldest known parks in Sofia, Borisova Gradina resembles a flower garden. Countless sculptures accompany the visual feast. In this park, which has a unique size, there are also cafes and restaurants, as well as playgrounds for children. You can also take a walk in a peaceful atmosphere in the walking area of the park.
Sofia Zoo
Founded in 1888 by Prince Ferdinand and the largest and oldest zoo in the Balkan peninsula, Sofia Zoo is home to many different kinds of animals. If you are interested in animals and want to see different species up close, you can have fun at Sofia Zoo. The zoo, wich has a very large area, has a wide range of playgrounds for children as well as cafes.
Archeological Museum
The Archeology Museum, located in the city center, is important as one of the structures that reveal the history of Sofia. In the museum, you can examine the artifacts and ruins of the Roman Empire, the Thracian Empire and the Ancient Greek period.
The National Museum of Natural History
The building, which has the title of the oldest museum in Bulgaria, was built in 1889. The reason why it is very important is that it has the title of the oldest museum in the country. In the museum, you can see insect, bird and animal remains as well as mineral samples and rocks.
Where to Stay in Sofia?
Sofia offers its visitors a wide choice of rental houses, hostels, luxury and medium-sized hotels. Alexander Dondukov Boulevard, Todor Alexsander Boulevard and Vitosha Boulevard are areas where luxury and comfortable accommodation options are concentrated. These centrally located regions are the choice of those who want to easily reach historical and touristic structures and nightlife entertainment.
If you want to stay in a quieter area during your trip to Sofia, you can choose boutique hotels and hostels. At these hotels, which attract attention with their impressive architecture, you can both feel the historical texture of the city and explore its natural wonders.
You can review all accommodation alternatives in Sofia and book your hotel at cheap prices with Pegasus Airlines.
What to Eat in Sofia?
Sofia has a very rich culinary culture with traces of Middle Eastern and Turkish cuisine. Sofia cuisine offers delicious regional dishes of European and Balkan cuisine, and you can also find tastes that reflect the Ottoman and Turkish taste flavors.
Meat is consumed a lot in Sofia. One of the most popular delicacies of the city is a kind of grilled meat dish called Meshana Skra. Bulgarian kebab made by mixing roasted and meatballs and Pleven Chicken made by adding barley vermicelli to chicken are among the other delicacies you should definitely try. Tikvenik, a type of pastry, bob chorba, tarator and shopska salad are other famous local delicacies you can taste in Sofia. The most popular desserts of the city are Funuyki and baklava.
Other tastes reflecting the Sofia food culture can be listed as follows:
Pritnisa
Kebapche
Moussakka
Banitsa
Shkembe Chorba
Shopping in Sofia: The Best Souvenirs to Buy
Sofia has a large number of shopping centers, shopping streets and boutique shops. You can find famous brands that you are looking for in shopping centers. The center of shopping in the city is Vitosha Boulevard. You can buy both souvenirs and local products in the many bazaars and shops located on this boulevard. In addition, you can find almost everything you are looking for about the local delicacies of the city in the Central Sofia Market Hall.
When it comes to souvenirs in Sofia, the first thing that comes to mind is colorful handmade dolls. In addition, trinkets that attract attention with their different designs and colors and paintings reflecting handicrafts are among the souvenir options that you can evaluate. You can also choose various handmade jewelry and accessories.
You can find woven rugs in the Chiprosvsky district of the city, where the culture of rug weaving from the Ottoman era still continues. If you are interested in antique products, you can visit the Antique Market in Alexander Nevsky Square. On the other hand, you can buy Bulgarian wine, chocolate, fruit drinks, cheese and breakfast products unique to the city from Tsentralni Hali.
Nightlife in Sofia
Nightlife in Sofia is quite lively and vibrant. Night entertainment in nightclubs and bars, mostly located on Studentski Street and Hristo Belchev Street, continues until the first lights of the morning. Large and fun parties with different concepts are held every evening in nightclubs with an impressive atmosphere with flashy light and sound systems. Many different types of music are played in the clubs, from traditional Bulgarian music to jazz, rock, punk, reggae, electronic and pop. In addition, it is possible to have a pleasant time on the verge of live music in cafes concentrated in the city center.
Things to Know Before Visiting Sofia
You can encounter very cold weather in Sofia during the winter months. Therefore, if you are going to visit the city in winter, do not forget to dress appropriately for the weather conditions.
You may encounter price differences in local markets. So, it may be useful to bargain while shopping in local markets.
If you are going to prefer a taxi for transportation, it is useful to take care to choose the taxis of large companies.
Essential Phone Numbers to Know
Country Code: +359
City Code: 2
Sofia International Airport: +359 2 937 2211
Emergency: 112