Düsseldorf is one of the most prominent cities of Western Germany and the capital of the North Rhine-Westphalia region with a population of more than 600.000 people. The city is also an important international business, finance, art and culture center of Europe. Historically, Düsseldorf was founded as a well-fortified outpost in the 12th century and continued to grow until World War II. After its almost complete destruction, the city was rebuilt in accordance with its historical roots.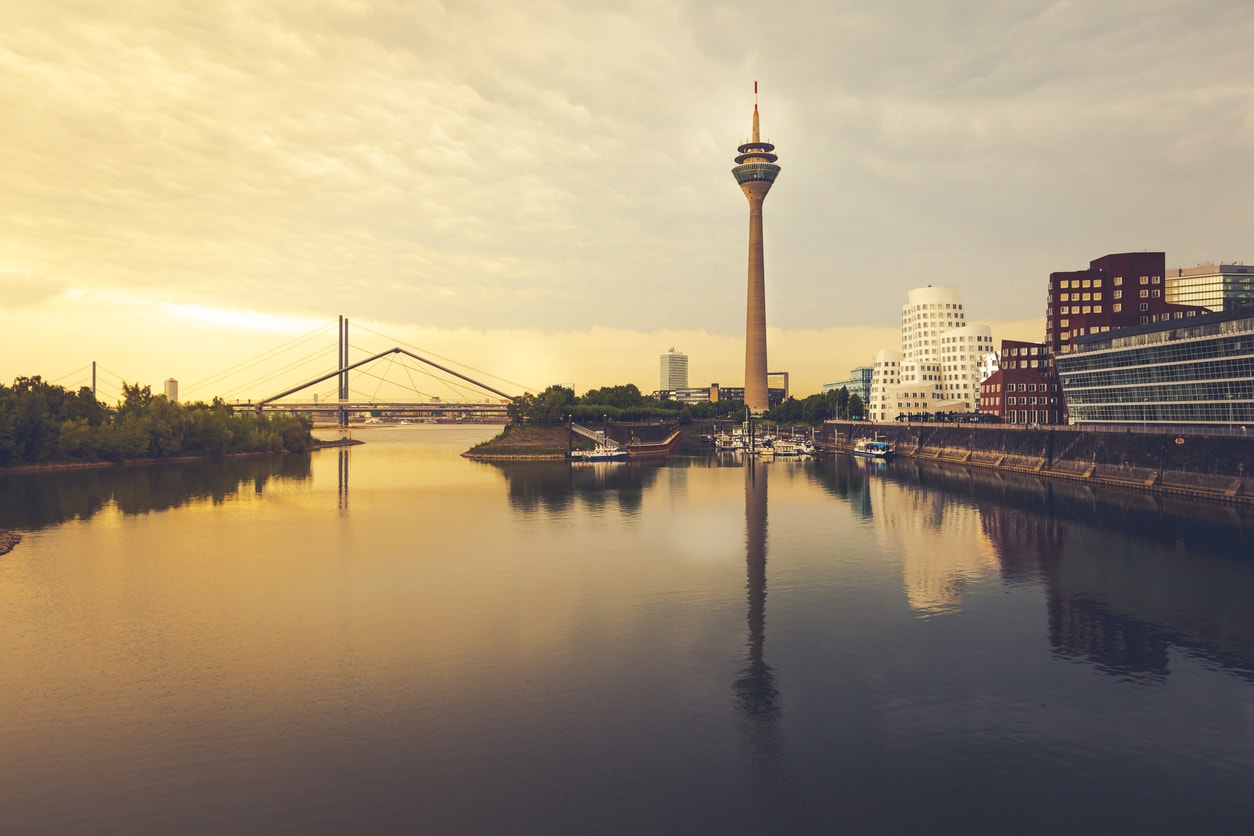 General Information About Düsseldorf
| | |
| --- | --- |
| Country: | Germany |
| Region: | Western Germany |
| Area: | 217.4 km2 |
| Language: | German |
| Average temperature: | 10.2 °C |
| Climate: | Humid Continental Climate |
| Vegetation: | Birch and Beech Trees |
| The difference between GMT: | GMT+2 |
| Telephone Code: | +49 |
| Currency: | Euro |
| Socket Type: | Type C |

How to Get to Düsseldorf?
Düsseldorf is one of the most popular destinations of Germany and Pegasus Airlines offers direct flights to Düsseldorf from İstanbul. The flight duration to Düsseldorf from İstanbul is 3 hour and 15 minutes. You can buy your direct flight tickets to Düsseldorf from İstanbul from here.
Transportation from Düsseldorf International Airport to City Center
Düsseldorf International Airport is located 8 kilometers away from the city center. You can get to the city center with public bus, train, taxi, and car.
Public bus lines 760, 721, SB51, 896, 776 are available in front of the main arrivals hall and can get you the different parts of Düsseldorf. You can click here for more information.
There are two railway stations in Düsseldorf International Airport. One is called "SkyTrain" and it is an intra-airport service. It is available between 03:45 and 00:45 with 3 to 7 minute intervals. You need to use SkyTrain and hop off in Terminal C to take S11 train line. S11 will take you to the main railway station in central Düsseldorf. Tickets are sold in automatic vending machines at the airport. 
There are also many taxis available in the airport 24/7. The trip to the city center from the airport approximately costs 30 Euros (2019).
You can also enjoy the city with a rental car, with the best offers from Pegasus Airlines car rental service.
Public Transport in Düsseldorf
You can use metro, trams, public buses and taxis to get around in the city. The city offers special tourist cards with varied prices and durations.
Düsseldorf has an extensive public transport network with seven metro lines, eleven tram lines and more than 90 public bus lines. You can check their timetables and routes from here. The site is available in English.
You can also use taxis to get around in the city. They cost 2.20 euros per kilometer with an initial cost of 4.50 euros (2019).
Best Time to Visit Düsseldorf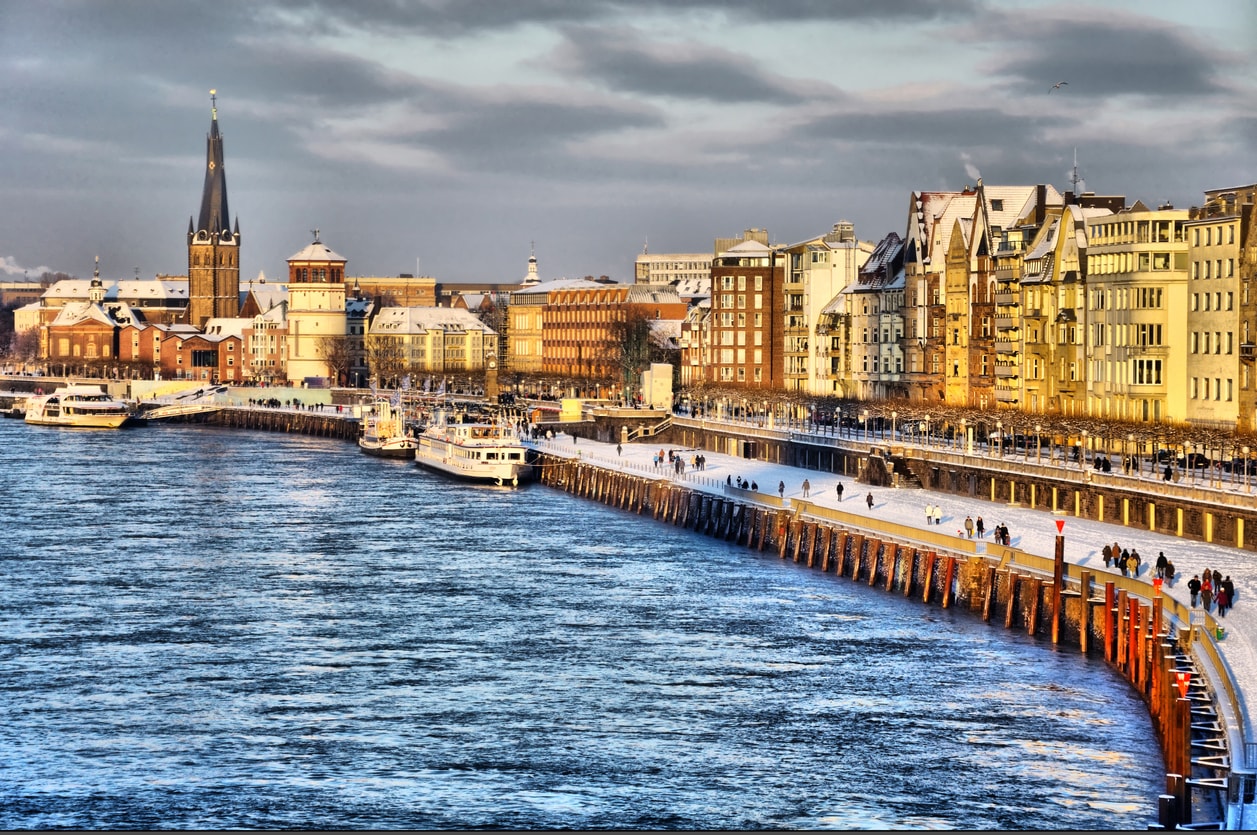 Düsseldorf has a humid continental climate with a high chance of rain throughout the year. The hottest month is July and the coldest month is February. We suggest you to visit Düsseldorf during summer or early spring since the chance of rain is lower and the weather is more welcoming. It is recommended for you to enjoy Düsseldorf two or three days.
Festivals in Düsseldorf
International Boat Show (January)

Japan Day with Japanese Fireworks (May)

Düsseldorfer Jazz-Rally (June)

Lichterfest (July)

Open Air Cinema (July-August)

Düsseldorfer France Festival (July)
Places to Visit in Düsseldorf
Düsseldorf is one of the most important cities in the Western Europe. The city attracts more than three million tourists annually thanks to its economic development, art and culture scene, and historical landmarks.
Old Town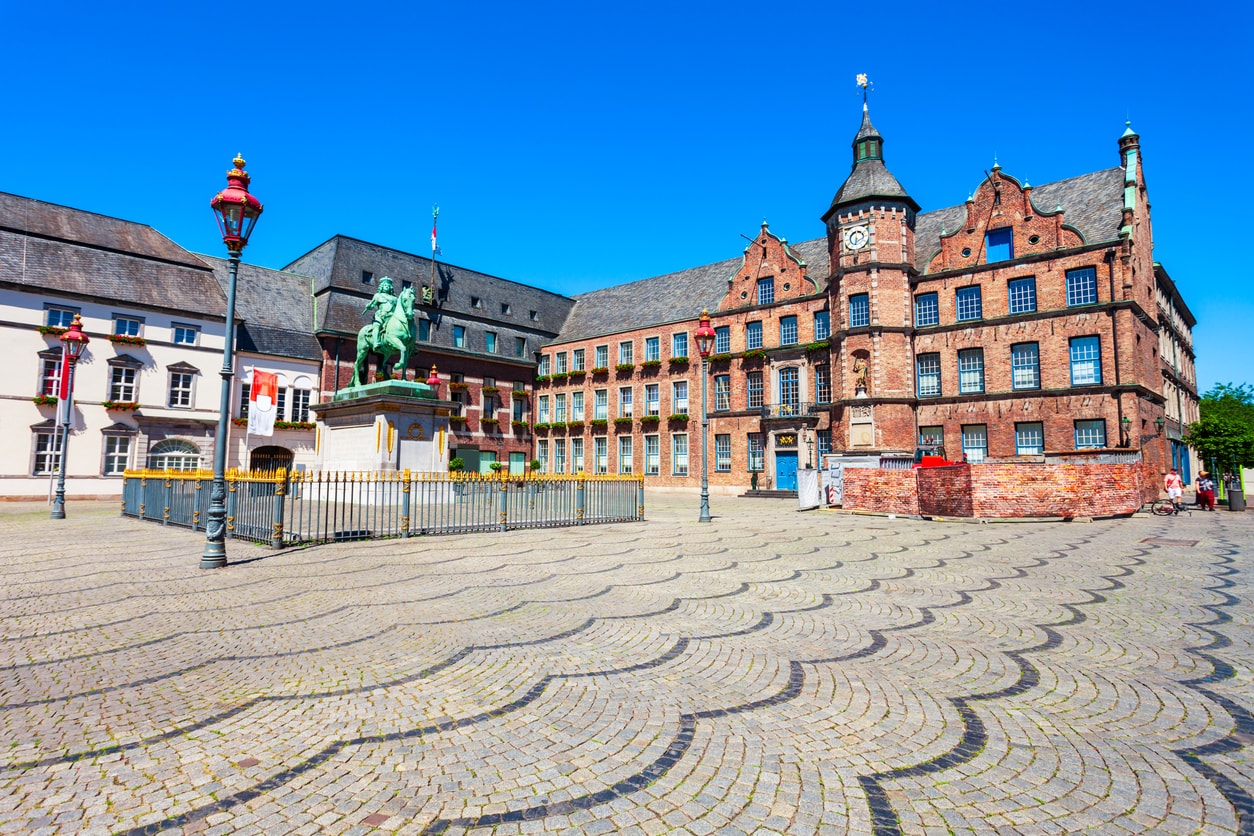 Old Town (Altstadt) is the historical center of the city and is swarming with historical buildings, top-notch local restaurants, and museums. Old Town of Düsseldorf is the must-see place for every visitor.
St. Lambertus Church
St. Lambertus Church is one of the oldest building in the city. The church has striking gothic style architecture and was built in the 16th century and rebuilt again in 1888. St. Lambertus Church is located in the city center near the Rhine River.
Schloss Benrath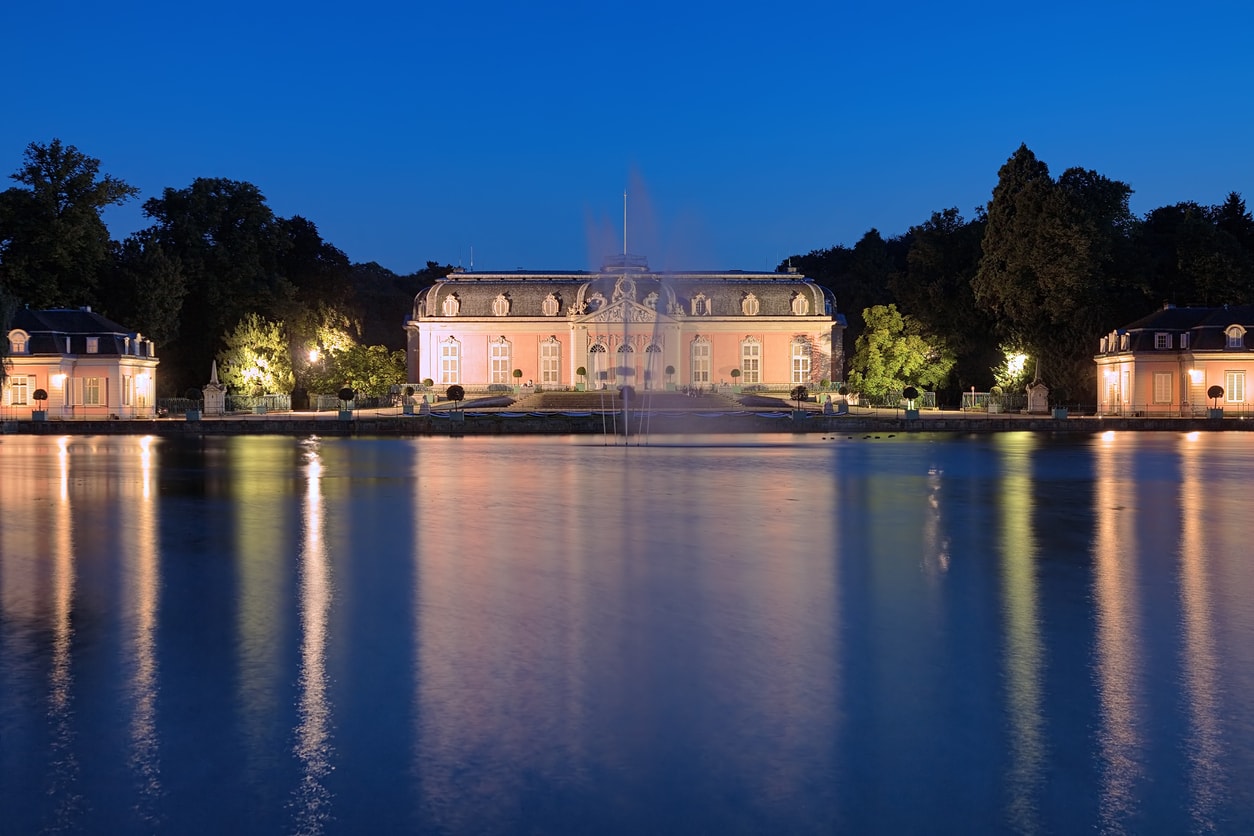 Schloss Benrath was built in 1770 as a summer palace and hunting lodge. Schloss Benrath is famous for its exquisite garden and shines with its spectacular Baroque-style architecture. The palace is home to two museums; "Museum of European Garden Art" and "Museum of Natural History".
Kunst im Tunnel
Kunst im Tunnel (KIT) is the new contemporary art museum of the city. The museum frequently hosts new exhibitions and is located in the southern part of "Altstadt" district. You can click here to check upcoming events and entrance hours.
Nordpark
Nordpark is the beloved natural park of the city with fountains, old birch trees, meadows, and ponds. The park is located in the northern part of the city, walking distance away from the city center.
Where to Stay in Düsseldorf?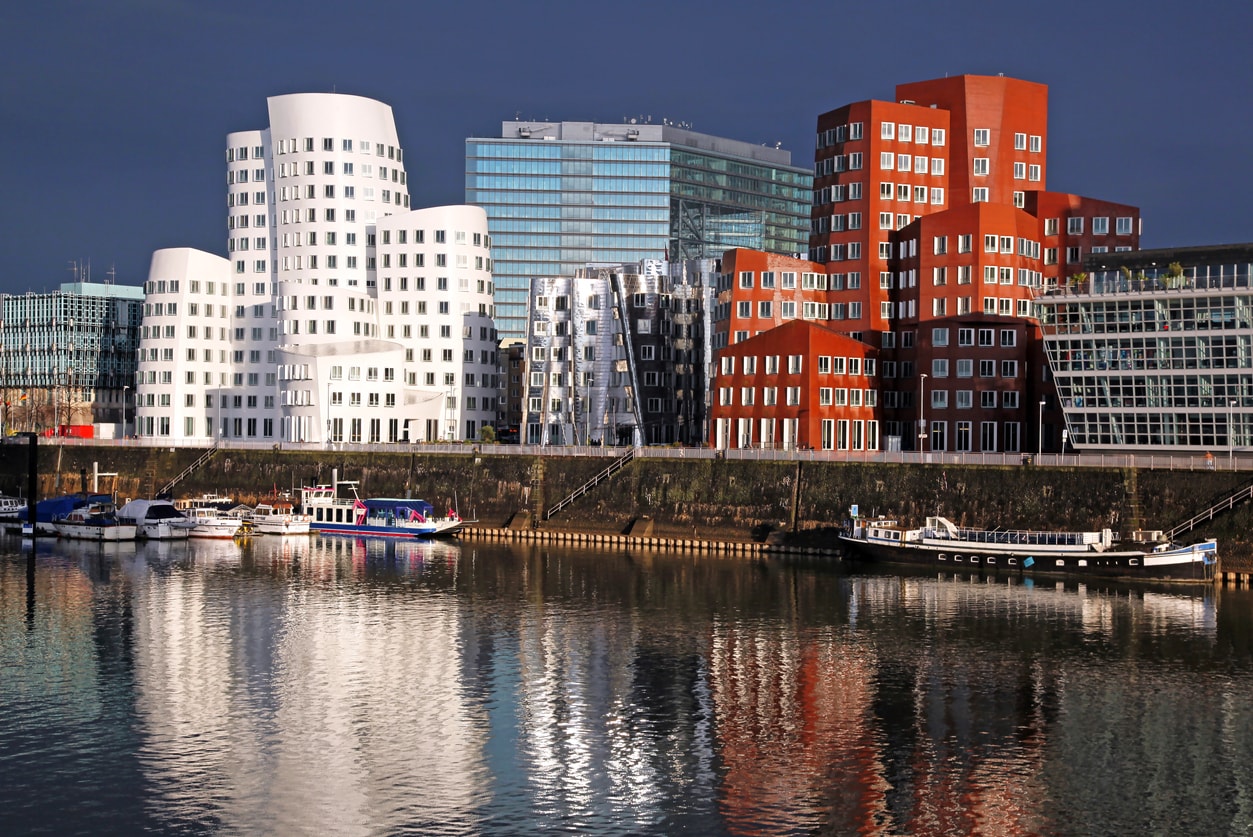 Düsseldorf offers a variety of accommodation options to its visitors. 
If it is your first time in Düsseldorf, it would be best for you to stay hotels that are located around the "Altstadt" district. "Altstadt" means "Old Town" in German and there are many historical landmarks and top-notch museums in the district. 
If you are looking for a fun and culture-filled vacation in Düsseldorf, backpacker hostels and luxury hotels in the western part of Stadtbezirk 1 district would be the best option for you.  
What to Eat in Düsseldorf?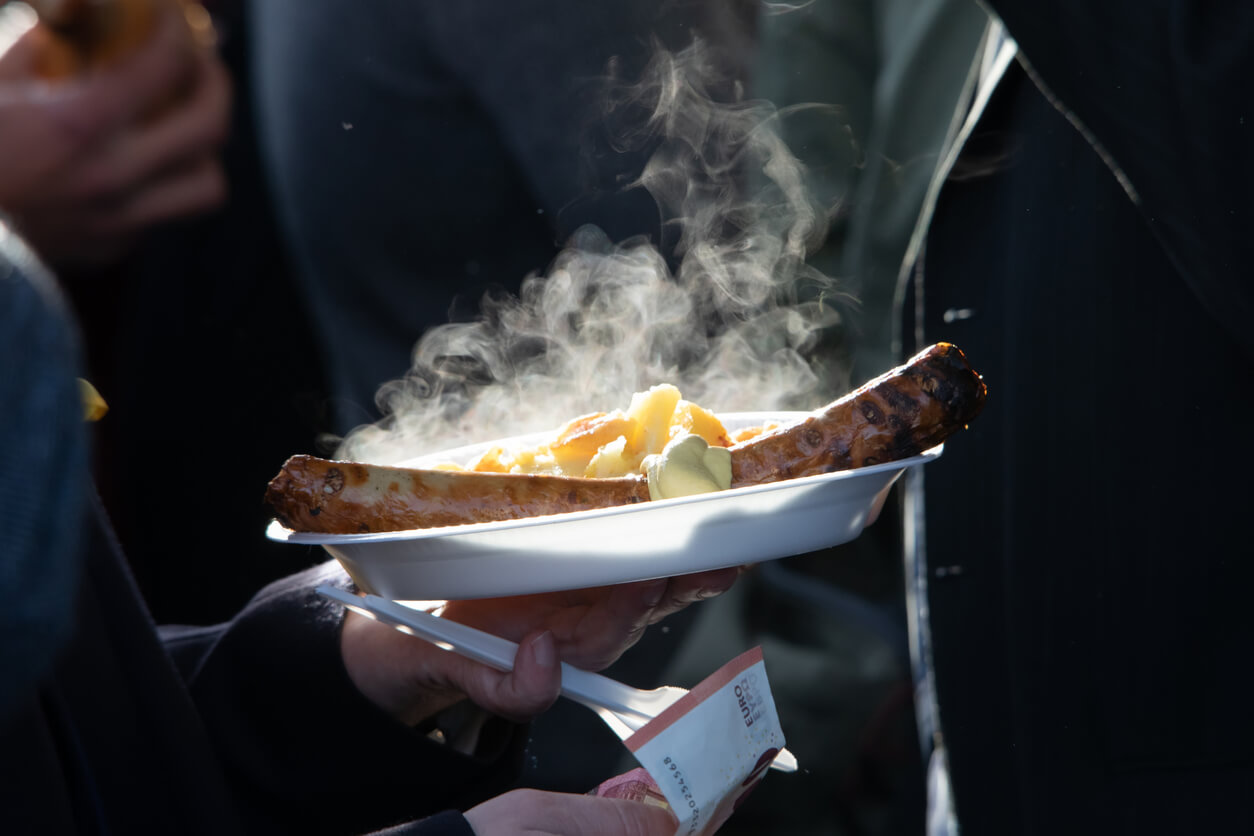 German cuisine is highly varied yet most of the recipes consist of meat, butter, and potatoes. You can try authentic "Düsseldorfen" recipes such as "Rheinischer Sauerbraten", "Halve Hahn" or "Himmel und Erde", as well as the very popular world cuisines.
Authentic Düsseldorf Recipes: Hausbrauerei Zum Schlüssel, Brauerei zum Schiffchen

Traditional German Recipes: Zum Uerige, Brasserie 1806, Munstermann Kontor

Ramen: Takumi

Japanese: Nagaya

Greek: Askitis

Chinese: CHINA HANN

Italian: Ristorante Amici
Shopping in Düsseldorf: Best Souvenirs to Buy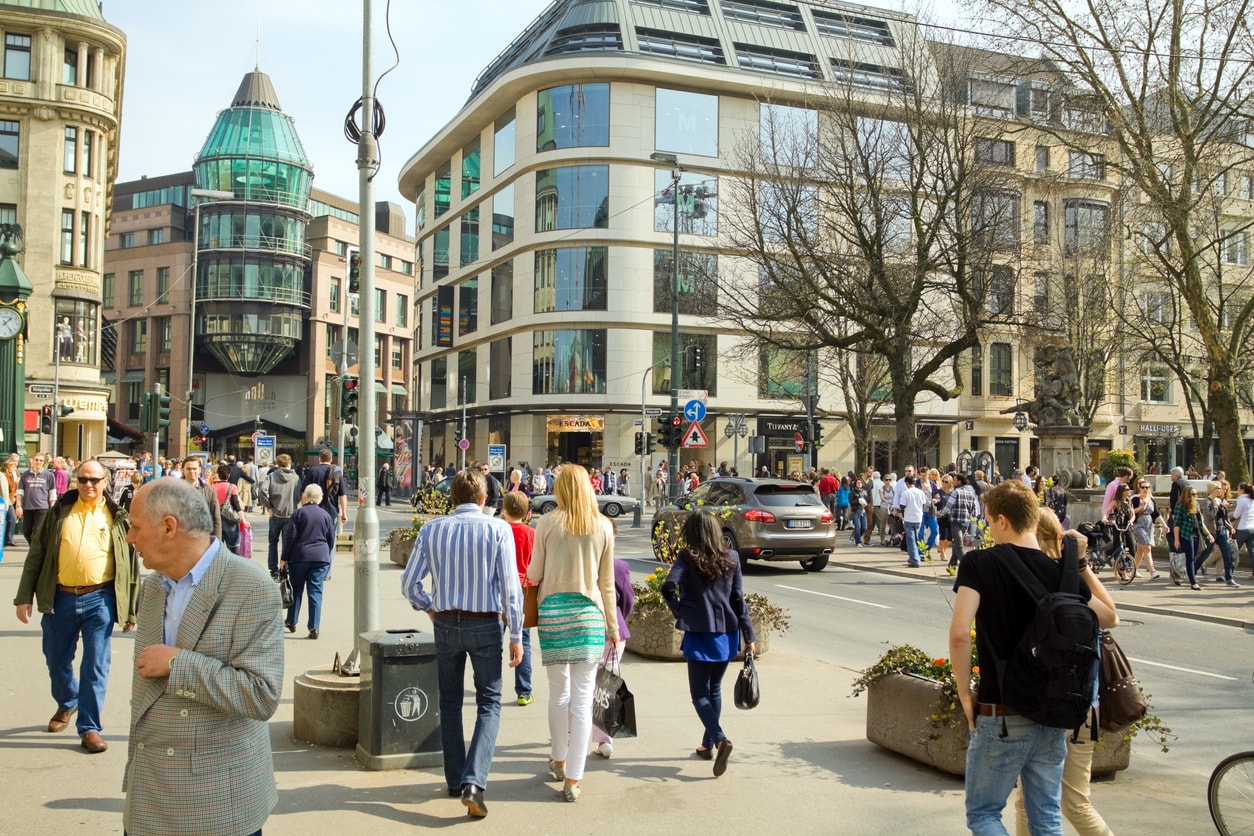 Although there aren't many souvenirs shops in the city center, you can find vendors that sell authentic Düsseldorf souvenirs such as cart wheeler man, nutcrackers, mustard, cuckoo clocks, and tableware around the Old Town (Altstadt) district. If you are looking for an upscale shopping trip, you can enjoy a selection of international brands in "KÖ Shopping Mall" in the city center.
Nightlife in Düsseldorf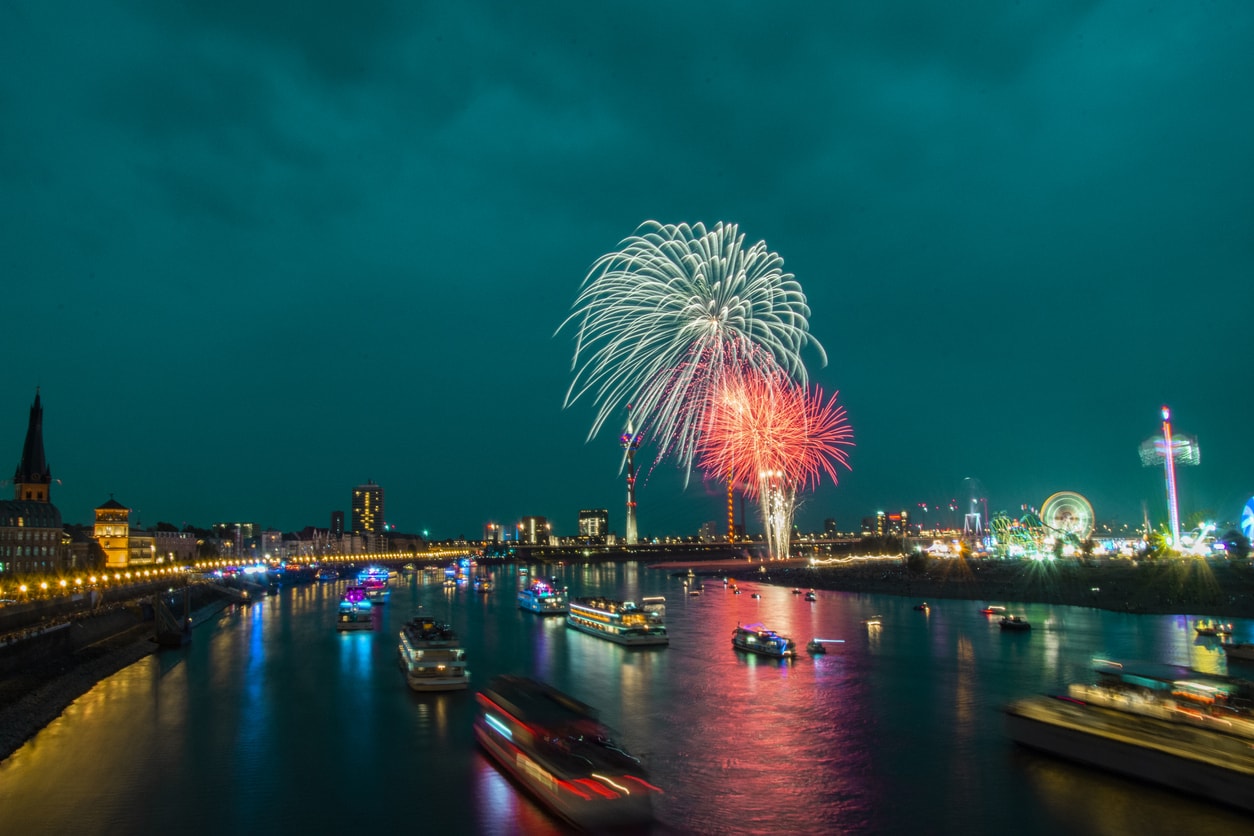 Nightlife in Düsseldorf is very active with many nightclubs, venues, pubs and rock bars that are mostly concentrated in Altstadt district. While pubs and restaurants are usually closed before midnight, there are plenty of bars and clubs are open until dawn. "Rheinturm Bar & Lounge" next to Rhine River offers amazing sceneries while venues around "Kurzestraße" offer various nightlife entertainment options.
Things to Know Before Visiting Düsseldorf
There are many currency exchange vendors and banks around the city.

Credit and debit cards are commonly accepted.

It is more easy and fun to discover Düsseldorf with bicycles.
Essential Numbers
Country Code: +49
City Code: 211
Düsseldorf International Airport: +49 211 4210
Police: 110
Ambulance: 112