Prague is the capital and largest city of Czechia with a population almost up to one and a half million. The city also is the historical capital of Bohemia region. Prague is located in the central part of the country and is 120 kilometers away from Germany. The city has always been a political, cultural and economic center of Central Europe throughout its course in history. Now, Prague is one of the most visited cities in the world with 8 million tourists annually.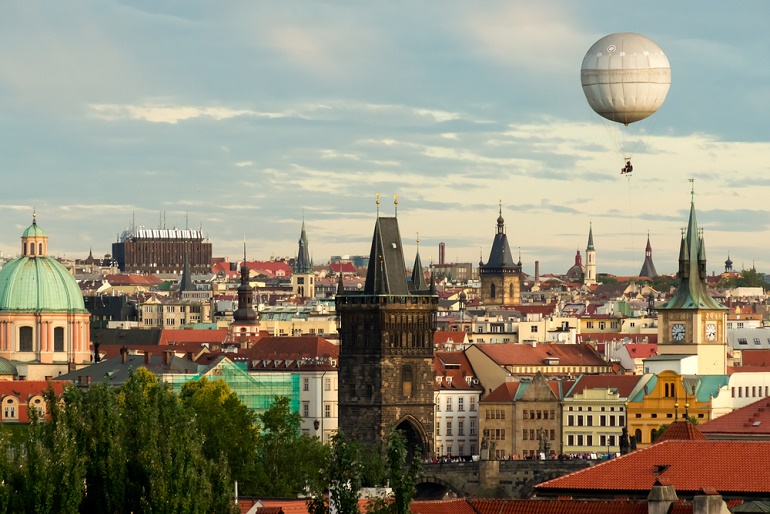 General Information
| | |
| --- | --- |
| Country: | Czechia |
| Region: | Central Europe |
| Area: | 496 km2 |
| Language: | Czech |
| Average temperature: | 9 °C |
| Climate: | Humid Continental Climate |
| Vegetation: | Coniferous Trees |
| The difference between GMT: | GMT+1 |
| Telephone Code: | +420  |
| Currency: | Czech Koruna |
| Socket Type: | Type E |

How to Get to Prague?
Prague is a fascinating city with its remarkable cultural and historical attractions. Pegasus Airlines offers direct flights to Prague from İstanbul.
The flight duration to Prague from İstanbul is 2 hours and 35 minutes.
You can buy your direct flight tickets to Prague from İstanbul from here.
Transportation from Václav Havel Airport to City Center
Václav Havel Airport is located 20 kilometers away from the city center. You can get to the city center with shuttle buses, public buses, taxis and car. 
Shuttle buses are available 24/7 and function as a crowded taxi. They take every passenger to their respected destinations thus ride might take 30 minutes or 60 minutes. The trip costs 11 Euros per person.
Express public buses are another way to get to the city center with a cost-efficient way. They are available every 15-30 minutes starting at 5.40 to 21.00 PM. Tickets cost 2.50 Euros (2019) and the trip takes approximately 50 minutes. 
There are many taxis available in Václav Havel Airport. The trip to the city center costs 25 euros on average. 
You can also enjoy the city with a rental car. Pegasus Airlines car rental service has great offers for you in here.
Public Transport in Prague
Prague has an extensive and convenient public transport system. You can use buses, trams, subway and taxis to get around in the city. You need to buy tickets beforehand in order to use public transport. They are available almost in every bus, tram and subway station. 
Buses are available from 4.30 to 24.00 with 10 to 20 minutes intervals on weekdays and 15 to 30 minutes on weekends. There are also night buses that run until 4.30 with 30-60 intervals.
Prague subway is the most used way of transportation in the city. You can check the timetables, fares and routes for subways and trams from here. The site is available in English.
You can also use taxis to get around in Prague. It is recommended to download a taxi service application to avoid excessive fares.  
Best Time to Visit Prague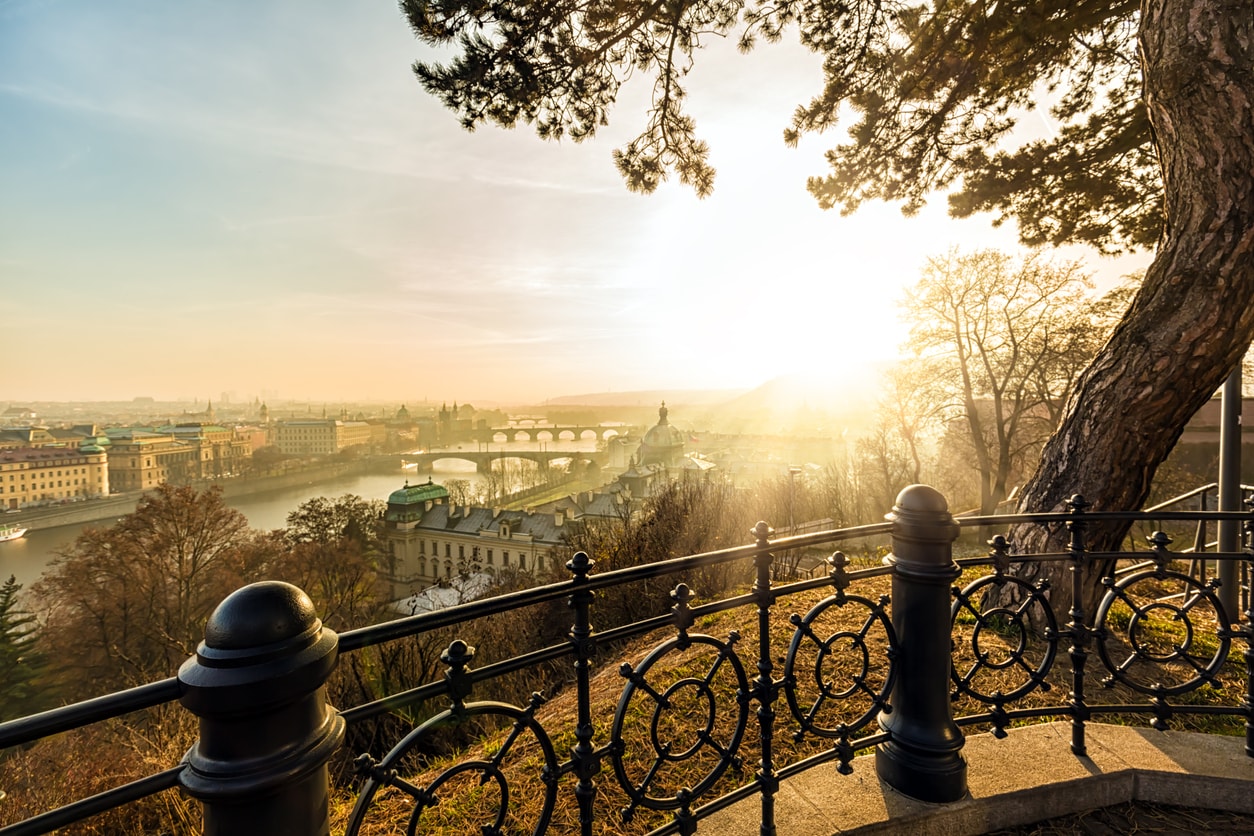 Prague has a humid continental climate with hot and rainy summers and cold and snowy winters. The hottest month is July and the coldest month is January. Although the city delivers a unique atmosphere with great sceneries every season, we suggest you to visit Prague during early spring or early autumn since the weather is more welcoming. It is also recommended for you to enjoy Prague at least four to five days.   
Festivals in Prague
Prague Spring International Music Festival (May)

Bohemia Jazz Festival (July)

Prague Winter Festival (January)

Prague Writers' Festival (November)

Easter Festival in Prague (March, April)
Places to Visit in Prague
Prague is frequently listed in must-see places in the world with its one of a kind historical landmarks, natural wonders and cultural heritage. The city's narrow streets filled with history and offer a sight to see with its characteristic architectural texture all around.  
Old Town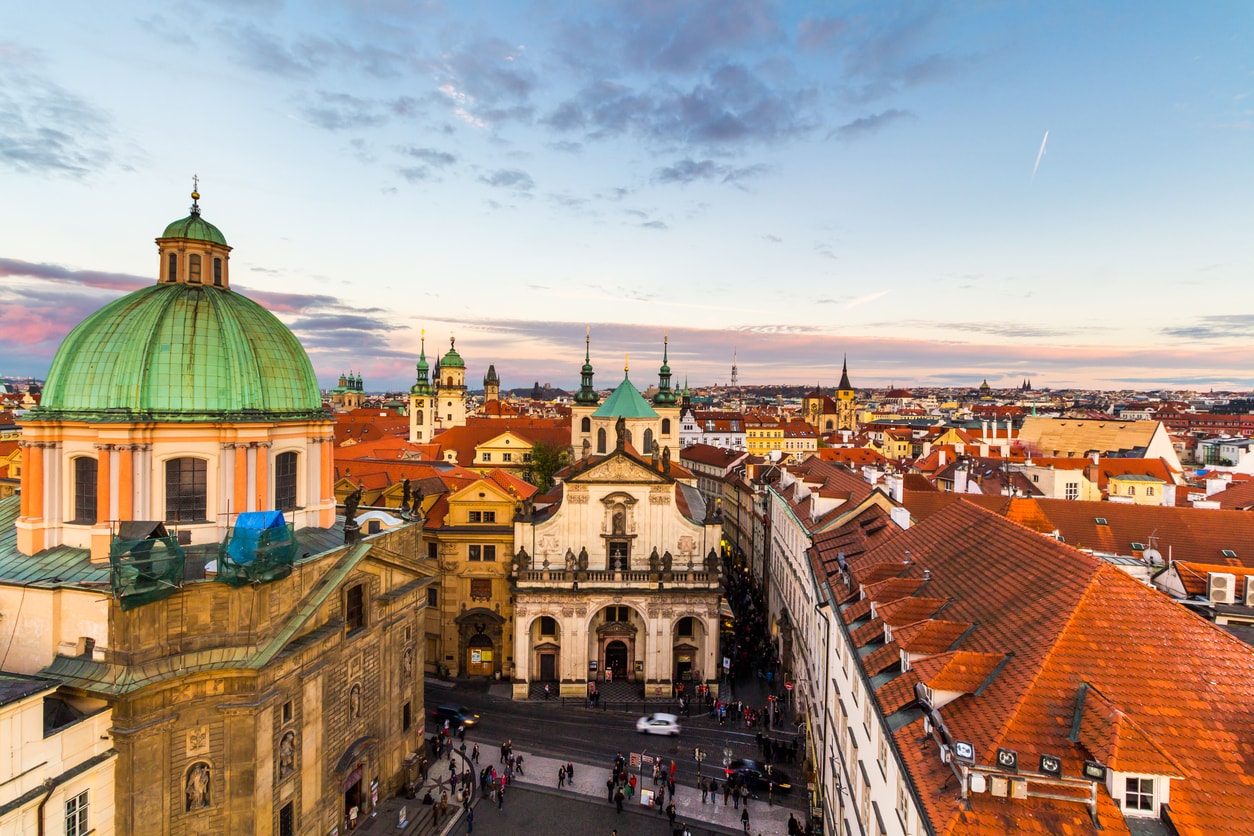 Old Town of Prague is the historical center of the city and considered as the best districts of Europe with greatly preserved buildings and monuments. Most significant ones are the Church of Our Lady in front of Tyn, The Old Town City Hall and the Baroque church St. Nicolas. The Old Town City Hall is a spectacular architectural work and dates back to 1338. Old Town of Prague is swarming history and is the must-go district of the city. There also many great restaurants, cafes and shops scattered around it.   
Prague Astronomical Clock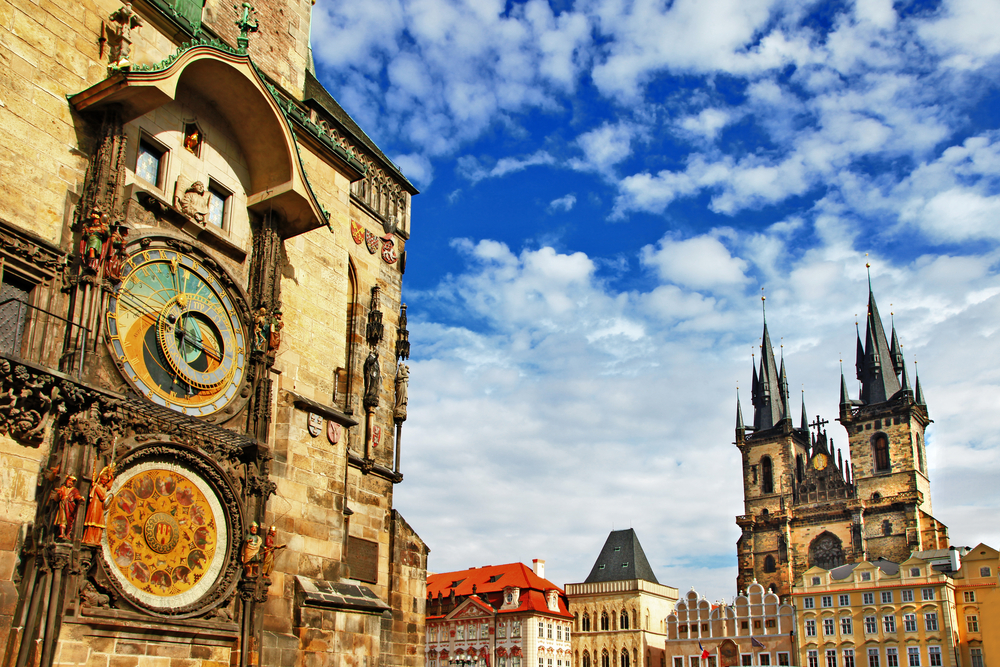 Prague Astronomical Clock is a worldwide attraction of Prague. Hundreds of people gather in front of the clock to witness its elaborate installation every hour. The clock's history dates back to 1410. 
Prague Castle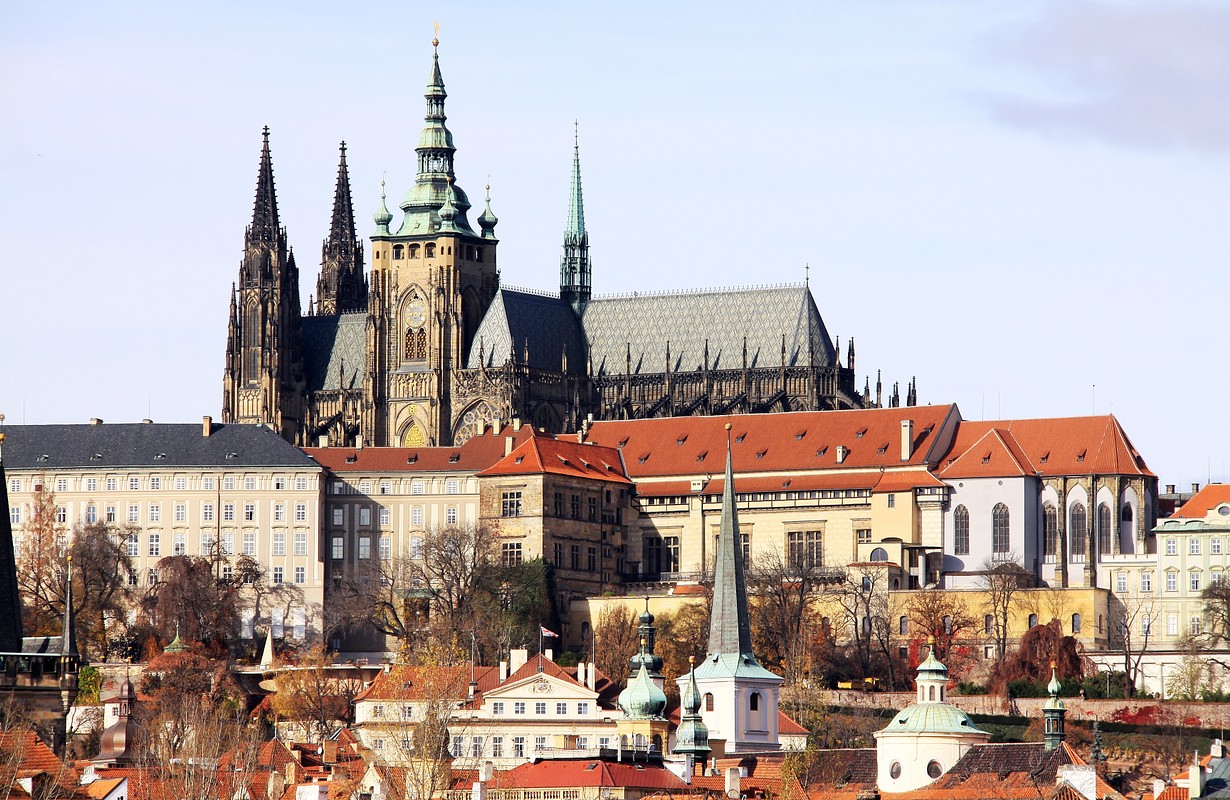 Prague Castle is a huge castle complex that built in the 9th century and covers 70.000 m².  The castle is a popular and well-liked destination among international tourists. Prague Castle is also home to many museums and historical artifacts.
Charles Bridge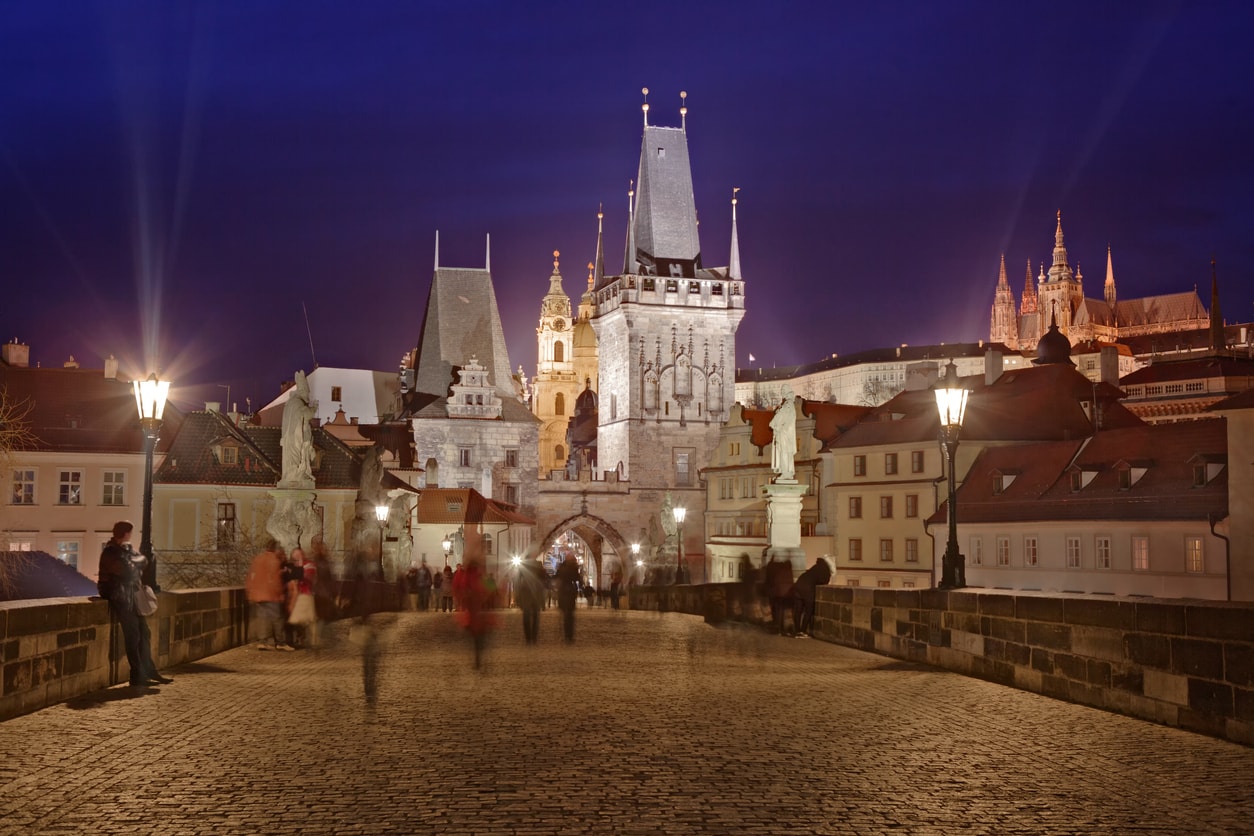 Charles Bridge is a spectacular gothic bridge and its construction began in 1357. The bridge connects the Old Town to Malá Strana. There are many baroque statues of Christian saints erected on the bridge. Charles Bridge is a pedestrian-only zone and is swarming with tourists every day of the year. 
St. Vitus Cathedral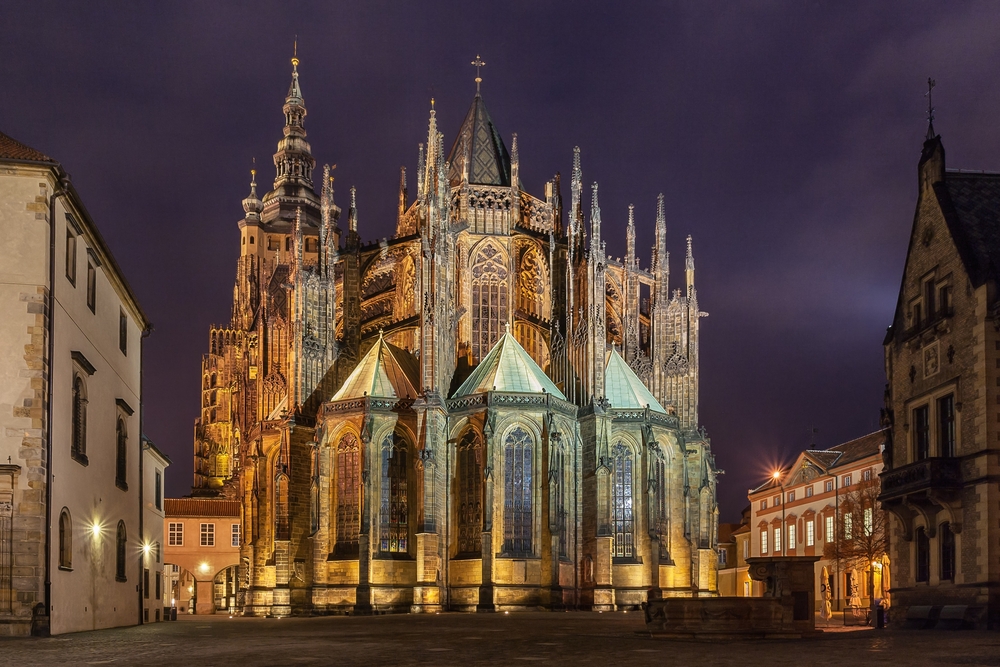 St. Vitus Cathedral is the largest and most prominent church in Prague. Its construction began in 1344 and has always held great importance to Czech people throughout history. Visitors can enter the first part of the church without an entrance fee.
Where to Stay in Prague?
Prague offers many accommodation options for its visitors. 
If you are in Prague for the first time, it is recommended for you to enjoy and stay in the Old Town. The district has the most historical and cultural attractions all around in Prague. Old Prague Hotel is the most budget-friendly hotel in the area and Hotel Melantrich is the best mid-range hotel.
If you want to have a calm vocation in one of the best cities in the world, it is recommended for you to stay in hotels in Mala Strana district. The district is located on the other side of the river from the Old Town. Mala Strana is much quieter and is home to great Prague Castle. Jánský vršek is the street where the best hotels with unique exteriors are located in Mala Strana.
What to Eat in Prague?
Prague is the historical center of many civilizations throughout the history in Central Europe and offers a long list of traditional dishes. It is easy to observe Celtic and Slavic influences all around in its cuisine. Czech cuisine is especially famous with its delicious pastry and meat products.  
Traditional Prag Recipes: Restaurant Pepř a Sůl, Vysehradsky Restaurant Kandelabr, U Kroka

Svickova Na Smetane, Nakladany Hermel: U Magistra Kelly, V Zatisi, Czech Slovak Restaurant Lounge Bar

Meat Dishes: U Modre Kachnicky, Restaurace Pod Vyšehradem, U Bulinu 
Shopping in Prague: Best Souvenirs to Buy
Old Town has the best stores to shop in Prague. In the district, you will encounter various international brands, design boutiques, and traditional markets. Havel Market (Havelské tržiště), which is established on the road connecting Old Town Square and Wenceslas Square, is one of the most popular markets in the city with stalls selling art, crafts and souvenirs.  
Nightlife in Prague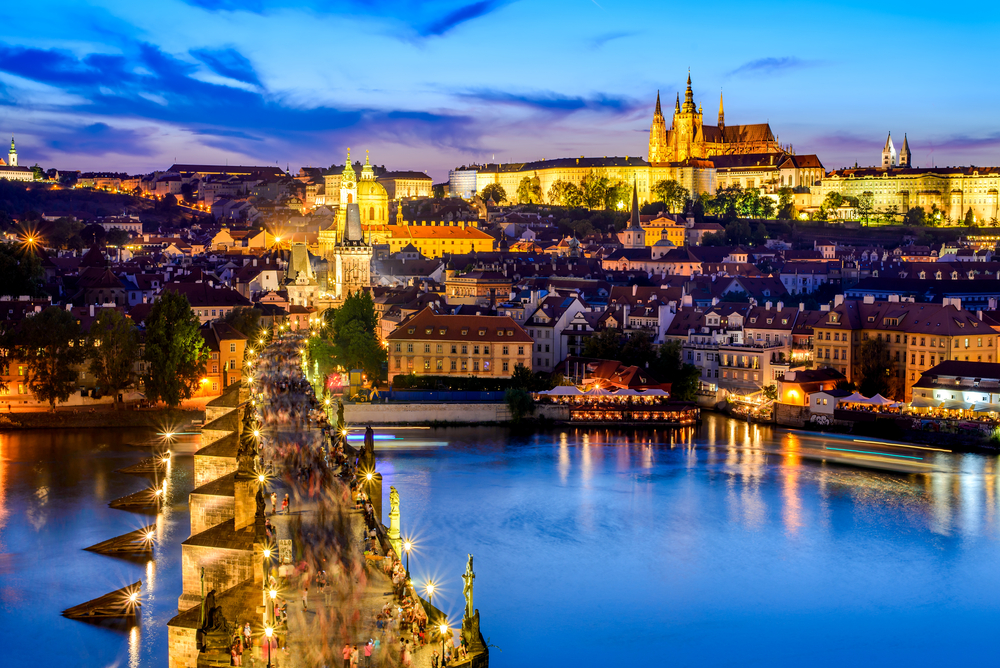 Prague offers a wide range of nightlife options to its visitors. There are many live music venues, pubs, dance clubs, and rock bars. While pubs and restaurants are usually closed before midnight, many bars and clubs are open until dawn. Karlovy Lazne is the largest nightclub of the Central Europe and Balkans. Jazz Republic in Old Town features the top musicians from Prague and Czechia every day. 
Things You Should Know Before Visiting Prague
Credit and debit cards are commonly accepted.

There are many currency exchange vendors around the city.

If you are visiting Prague during winter, it is best for you to bring your best coat.
Essential Numbers to Know
Country Code: +420 
City Code: 2
Václav Havel Airport: +420 220 111 888
Police: 156
Ambulance: 155