Located in the middle part of the Black Sea, the city of Sinop is an embodiment of the sea, history, and nature. The city of Diogenes captivates you with its serenity and encourages you to visit and breathe its fresh air. Being the natural seaport of Black Sea, Sinop lets you find a trace of history in every step. And the city's name is a great proof for its historical and natural integrity as well. The name Sinope comes from Greek mythology and it means "the daughter of the river god".  Some other historical sources indicate that the name Sinope might belong to an Amazon queen as well. Nonetheless; in time the word Sinope changed and evolved into the name Sinop, but the city is still as beautiful as it was centuries ago.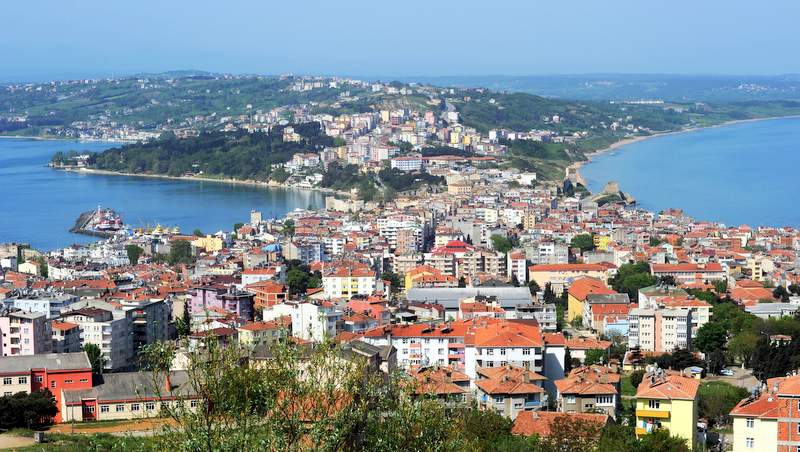 The city of Sinop is actually a peninsula extending into the Black Sea. One of the most important features of Sinop is that it is the northernmost region of Turkey. With its population of 207.427, Sinop has nine counties which are embellished by tourist attractions. It was built by Hellenistic colonists in B.C 700. And Sinop was inhabited by Hittites, Phrygians, Lydians, Persians, Romans, Byzantines and Ottomans throughout history. Thus, the beautiful texture of Sinop contains traces from different cultures and civilizations. Mustafa Kemal Atatürk, the founder of the Republic of Turkey once said: "I wish Ankara has had half of the beauty Sinop has."
General Information
| | |
| --- | --- |
| Country: | Turkey |
| Region: | Black Sea |
| Area: | 5.862 km² |
| Language: | Turkish |
| Average temperature: | 14.2 °C |
| Climate: | Mild Climate |
| Vegetation: | Maquis Shrubland |
| The difference between GMT: | GMT+3  |
| Telephone Code: | + |
| Currency: | Turkish Lira |
| Socket Type: | Type F250V-16 A |

How to Get to Sinop?
A city that must be seen, Sinop can be reached from different cities by Sinop domestic flights and Sinop international flights. There is a direct flight from Istanbul to Sinop. The other flights to Sinop from other cities are indirect flights.  The departure points and dates can be found in Sinop flight ticket page of Pegasus. 
You can buy your tickets from here and enjoy your flight to Sinop with Pegasus Airlines.
Transportation from Sinop Airport to City Center
There are numerous methods to get to the city center of Sinop. Taxis, shuttles, mini buses can be used. There is Rent A Car service in Sinop Airport as well. As the distance between the City Centre and Sinop Airport is 8 kilometers, it is not difficult to reach to the center of the city.
There are shuttles located in the city center in front of the Post Office (PTT). It lasts 20 minutes to get to the city center from Sinop airport and the ticket price is currently 5,00 TRY (2019). The airport shuttles depart 1.5 hours before the flight.
Public Transport in Sinop
Public transportation in Sinop is provided by minibusses. As the nine counties of Sinop are not too far from each other, getting around in Sinop is quite easy. The normal charge of minibus transportation is 2 TRY. For students, the price is 1,5 TRY. For the distance between Sinop Airport and the City Centre, adults are charged 2.50 TRY, whereas students pay 1.75 TRY (2019). 
Sinop is the only city in Turkey that does not have any traffic lights. Because the city is quite calm and peaceful, traffic is not a problem. Most people in Sinop prefer to use public transportation or they walk.
Best Time to Visit Sinop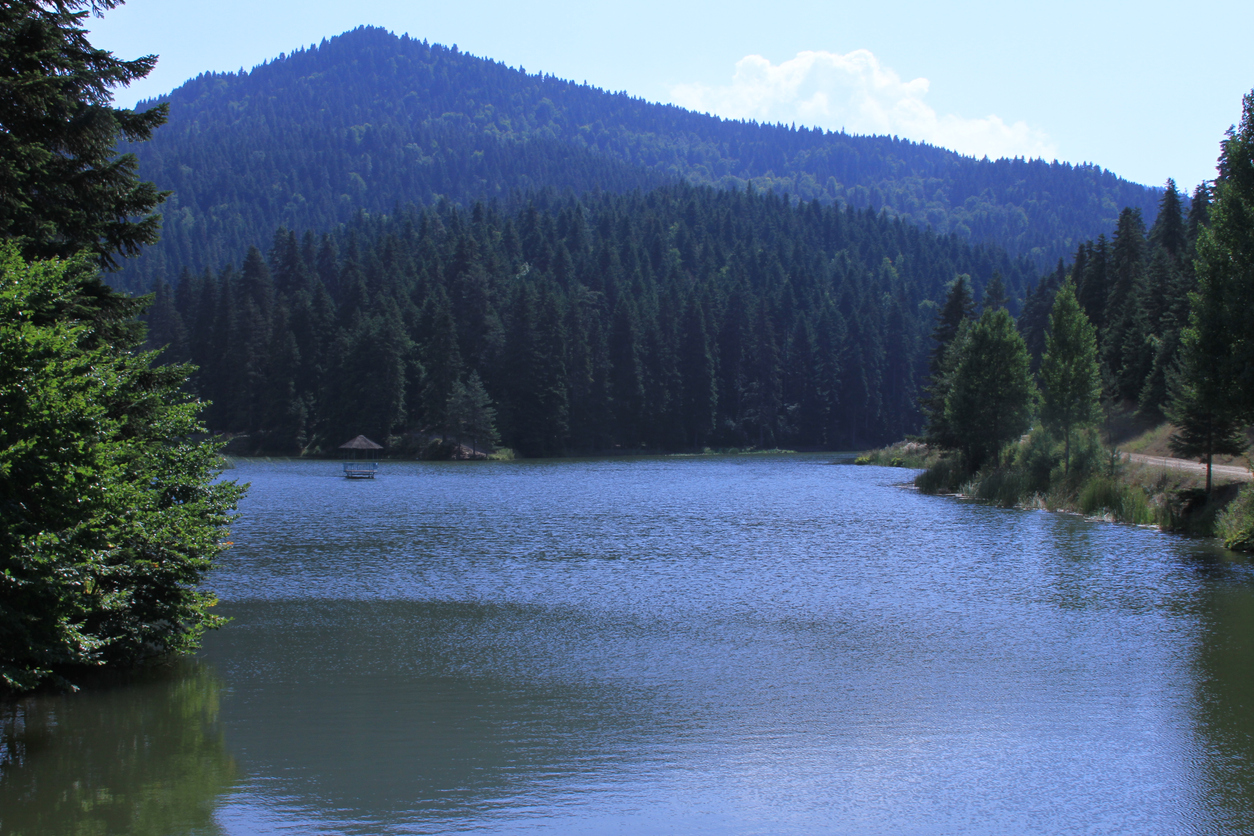 With its warm and peaceful climate, Sinop is always a good place to visit. The climate of Sinop is a combination of Eastern and Western Black Sea weathers. Rains are seen quite often. Even in the hottest weather of the season, it is recommended to be prepared for an incoming rain. 
Three or four days are enough to have a great vacation in Sinop. 
Sinop can always be visited regardless of the weather. But if you are fond of nature and looking for a vacation in peace and serenity; summer and spring seasons are best times to visit Sinop. By the way, Sinop was chosen as the happiest city of Turkey in 2016 according to the statistics. 
Even though you are planning to visit Sinop in winter and fall seasons, seeing the historical sites of Sinop, enjoying the great views and experiencing Turkish cuisine are always recommended.
Festivals in Sinop
You can enjoy your travel to Sinop by attending to Sinop Festivals. Sinop has mainly 3 festivals that happen at different times of the year. You can choose to go one of them depending on your vacation time.
Happiness Festival (September)

Erfelek Tatlıca Waterfalls Festival (July)

Hıdırellez and Karakucak Wrestling Festival(May)
Places to Visit in Sinop
If you like seeing historical or natural places, Sinop has both kinds of touristic attractions. Since it is a historical city and is also by the sea, you can visit the museums and castles but also the beautiful beaches in Sinop.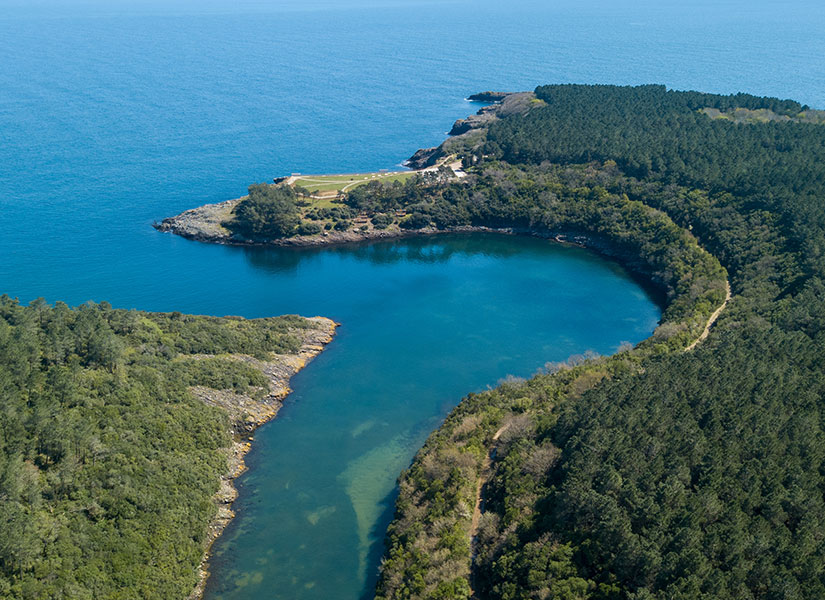 Sinop Castle
Located in the seaside, Sinop Castle stands proudly and captivates the tourists with its strong walls. The exact date of the building is yet to remain unknown. Throughout the years, Sinop Castle has been attacked numerous times by different nations. It is possible to find some information about the castle's history.
 The total length of the castle walls is almost 3 kilometers. At the top of the castle, there is a café with a beautiful view. Where you can sit and have a breather while admiring the beauty of Sinop.
The Statue of Diogenes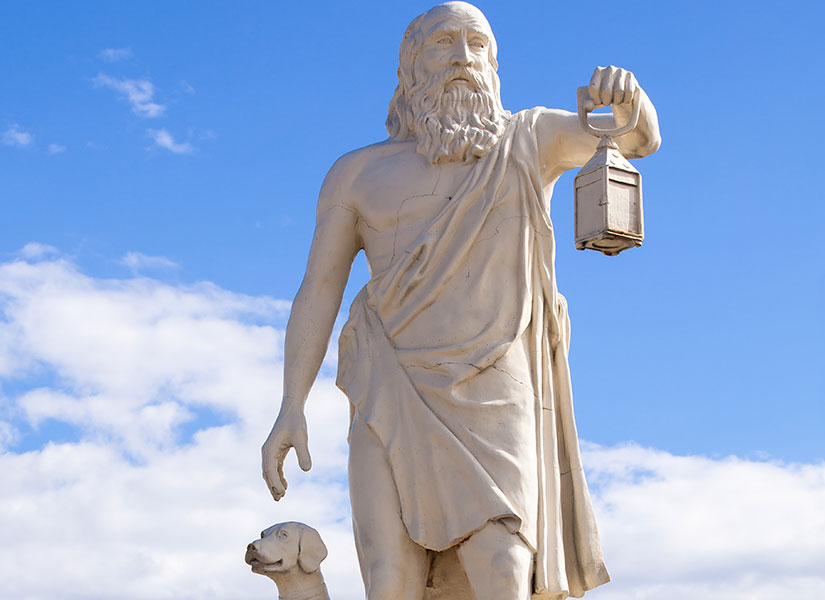 The famous philosopher Diogenes was born in this unique city. While the cultural treasure of Sinop is quite ancient, this statue commemorating Diogenes is fairly modern, as it was erected by the municipality in 2006. Still, the statue, depicting the cynic philosopher with his famous barrel, is a must-see.
Sinop Ethnography Museum
Located in the center of Sinop, the ethnography museum is an old, traditional mansion with three stories. Displaying the culture and life in Sinop, the ethnography museum reflects the folklore of the city.
Arslan Torun Mansion
This historical mansion, with its unique and artful architectural and decorative elements, is a must-see for history buffs as well as architecture admirers. The mansion is also a small museum, where you can discover the culture and history of Sinop.
Inaltı Caves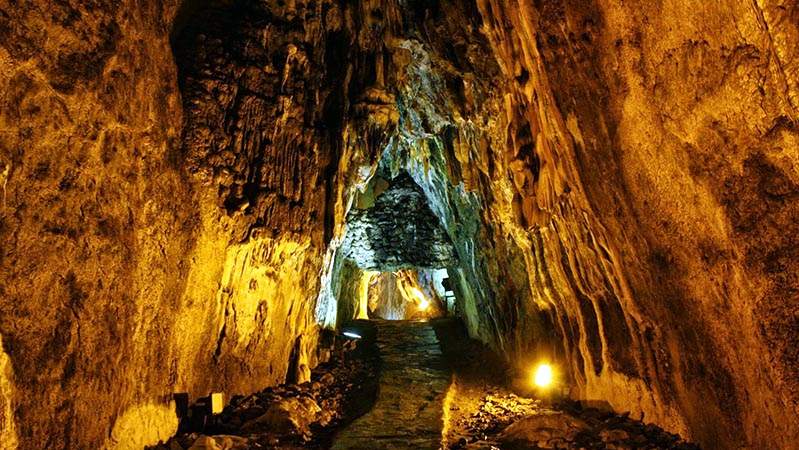 When it comes to natural beauties, Sinop manages to surprise the visitors again. Located in Inaltı village, 40 kilometers away from Ayancık; Inaltı Caves display an amazing view and leads you into the heart of our world. The entrance is free, and the caves can be visited from 09.00 to 20.00. 
Ertefelek Falls
Sinop is also the home of the astonishing Ertefelek Fall, where you can easily travel to this natural wonder and enjoy the beautiful nature with multiple small and bigger falls, while tasting unique food of the region. 
Karakum Beach
Even for a peaceful vacation in Sinop, fun is always required. You can have fun and swim in the clear waters of Sarıkum Beach, Karakum and Mobil Beach. Karakum is 3 kilometers away from the city center.
The beaches of Sinop are clean and visited by the locals. People of Sinop have the tendency to look after their landmarks. 
Inceburun Lighthouse
One of the most important lighthouses of Turkey, Inceburun is in the northernmost region of Turkey. Built in 1863, the lighthouse stands 38 meters above the sea. It is 22 km away from the city center. The view is amazing from there.  
Where to Stay in Sinop?
If you are looking for a place in the center of Sinop, Otel 117, Sinopark Hotel and Harbour Hotel are some of the options. If you want to witness the great combination of nature and sea, consider accommodation at Denizci Otel.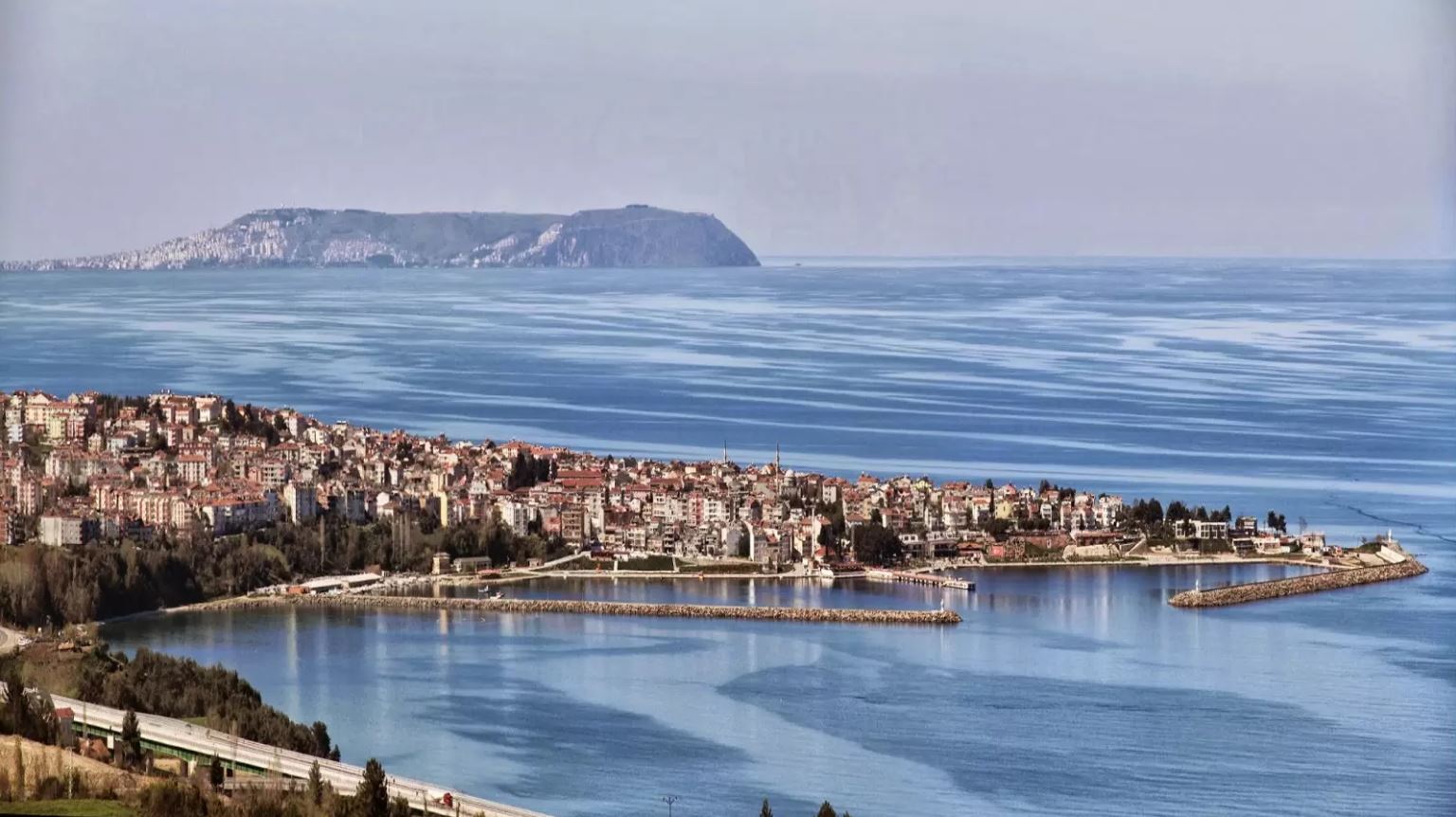 Gerze is one of the most popular places to visit in the summer. Tourists within Turkey or from abroad, usually prefer to visit Gerze as its sea is quite pure and the place is full of comfortable and convenient accommodation options.
What to Eat in Sinop?
Mantı, one of the best meals in Turkey; really embraces the soul of Sinop. Because it combines meat, soup, and dough in a wonderful way. And it is embellished with yogurt and oil as well. The way used to prepare Sinop manti is quite different. This feature distinguishes it from the others and invites the visitors to taste it.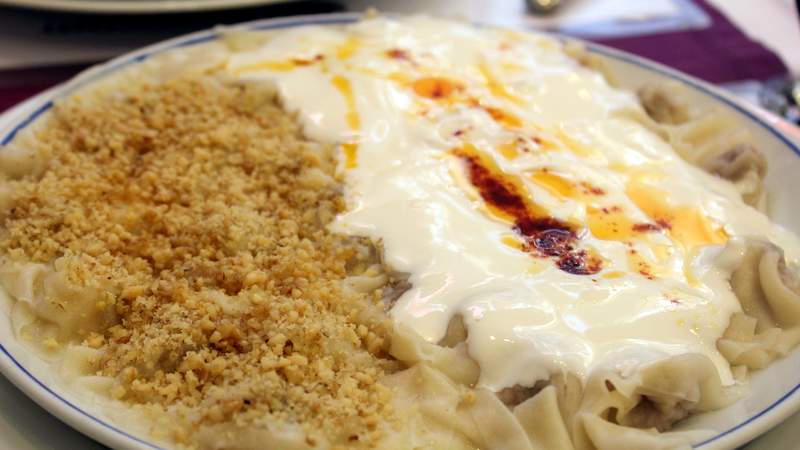 Shopping in Sinop: The Best Souvenirs to Buy 
It would always be kind for someone to buy a souvenir for friends and family. When it comes to Sinop, a great souvenir example is a ship maquette. This work of art can be found in the streets of Sinop with little street markets. Ayancık linen is a popular item as well. Peculiar to Sinop, Ayancık linen contains beautiful motives and patterns and is sold everywhere in the city.
It is possible to buy Diogenes-themed items, as the famous philosopher once lived in Sinop. These items can be obtained from traditional bazaars or from Sinop Metropol Mall.
Nightlife in Sinop
Known for its peaceful and serene setting, Sinop does not have an enthusiastic nightlife. In summer months, places like Kale Bar, Kıyı Bar or Kulis Bar open their doors for visitors. You can spend a night in these bars but walking by the beach or exploring the simple yet beautiful city of Sinop is always a great idea.
Some nights are better without dancing and loud music. The nights in Sinop are illuminated by the stars and they invite you watch them all night.
Essential Phone Numbers to Know Before Visiting Sinop
Police: 155
Ambulance: 112
Ministry:  0368 261 18 44
Airport:  0368 271 56 08/09