Chișinău, the capital of the Republic of Moldova, dazzles with its grand green parks, wine cellars and unique nature. Having a high tourism potential, Chișinău is among the cities where you can have an affordable holiday in Europe. Situated between Romania and Ukraine, Moldova is waiting to be discovered by travel lovers and gastronomy enthusiasts. You can easily choose the cheapest Chișinău flights to visit Moldova which has a distinct beauty in every period of the year.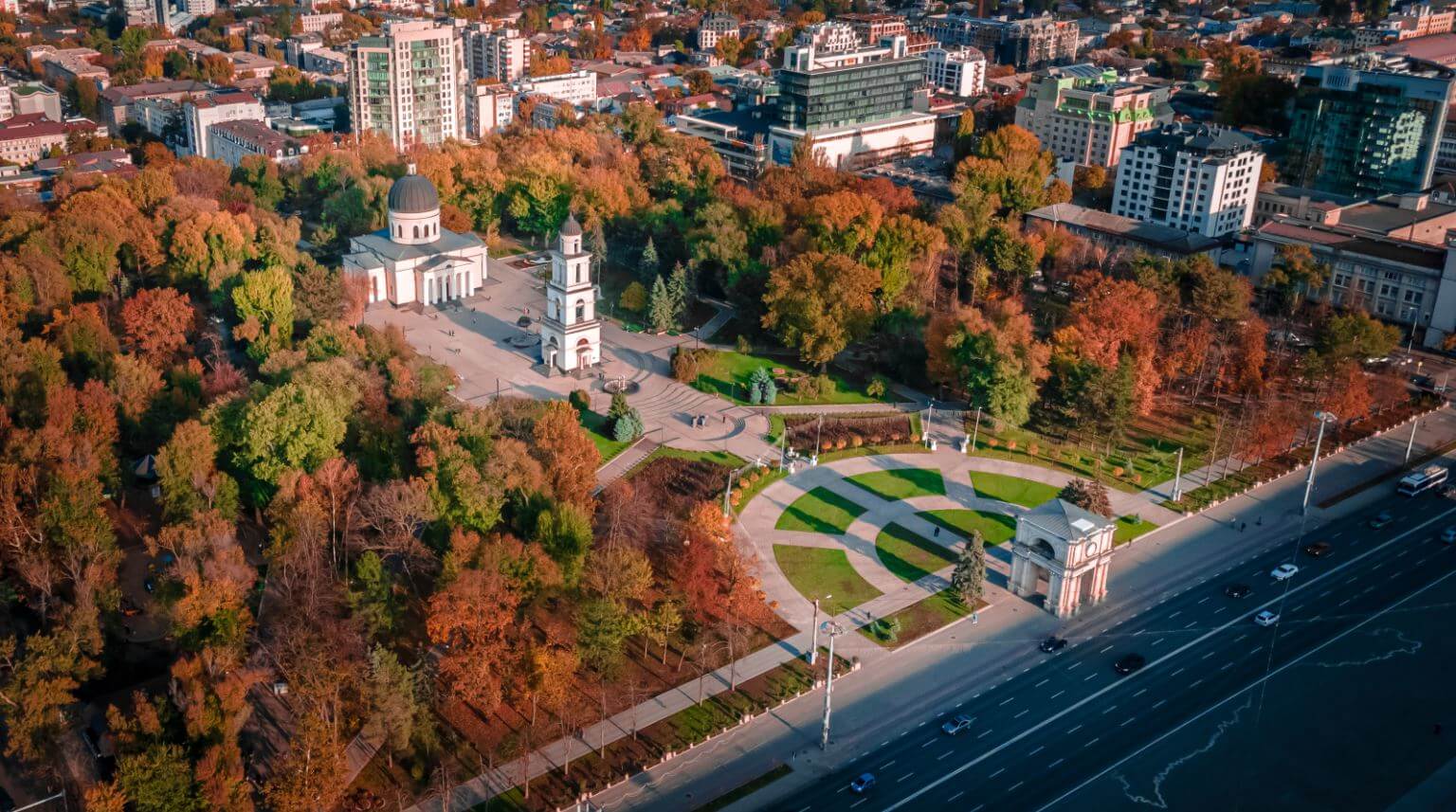 General Information
| | |
| --- | --- |
| Country: | Moldova |
| Region: | The Balkan region |
| Area: | 123 km2 |
| Language: | Romanian |
| Average temperature: | 11 °C |
| Climate: | Moderately continental |
| Vegetation: | Forestry and steppe |
| The difference between GMT: | UTC+2 |
| Telephone Code: | (+373) 22 |
| Currency: | Moldovan Leu (MDL) |
| Plug Type: | Type C and F |

Where is Chișinău located? What are the borders of Chișinău?
Situated on the side of the Bic River, Chișinău is adjacent to the cities of Anenii Noi, Criuleni, Ialoveni and Straseni.
Best Time to Visit Chișinău?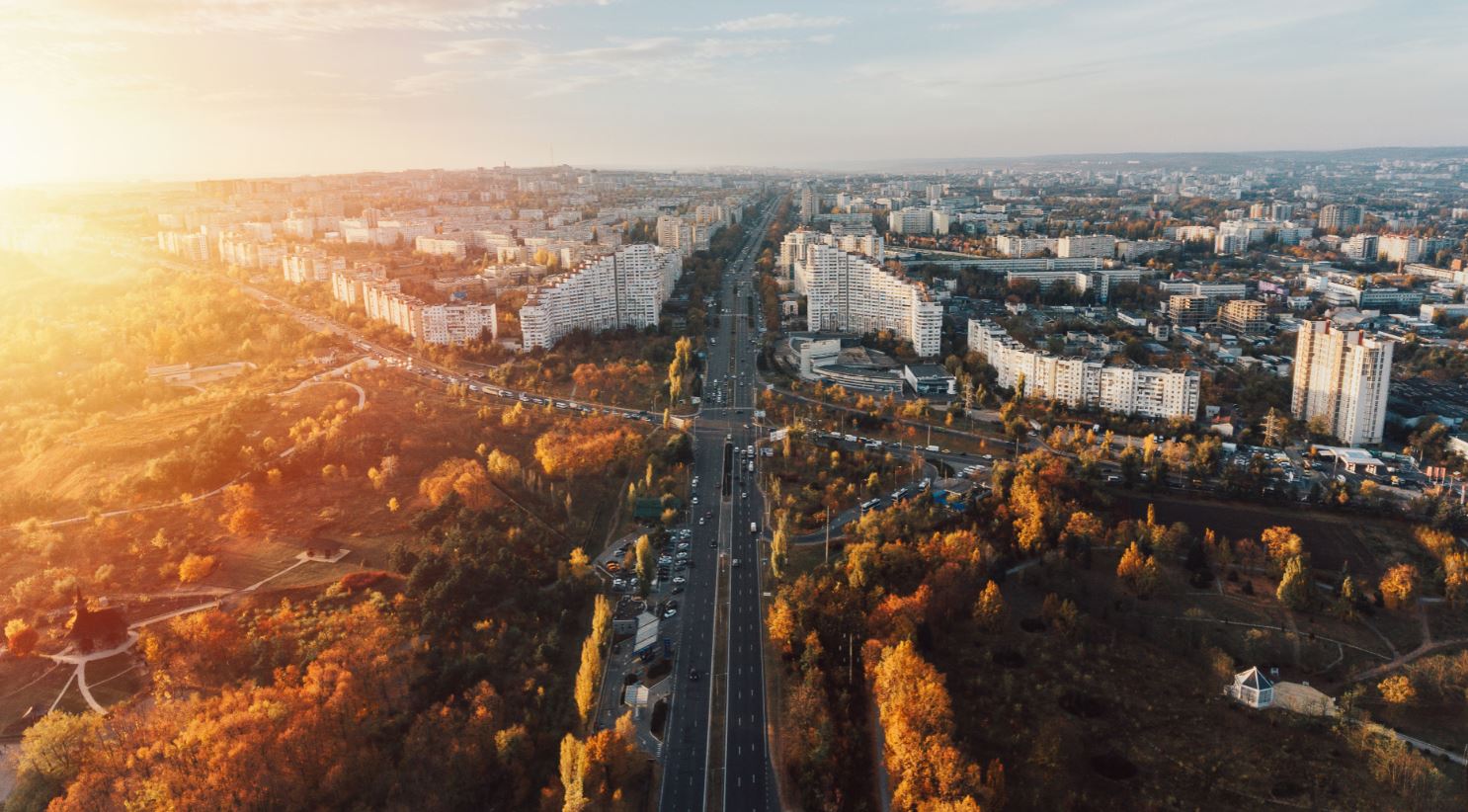 The continental climate is dominant in Chișinău, which is quite cold in springtime and winter due to its geographical location. In summer, temperatures reach up to 25 degrees. Summer, when nature is awakening, is the best season to visit Chișinău.
How Many Days to Visit Chișinău?
Two or three days will be enough to visit Chișinău, which is a very organized and small city.
Festivals in Chișinău
Many different events and festivals are held in Chișinău throughout the year. You can plan your trip according to Chișinău festivals to get to know the culture of the city and to participate in special events.
Martisor Festival (March)
BITEI Festival (May)
Cronograf Film Festivali (May)
Sun Da I Fest (June)
Summer Fest (August)
National Wine Day (October)
How to Get to Chișinău?
A majority of the travels to Moldova from Turkey are provided by airlines. The only airport in the country is located in the capital, Chișinău. Therefore, early booking to find cheap Chișinău flight tickets will give you a great advantage. The holiday season, which covers the months of June, July and August, is the period when the demand for direct flights to Chișinău is the most intense. Keep in mind that the prices of Chișinău flight tickets may increase during this period. You can take advantage of Pegasus Airlines promotional flight offers and early booking opportunities to travel at the best prices.
From Antalya International Airport (AYT) to Chișinău International Airport (KIV), Pegasus Airlines has direct flights. It is also possible to travel with connecting flights from surrounding cities such as Prague, Odessa and Kyivto Chișinău.
Transportation from Chișinău International Airport (KIV) to City Center
The Chișinău International Airport, which is about 13 kilometers away from the city center, can be reached by trolleybus, bus, shuttle, minibus, taxi and car rental.
Bus
Express buses running towards Dimitrie Cantemir Square and Chișinău Airport stop every 40 minutes. The city buses operate between 07.00 and 19.00.
Taxi
It is of great importance that you take a taxi from the legal taxi stands in front of the airport. Because taxi drivers may charge higher fees from foreign customers. On the other hand, it is possible to get service from legal taxis for 6-7 Euros.
Rent a Car
By renting a car you can also go to the city center from the airport. So you can enjoy a more personal trip.
Public Transportation in Chișinău
Although they do not work as often as trolleybuses, buses are also frequently preferred in urban transportation. You may provide urban transportation without wasting time by way of bus services connecting the center of Chișinău to the suburbs. In trolleybuses and buses, you can pay in the vehicle and the fare is around 3 MDL.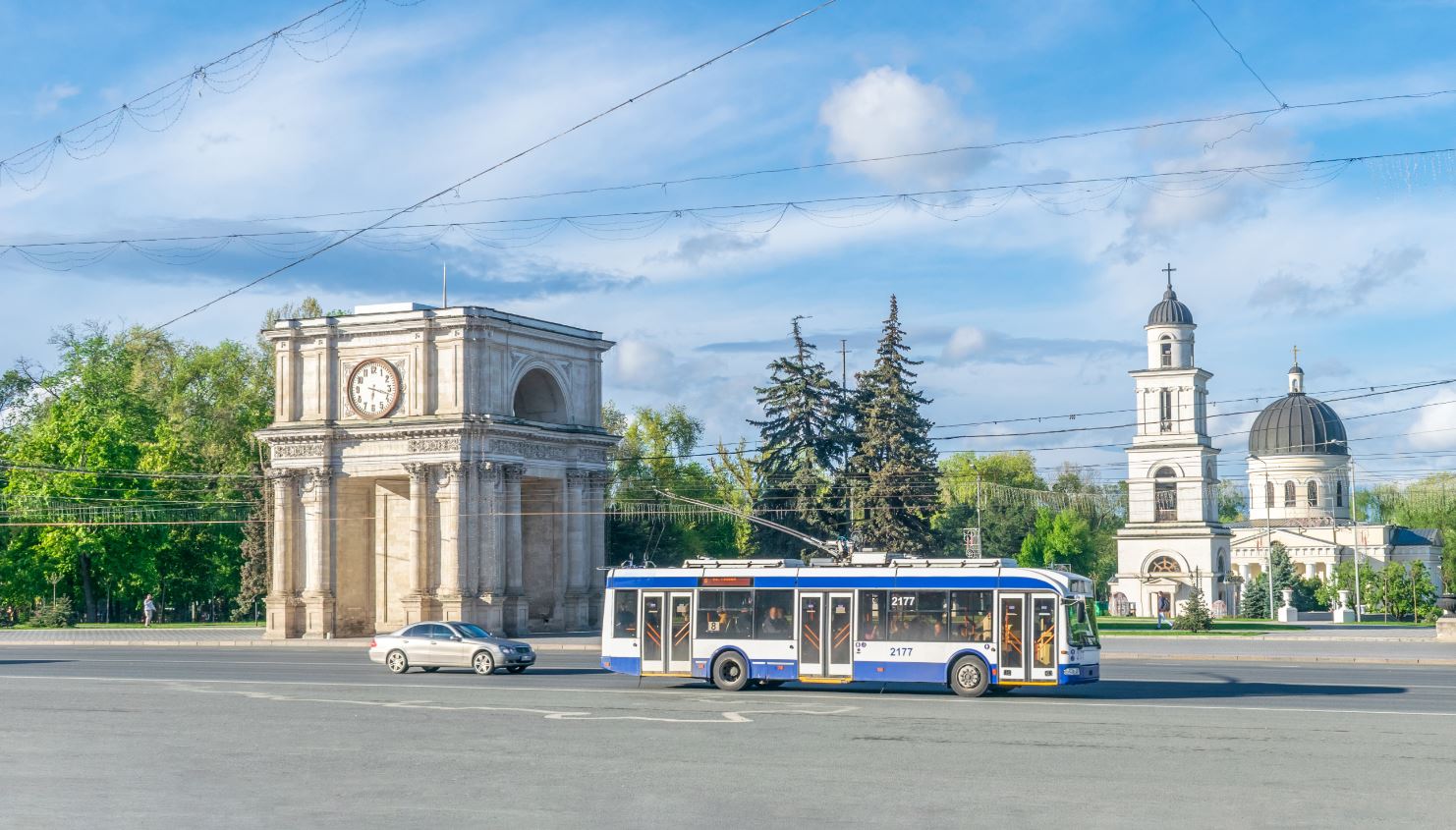 Taking the side streets and little-known routes not preferred by buses and trolleybuses, maxi taxis offer passengers a more flexible travel opportunity. Maxi taxis, which have similar fares to buses, usually do not have fixed stops. For this reason, you can take a maxi taxi by raising your hand wherever you want.
All official taxis in Chișinău have a taximeter and you will receive a receipt after each trip. Taxis are among the most ideal options you can choose to travel safely, quickly and cheaply.
Places to Visit in Chișinău
Chișinău, one of the modest cities of Europe, is a great choice for a simple city tour. Established on the banks of the Bic River, Chișinău is home to many tourist attractions where you can have a pleasant time.
Stefan Cel Mare Park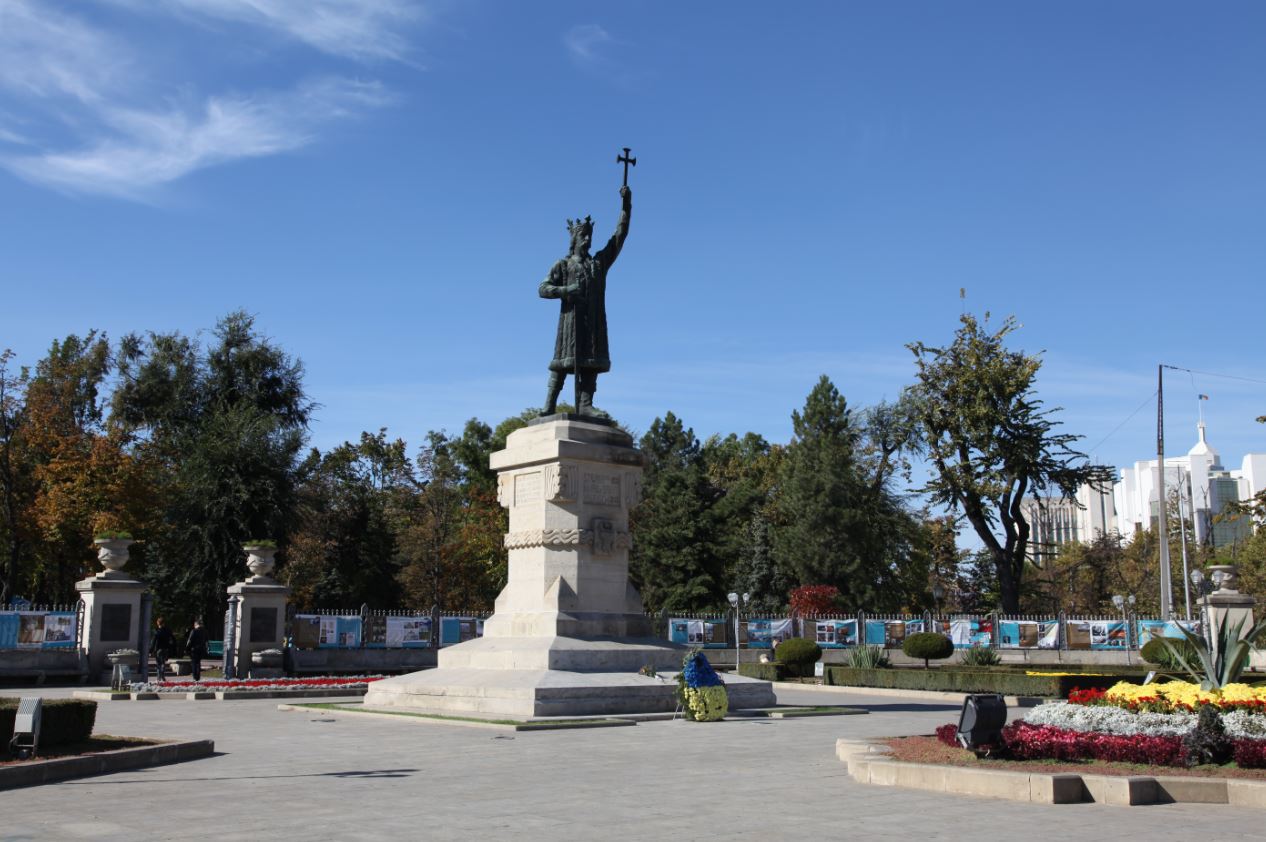 Stefan Cel Mare Park, also known as Pushkin Park and Lovers Park, is among the most important meeting points of the city. The most striking part of the park is the road, where the statues of important figures who left their mark on Moldovan history are lined up side by side.
Albisoara Street
Located in the center of Chișinău, Albisoara Street is the most famous and oldest street of the city. You can find the historical buildings and parks of Chișinău on this main Street.
Chișinău Botanical Garden
Bringing all the natural beauties of the city together, the Chișinău Botanical Garden offers nature lovers a unique experience. The giant botanical garden, which covers an area of 76 hectares, is home to wonderful flowers and trees that bloom even in harsh climatic conditions.
Milestii Mici
Wine is among the most important sources of income in Moldova. As such, there are many wine production centers and cellars. The Milestii Mici wine cellars, are one of the largest wine cellars in the world, located about 20 km from the city center. You can have a good time in the cellars where you can taste wine.
Army Museum
Numerous weapons used in World War II and arsenals from ancient times are on display at the Chișinău Arms and Ammunition Museum. If you are interested in the recent era, you can go on a small journey in the time.
Alexander Pushkin Museum
The house where famous poet and writer Alexandr Pushkin stayed in Chișinău after being exiled from Russia is used as a museum today. As soon as you step into the museum, you can find lots of information and data about Pushkin's books and lifestyle.
Water Tower
One of the other symbolic structures of Chișinău is the Water Tower. The extraordinary building, which was in business as a water tower centuries ago, is now used as a museum. You should definitely visit this place to view the history of the city more closely.
National Museum of Ethnography and Natural History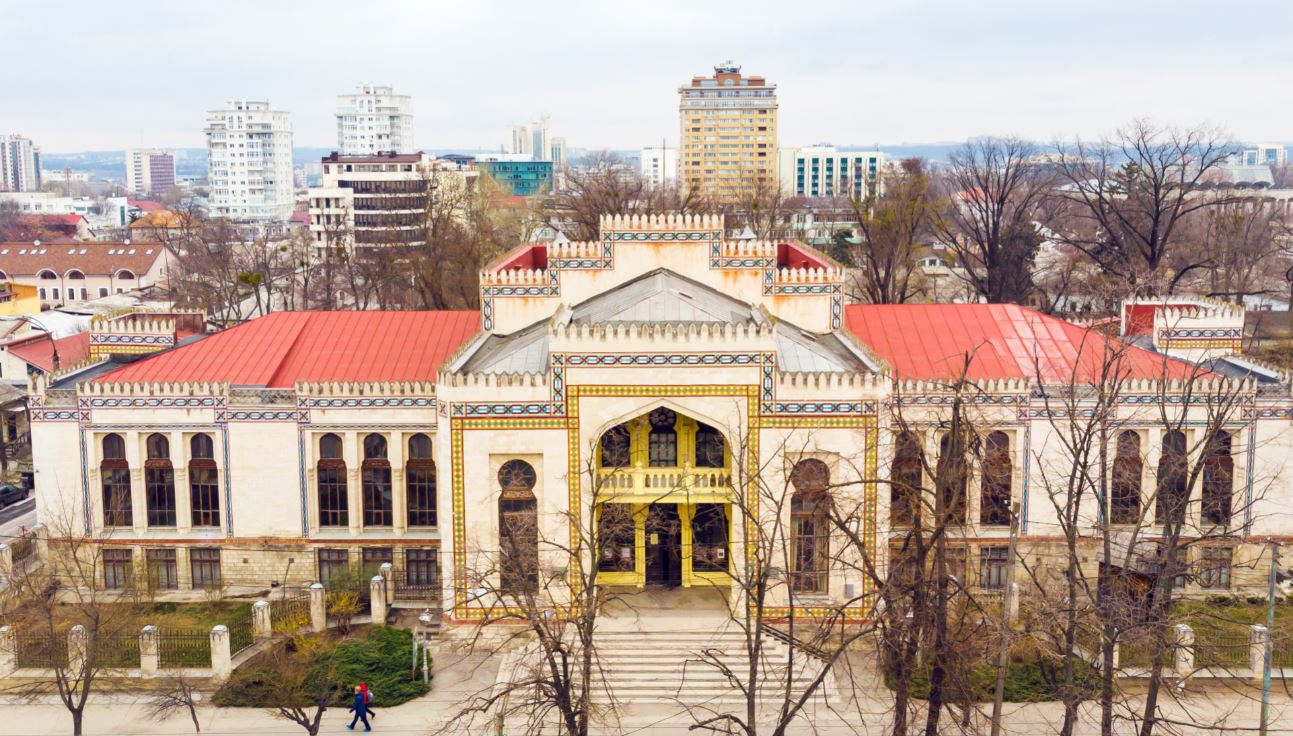 The Ethnography and Natural History Museum, which summarizes the city culture well with its thematic collections, manages to attract the attention of culture enthusiasts.
Cinema Patria (Loteanu)
Patria Cinema, which has been actively used for decades, is among the most important cultural spots in the city.
Orhei Vechi Monastery
Orhei Vechi Monastery, located at the isolated point of the city, is one of the most important places of medieval Europe. The monastery, which also serves as an open-air museum, offers a great opportunity for those who want to see the buildings and objects belonging to Medieval Europe.
Where to Stay in Chișinău?
There are many hotels and pensions in Chișinău that you can choose for your budget. Renting an apartment in Chișinău is also very popular. There are more rental apartments for accommodation than hotels in the city. For a fee of 40 Euros per day, you can stay in a spacious apartment with 2-3 rooms close to the city. If you are traveling alone, you can also choose hostels where you can stay at very cheap prices.
Click to view hotels in Chișinău and make a quick reservation.
What to Eat in Chișinău?
Known as Moldovian ravioli, Branza is among the country's most famous and popular local dishes. Prepared by cooking the meat you want in a casserole, Tochitura is one of the other best local dishes in Moldova. Soft cooked meats are usually served with mamaliga. The famous Moldovan dish known as spiral is especially popular with tourists. Raçitura, Placenta Cake and Borsch also stand out among the other tastes that should be tasted from Moldovan cuisine.
Chiftele, prepared with the mince rolling technique, is one of the most delicious Moldovan dishes. You will love these meatballs that offer a unique variety of flavors with eggs, onions, butter and spices. In addition to these delicious tastes, you can also test the world-famous Moldovan wines in Chișinău.
Shopping in Chișinău: Best Souvenirs to Buy
It is possible to come across souvenir shops that reflect the Moldovan culture almost everywhere in the city. Moldovan wines, local clothes, hats, carpets, mugs, magnets and trinkets are among the main gifts you can buy for your loved ones before returning from Moldova.
Important Informations
Things You Need to Know Before Going to Chișinău
Tip culture is very common in Chișinău as in Moldova. It is considered rude not to tip when buying souvenirs or leaving the restaurant.
Tourism is one of the main income sources of Moldova, which is among the poorest countries in Europe. The people are very hospitable to tourists. However, it should be kept in mind that there are people who know that you are a tourist and want to abuse this situation.
Russian and English are widely spoken in Moldova. For this reason, you usually have no problem communicating.
If you plan to make your Chișinău trip in autumn or winter, do not forget to take winter clothes with you.
Credit and debit cards while shopping in Moldova can be used. However, sometimes it is possible to shop in local markets and boutiques with cash only. Remember that it would be beneficial to have a certain amount of Moldovan LEU with you during your visit to Chișinău.
Nightlife in Chișinău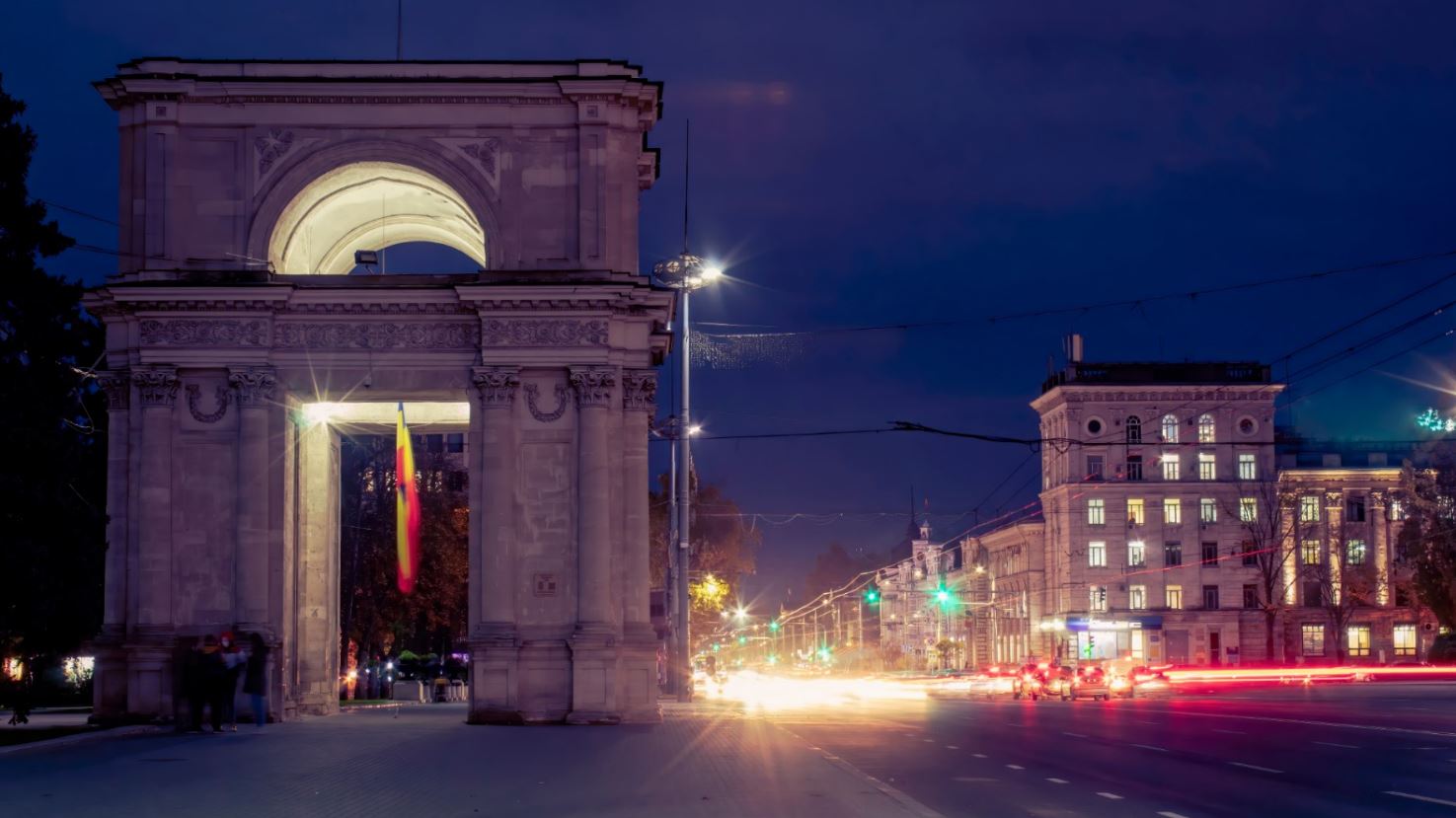 Famous for its nightlife, Chișinău offers pleasant moments with its parties that last until morning. Moldova nightlife mainly consists of casinos, taverns, bars and pubs. In addition, outdoor parties held in the summer months are very entertaining. However, you should not forget that the prices in the entertainment sector are above the general standards of Chișinău.
Emergency Telephone Numbers:
Ambulance: 903
Police: 902
Fire Department: 901