The city offers many attractive places to visit, such as amazing architecture, relaxing parks, interesting monuments. Due to its long history and rich background, Kyiv is a diverse city. The street art, outdoor attractions, countless cafes, bars and varieties of markets make the city more inviting. Besides the rich culture, affordability is another reason to visit the city. There are many places worth visiting in Kyiv. 
Impressive Architecture

The main avenue in the center of Kyiv is "Khreschatyk" street, which turns into a pedestrian zone during weekends. It is possible to see notable buildings that display Soviet architecture on this street. Walking around the Expo center (Vystavkovyi tsentr) you will appreciate this style, as well. Ukrainian architecture is also amazing. "Yaroslaviv Val" and "Arkhitektora Horodetskoho" streets are the main places to see beautiful examples of Ukranian architecture. In "Podil" area, which is one of the most ancient parts of the city, it is possible to see a wide range of architecture styles: Ukrainian Baroque, Russian Classicism, Eclecticism, and Modernism.
Charming Golden Dome Churches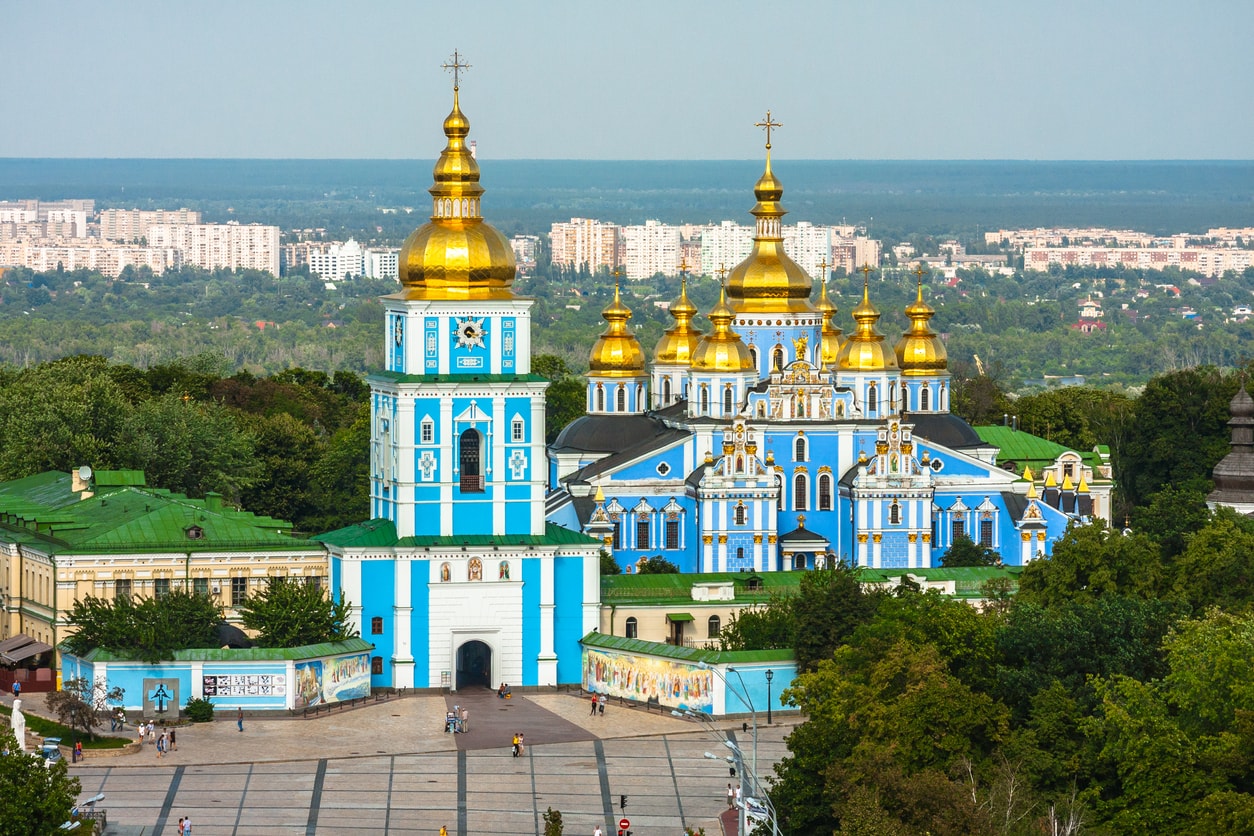 It is common to see gold dome churches around Eastern Europe. In Kyiv, there are many charming examples of them. The most famous churches are St. Andrew's Church, St. Michael's Golden-Domed Monastery and St. Volodymyr's Cathedral. Pechersk Lavra complex is declared as a World Heritage Site by UNESCO. It is worth visiting St. Sophia Cathedral, which is another UNESCO protected construction.
Relaxing Parks

The city includes diverse park alternatives, too. If you are looking for an old fashion place, Hydropark with an amusement park is a good option. Close to the main university building there is a perfect spot to rest, chill, nap or read called "Shevchenko" Park. Another relaxation corner choice can be the sandy beaches at the shore of the Dnieper river.
The National History Museum of Ukraine (WWII)
If you are interested in history and military equipment, the National Museum of the History of Ukraine in the Second World War is the correct place to visit. It is one of the largest museums in Kyiv and located under the famous Motherland Statue. The museum includes many items to give the details of WWII. 
Outdoor Attraction Streets and Unique Markets

Plenty of outdoor attractions happen in Kyiv. Especially between St. Sophia's and St. Michael's churches, you can see an attraction at almost any time. There are many vibrant and unique places in the city. In vivid touristic streets, full of sculptures, street art, and markets take the attention of visitors. The famous "Besarabski" market, culture center "Art Zavod Platforma" and historic "Podil" area (next to "Poshtova Ploshcha" metro station) worth to visit, as well.