With its 3.1 millions of inhabitants, Madrid is the capital and the biggest city of Spain. The third biggest city in the European Union, Madrid is one of the most economical, political and cultural cities in the country as well. 
Being the ideal European capital, Madrid was founded near the banks of River Manzanares. That is why it is always in motion. The city is the most elegant source of art, architecture, wine, Spanish food, and a great vacation. A dream journey starts with Madrid, the city that never sleeps.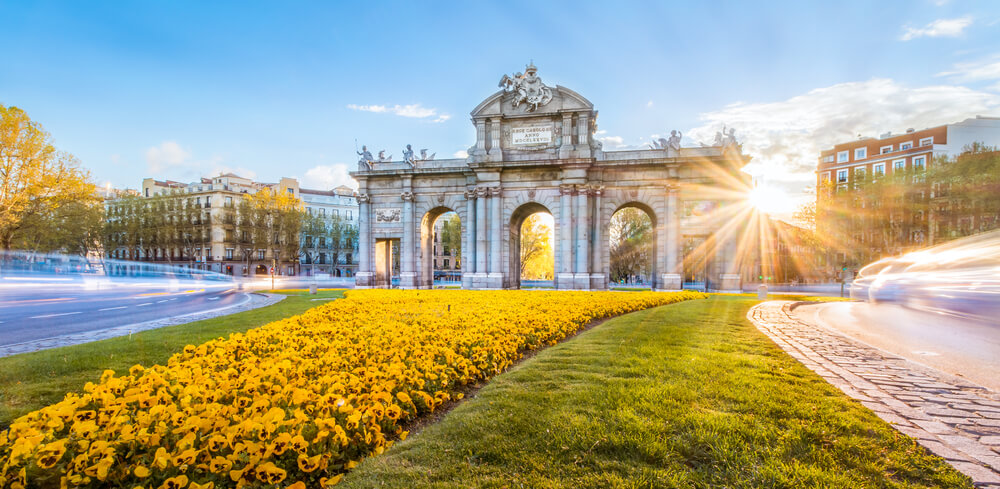 Unlike other cities, Madrid is quite rich in every aspect such as accommodation, cuisine, and cultural and historical elements. Most of the Europeans prefer to visit Madrid for their vacation. Because Madrid embellishes their dreams, as it is a wonderful city not only to visit but also to live in.  
General Information About Madrid
| | |
| --- | --- |
| Country: | Spain |
| Region: | Madrid |
| Area:604,3  | 604,3 km2 |
| Language: | Spanish |
| Average temperature: | 15 °C |
| Climate: | Continental Climate |
| Vegetation: | Woodland |
| The difference between GMT: | GMT +1 |
| Telephone Code: | + |
| Currency: | Euro |
| Socket Type: | Type F and C |

How to Get to Madrid?
The main international airport of Madrid, Adofo Suárez Madrid Barajas Airport host flights from around the world, whether low-cost or standard carriers. For further information, you can check the Madrid flight ticket page.
You can get to Madrid by train and by land too. With correct and accurate paperwork, it is possible for anyone to travel by car. But airline carriers are preferred mostly since Barajas Airport is the fifth most important airport in Europe and Madrid is visited by millions of people every year. 
You can buy your İstanbul to Madrid flight tickets by clicking here.
Transportation from Barajas Airport to the City Center
There are several methods that can be used to get to the city center of Madrid from Barajas Airport. Airport Transfer, Buses, Car Renting Services, Metro, Chauffeurs and of course Taxis.
AresMobile provides luxurious transportation service. With a chauffeur based travel system and meet & greet service, you will be met at the airport hall and will be delivered to the point you wanted.
Airport Express provides 24-hour service and depart from the airport. There are only 3 stops and the buses run every 15 minutes. The price of the tickets is 5 € and can be bought on board.
You can consider Madrid City Pass which provides a private airport transfer and a "skip-the-line" ticket for various attractions in Madrid.  
Public Transport in Madrid
Madrid's public transportation system is relatively cheaper. Even though it is a huge city and a capital, public transportation is quite efficient and not complicated at all. 
Madrid provides a lot of options in public transportation as well. These are Madrid Metro, Cercanias, Madrid City Tour, Electric Bikes and classic Bus and Taxi Lines.
Madrid City Tour provides a mini trip around Madrid and it lets you discover the beautiful attractions of the city. There are two routes that you can choose and these are Historical Madrid and Modern Madrid. This proves that the city is actually a great blend of history and modernity. The regular price is 21 € (2019).
The community of Madrid often use Madrid Cercanias which is basically train lines that provide maybe the fastest way of getting around in Madrid. They start working from 5.00 am. A single ticket is 1.70 €. The prices vary according to the zones that you want to arrive.    
Started its service in 1919, Madrid Metro might be the most efficient transportation type in the city that never sleeps. With 13 lines and 301 stations, Madrid Metro carries millions of people every day. Since the city is separated into various zones, prices change but a regular single ticket is 1.50 €. 10 trips ticket costs 12.20 € (2019).
Best Time to Visit Madrid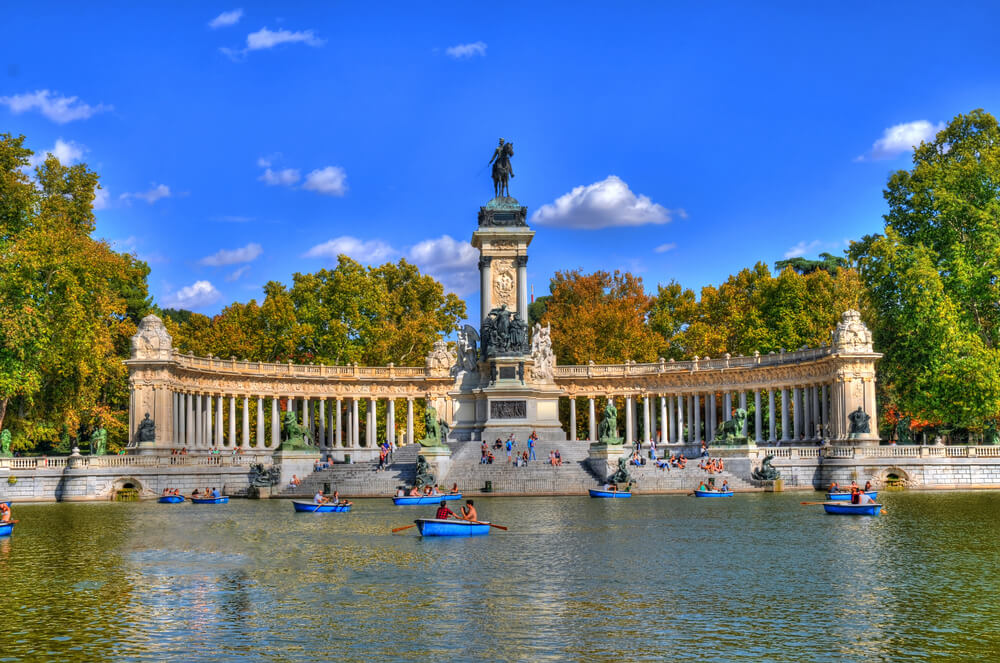 Since the city of Madrid has a continental climate, the effects of every season are seen. Madrid is always beautiful but when the summer comes the city is in its best shape. Thus, March-May months are recommended but if you are a winter traveler, September-November months are quite preferable. 
Three days in Madrid will be just fine to explore and experience this great place.  
Festivals in Madrid
Best Places to Visit in Madrid
There are so many things to do and so many things to see in this fast paced city. Here are some of the places you must see while you're visiting Madrid.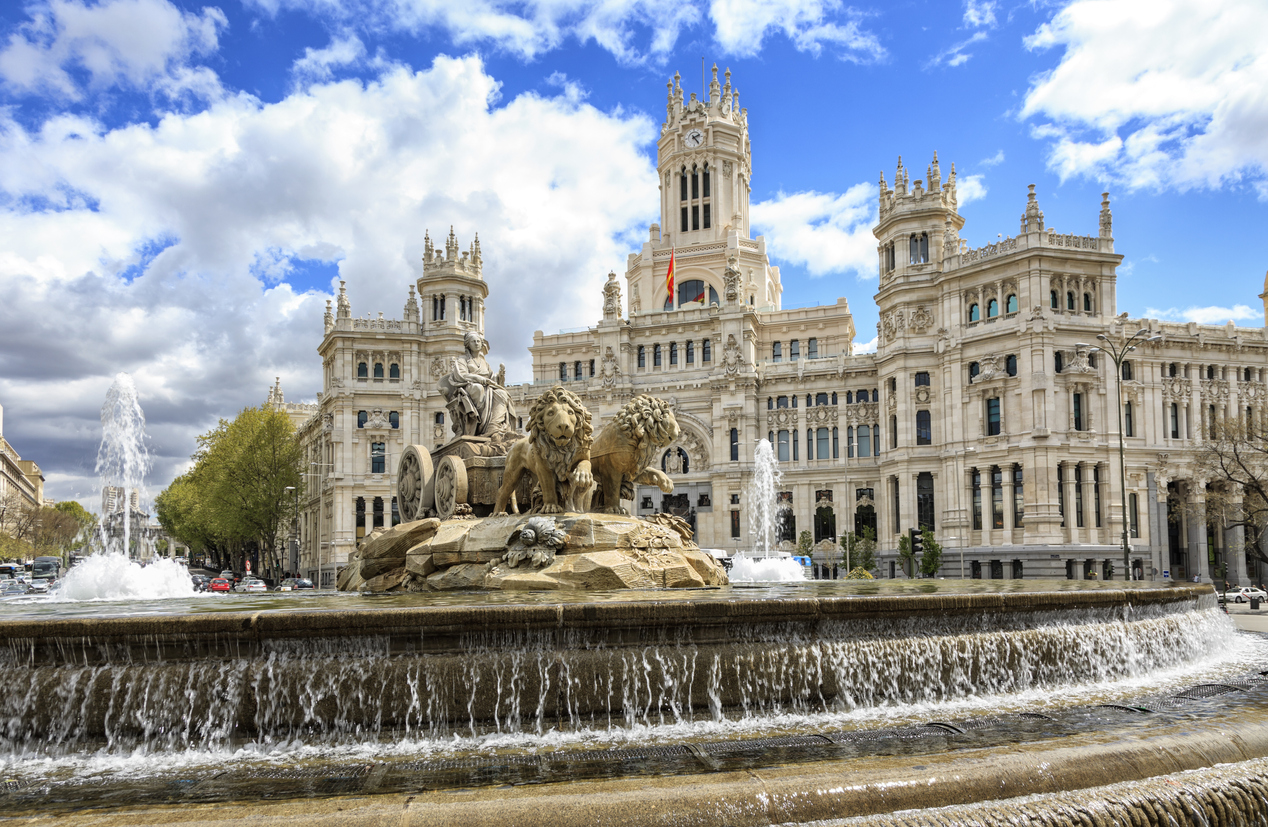 Puerta Del Sol
Madrid's top attractions list starts with Puerta Del Sol. Which basically means The Sun's Gate. As the day starts with the lovely sun in Madrid, your tour should start with a place like this.  Puerta Del Sol is a square which is located in the center of the city. It contains shopping malls, restaurants, and souvenir shops as well. A great place to feel the rhythm of Madrid.  
Prado Museum
Prado Museum has a collection of twentieth-century artwork, including masterpieces such as Las Meninas by Velazquez, The Three Graces by Rubens and La Maja Desnuda from Goya. For art lovers, exploring the Prado Museum is a must. Visiting the museum is free on Mondays and Saturdays. It is located in Retiro Park.  
Gran Via
The most popular street in Madrid is Gran Via. The street is full of clubs, restaurants, clothing stores, theatres, and cinemas. Gran Via is considered to be the Broadway of Spain. It is 300 meters away from Puerta del Sol.  
Royal Palace of Madrid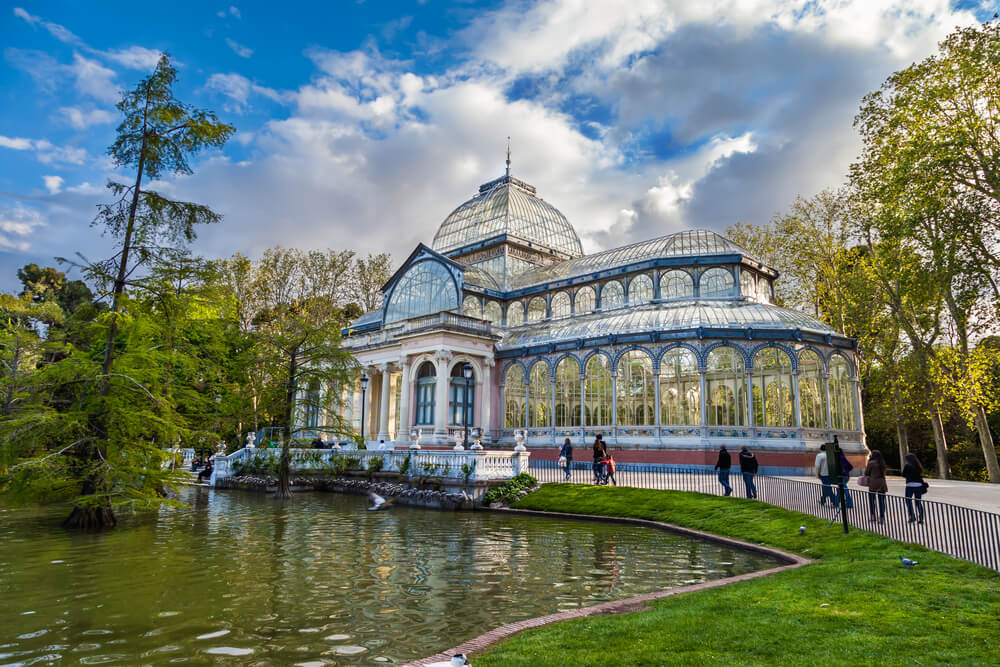 With its impressive and elegant architecture, the Royal Palace of Madrid has been the residence of the royal family for years. Palacio de Oriente, in other words, is used today for ceremonies and it is guarded by the royal guard. Watching them while they are changing their shifts is quite interesting. It can be reached by Opera Metro lines 5 or 2.       
Puerta del Alcala 
The Square of Independence, Puerta del Alcala is actually translated as Alcala's Gate and was built in 1778. It is the largest park in the city and provides an ambiance of peace and serenity. It is located in front of Retiro Park.  
Where to Stay in Madrid?
It is recommended to choose your hotel in the city center so that you can walk to the top attractions of Madrid. There are lots of hotel around Puerta del Sol.
Gran Via is another option for great hotels if you want to feel the rhythm of the city. If you are planning a trip with cultural and historical features, you can consider La Latina or Huertas regions since these places are closer to the attractions.
What to Eat in Madrid?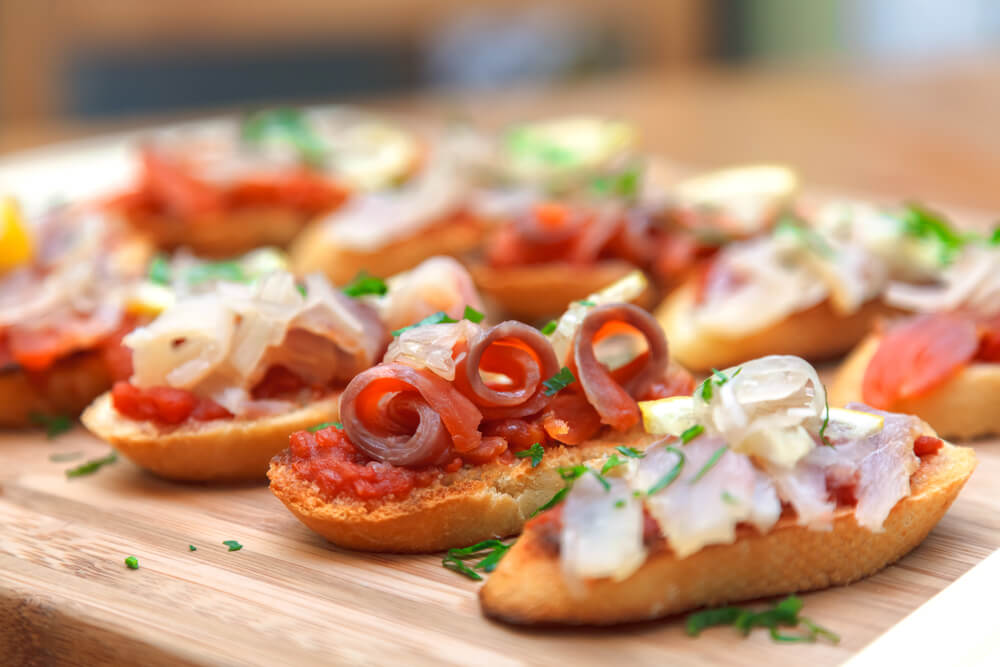 Spanish cuisine reaches its top point in the city of Madrid. The first thing that comes to mind when it comes to the food in Madrid would be Tortilla. Tortillas of Madrid are quite different from what you've tasted before. Also meat dishes in Madrid are quite delicious and the locals also love these dishes.
Callos a la madrilena must be experienced as well. This meal is based on cattle and can be tasted in the Balkans as well. But the real place for it is the city that never sleeps. Gallinejas and entresijos, on the other hand, is a traditional food and it basically reflects the whole Spanish food culture.   
Shopping in Madrid: The Best Souvenirs to Buy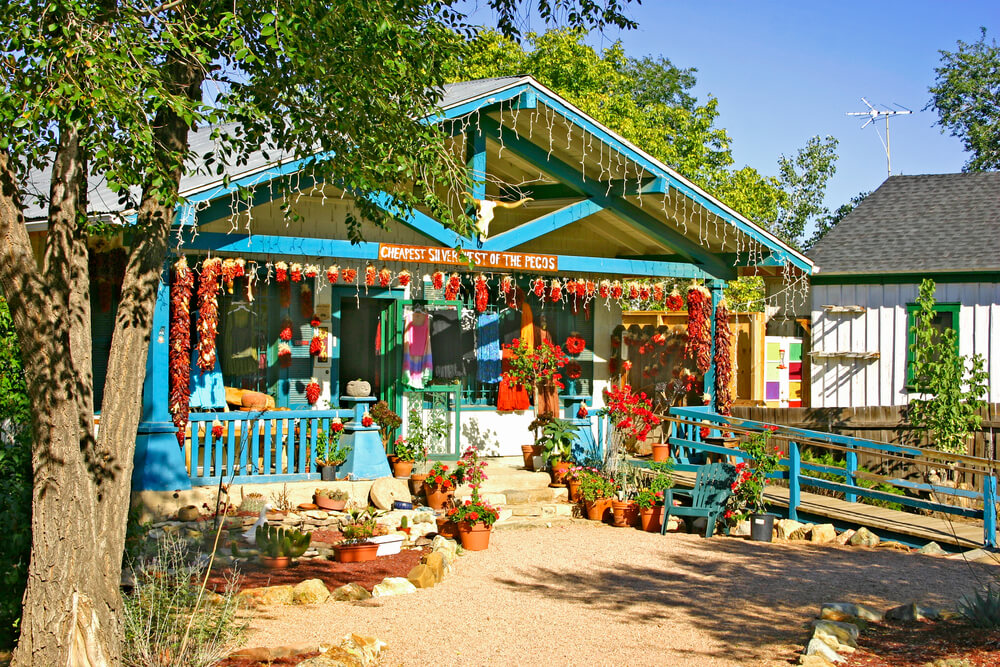 Madrid provides plenty of options when it comes to shopping. Credit cards and foreign bank cards are usually accepted but keep in mind that your identity might be checked. 
The perfect places for shopping in Madrid is Gran Via, Puerta del Sol, Calle de Preciados and Calle del Carmen. If you are careful about your budget, it would be a good idea to visit these places. But for more luxurious and expensive stores, Salamanca is a preferable and quite a popular place.   
Nightlife in Madrid
Madrid is embellished by night clubs, cocktail bars, jazz saloons, live music cafes, and theatres. These places suggest a great nightlife in the streets of Madrid. Gran Via, most importantly proves that this city never sleeps and is always in motion.
The community of Madrid was oppressed in the time of Franco. Therefore, after the eighties; Madrid increased its cultural movements and entertainment sector has risen.
The places like Maasana, Lavapies and Plaza del Dos de Mayo, Huertas, Atocha, Alonso Martinez and Moncloa are always crowded and ideal for nightlife. The nightlife starts at 00.00 in Madrid and it never ends. Madridians love to have fun.  
Essential Phone Numbers to Know
Emergency: 112  
Police: 091 
Fire: 080