Sharm El-Sheikh is the popular Egyptian resort town, which is filled with some of the world's wonders. Historically, it was included in Israeli territory which was later returned back to Egypt in 1979. Although being uninhabited through most of the time in history, Sharm El-Sheikh gained particular significance due to its strategic location, which provides control over the narrow entrance to the Gulf of Aqaba. The area began to develop as a famous touristic site under the Israeli administration, and the efforts are continued by the Egyptians. The city has recently been a preferred tourist destination with visitors coming from all over the world; as the unique biodiversity of the marine world increases the number of visitors to the region, turning it into a popular destination for snorkeling. Home to hidden gems with its popular beach resorts, rich underwater habitat, beautiful coral reefs and unique diving spots, Sharm El-Sheikh lays in between Egypt's Cairo and Jerusalem, Israel.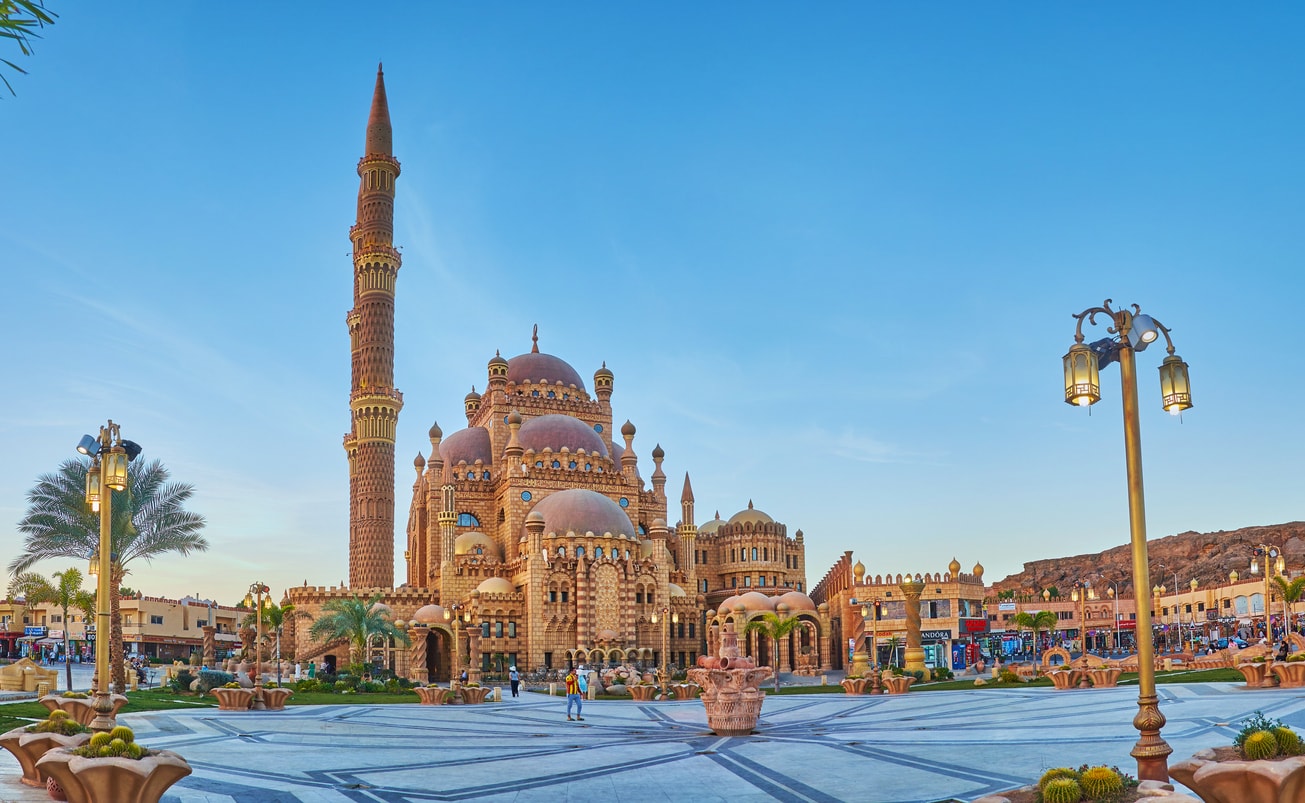 There are numerous other things to do in order to make your time in Sharm El-Sheikh a memorable one. The city is home to the most fascinating landscapes of Sinai Peninsula and the Red Sea. You can spend the day sunbathing at one of the best beaches in the world, explore the local culture wandering around the Old Town, go hiking on Mount Sinai or embark on an adventure to the deep seas and discover the underwater treasures at many diving spots, particularly at Ras Mohammed Marine Park. There are also many historical treasures in the region such as St. Catherine's Monastery sits at the foot of Mt. Sinai, Sharm Old Market and Al-Sahaba Mosque.
General Information 

| | |
| --- | --- |
| Country: | Egypt |
| Region: | Sinai Peninsula |
| Area: | 180 km² |
| Language: | Arabic  |
| Average temperature: | 23.1 °C |
| Climate: | Desert Climate |
| Vegetation: | Steppe-Cactus |
| The difference between GMT: | GMT +2  |
| Telephone Code: | +20 69 |
| Currency: | Egyptian Pound |
| Socket Type: | Type C |

How to Get to Sharm El-Sheikh? 

Pegasus Airlines offers direct flights from Istanbul to Sharm El-Sheikh Airport. You can book your Sharm El-Sheikh flight ticket in advance and enjoy this beautiful city.  
Transportation from Sharm El-Sheikh Airport to City Center

Sharm El-Sheikh International Airport (SSH) is well connected by minibus, taxi or shuttle services. If you would like to make things easier you can book an airport shuttle service online. Alternatively, you can benefit from Pegasus car rental service for a more comfortable transportation opportunity during your trip. 
Public Transport in Sharm El-Sheikh

Public transportation network is not very developed in the city. The most common way to travel within short distances in the city is by minibus. They drive around the main roads and go in two directions. Despite providing the cheapest and most frequently used means of transport, they may not be a good option if you are on the rush. Taxi is the most preferred option to get around as they are easily accessible.  
Best Time to Visit Sharm El-Sheikh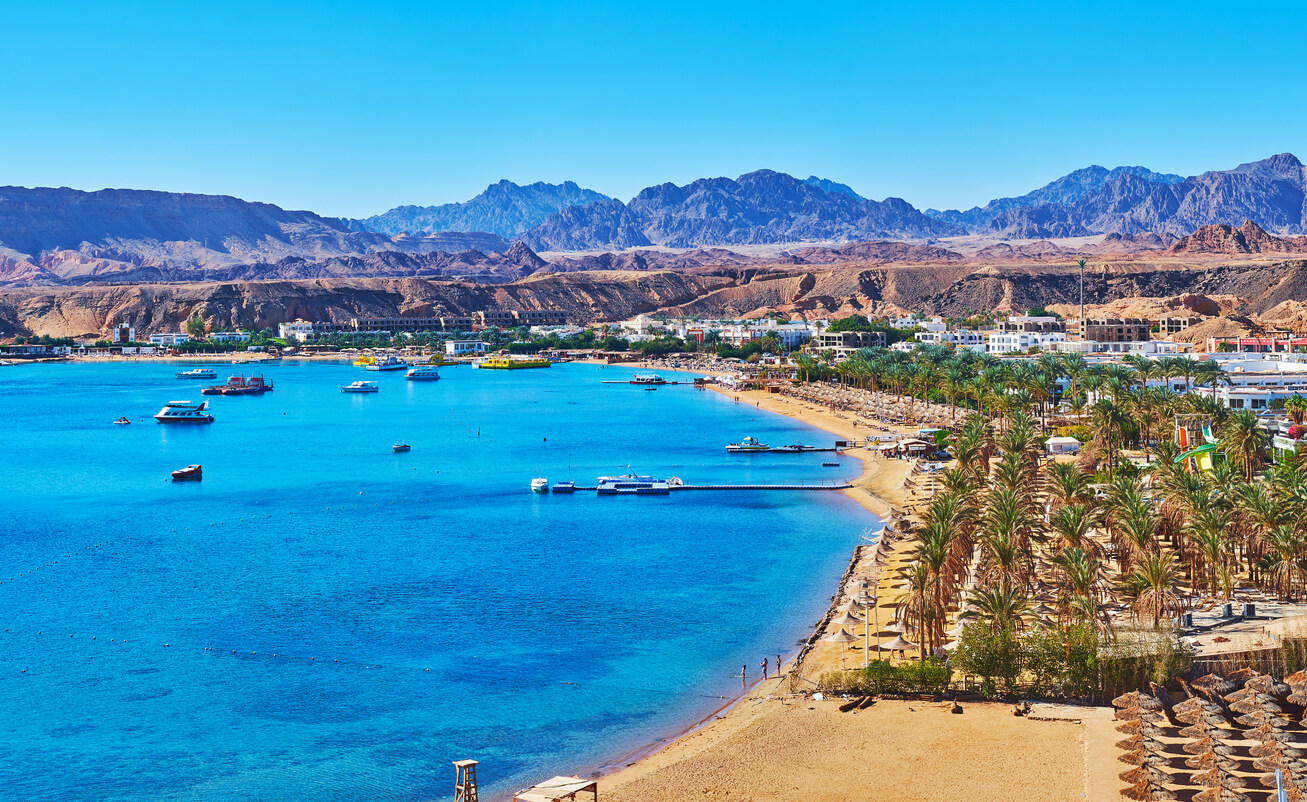 Summertime temperatures can get really overwhelming, reaching 50℃ in Sharm El Sheikh. The ideal times to visit this fascinating place is in spring and autumn months when the low seasons kicks off with lower temperatures. You should spare at least 3 days to visit the entire city. 
Festivals in Sharm El-Sheikh

There are a number of festivities celebrated throughout the year in Sharm El-Sheikh:
Unity Day (February)

Abu Simbel Festival (February)

Coptic Christmas (January)

Sina Independence Day (April)

Shem El Nessim (April)

Leylet En Nuktah (June)

Revolution Day (July)

Art Festival (August)
Places to Visit in Sharm El-Sheikh

Sharm El-Sheik is a gate to paradise where you will spend some amazing time during your stay. Here are the places you should make sure to visit while in Sharm El-Sheikh.
Diving Centers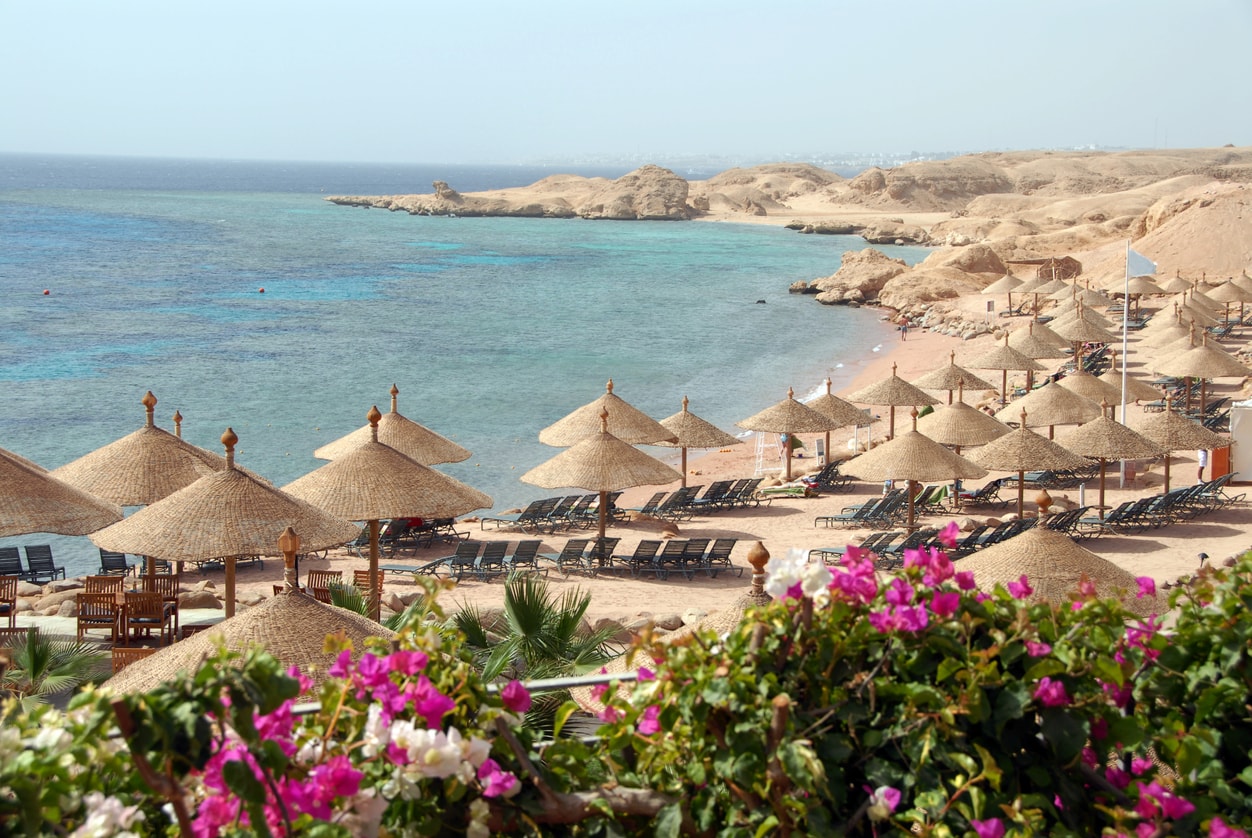 Getting in the turquoise waters of the Red Sea is among the top activities to once in Sharm El Sheikh. The most famous diving centers are known to be Ras Um Sid, Sheikh Coast Diving Center and Sharm El Maya with breathtaking underwater scenery.
Ras Mohammed National Park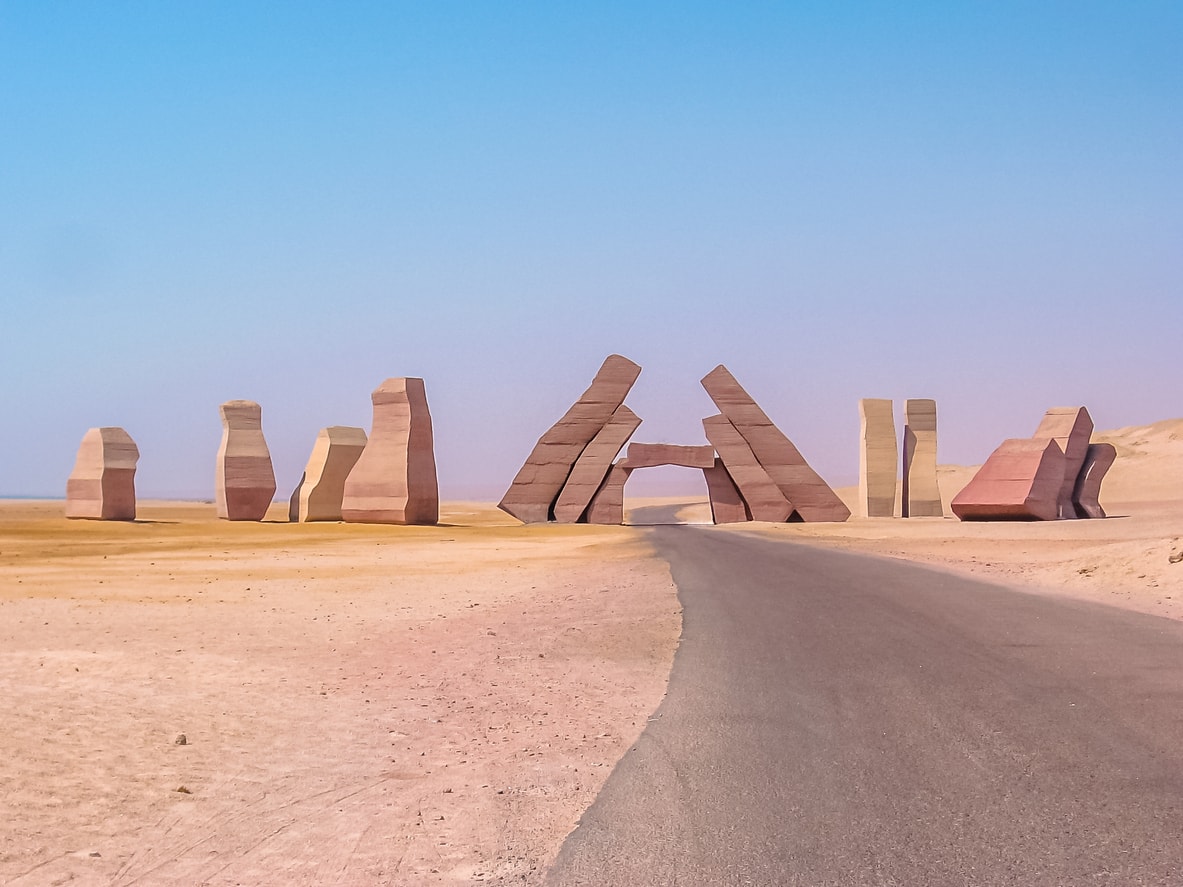 Ras Mohammed National Park is among the worldly famous marine parks of the Sinai Peninsula. It is also a popular spot for scuba diving and snorkeling for those who would like to venture on the crystal waters to discover the unique coral reefs that are marked as one of the most beautiful places after the Great Barrier Reefs of Australia. 
Colorful Canyon

You can take a safari trip the Canyon from Sharm El-Sheikh through guided tours or by off-road vehicles. Colorful Canyon composes of rocks with many different colors formed by oxidation giving the unique landscape its name.  You can hike throughout the canyons and enjoy this natural wonder accompanied by beautiful scenery. 
Desert Safari

There are numerous guided safari tours that take tourists to an adventurous journey along Sharm's deserts. You can ride a camel, watch the charming sunset in the desert and stargaze with Bedouin guides. 
Mount Sinai and Monastery of St.Catherine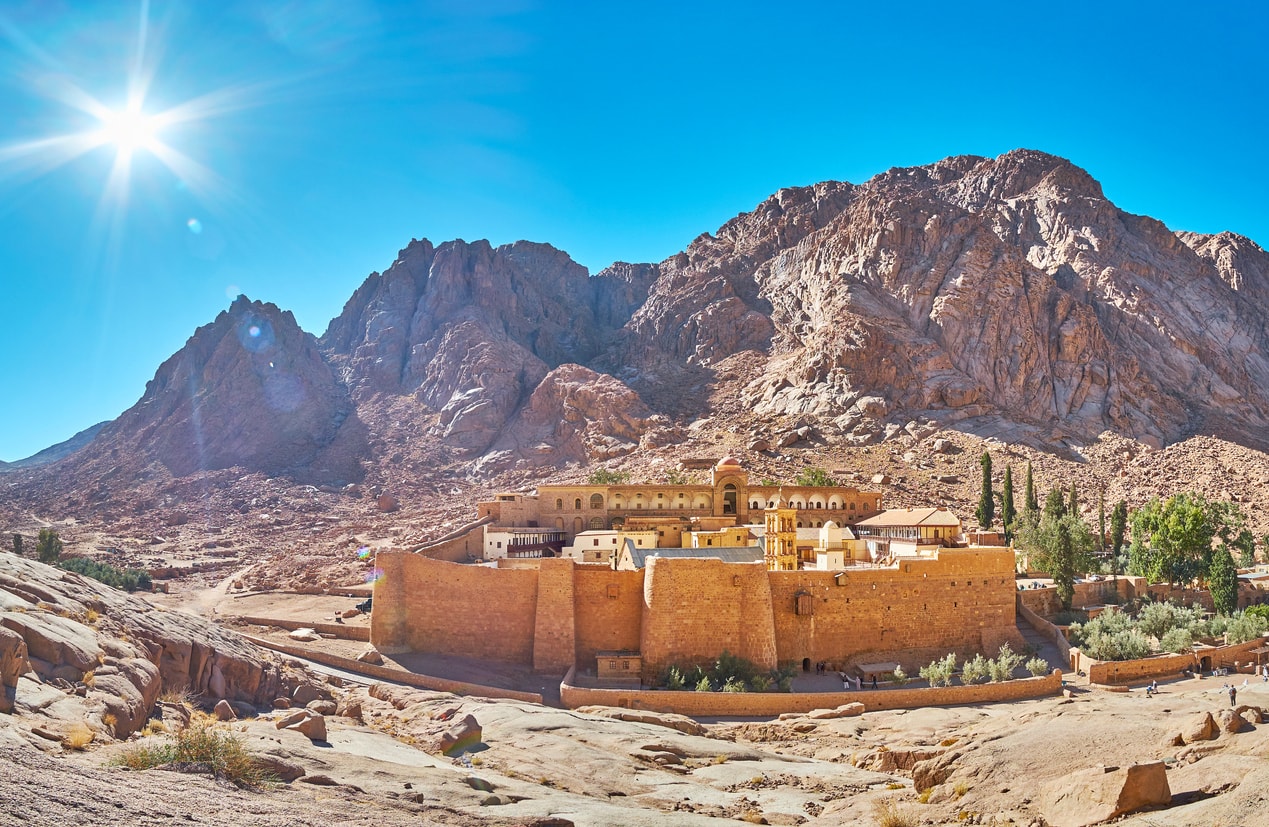 Mount Sinai is known to be sacred for Abrahamic religions, as it is believed to be the place where Ten Commandments were delivered to Prophet Moses. St. Catherine's Monastery, located 250 km outside city at the foot of Mount Sinai, is one of the ancient historical places of worship.  The monastery was built by the Byzantine Emperor Justinianus in the 6th century and has been a UNESCO World Heritage Site since 2002.
Where to Stay in Sharm El-Sheikh?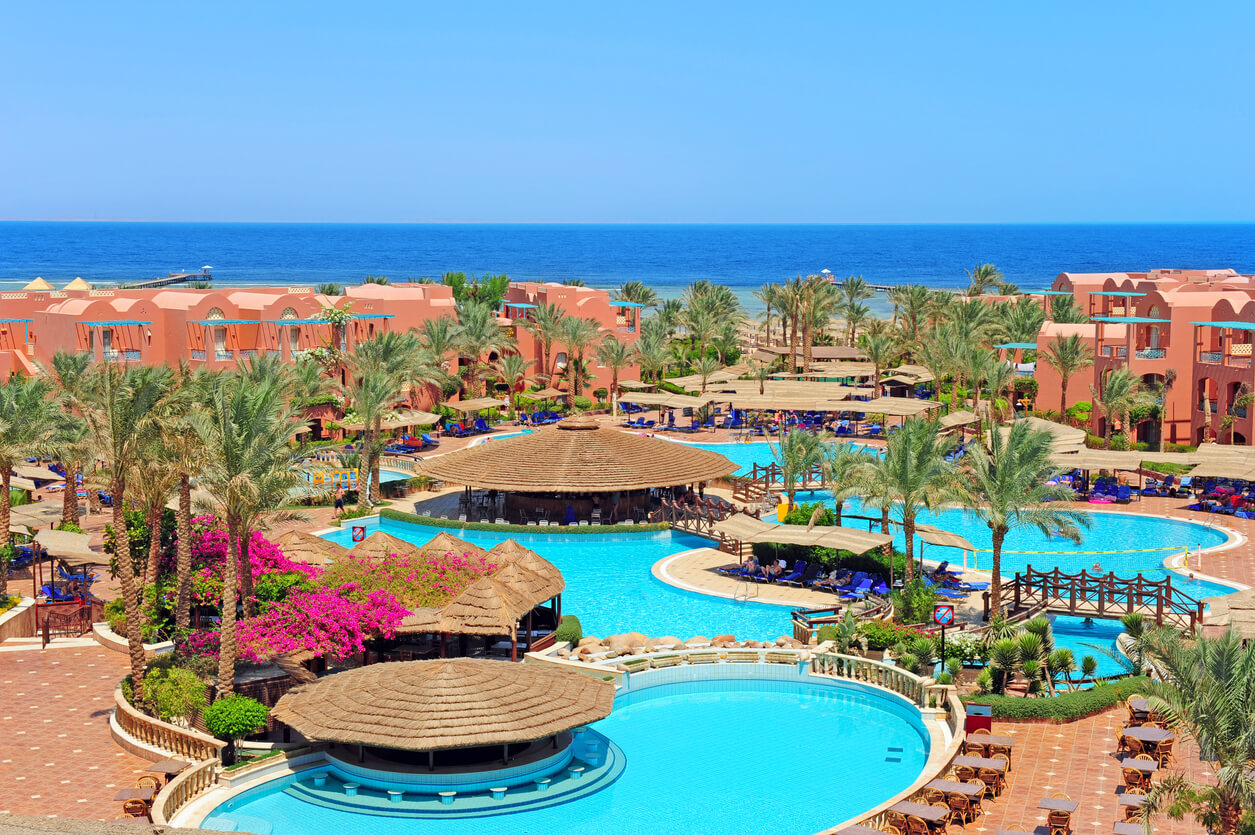 There are many accommodation opportunities in Sharm El-Sheikh ranging from high-end luxurious resorts to more economical selections. Sabq, Soho Square and Naama Bay area are appealing spots for tourists. Hyatt Regency, Royal Savoy, Reef Oasis Blue Bay Resort, Charmillion Sea Life Resort are listed among the preferred options that are located along the beach. 
What to Eat in Sharm El-Sheikh?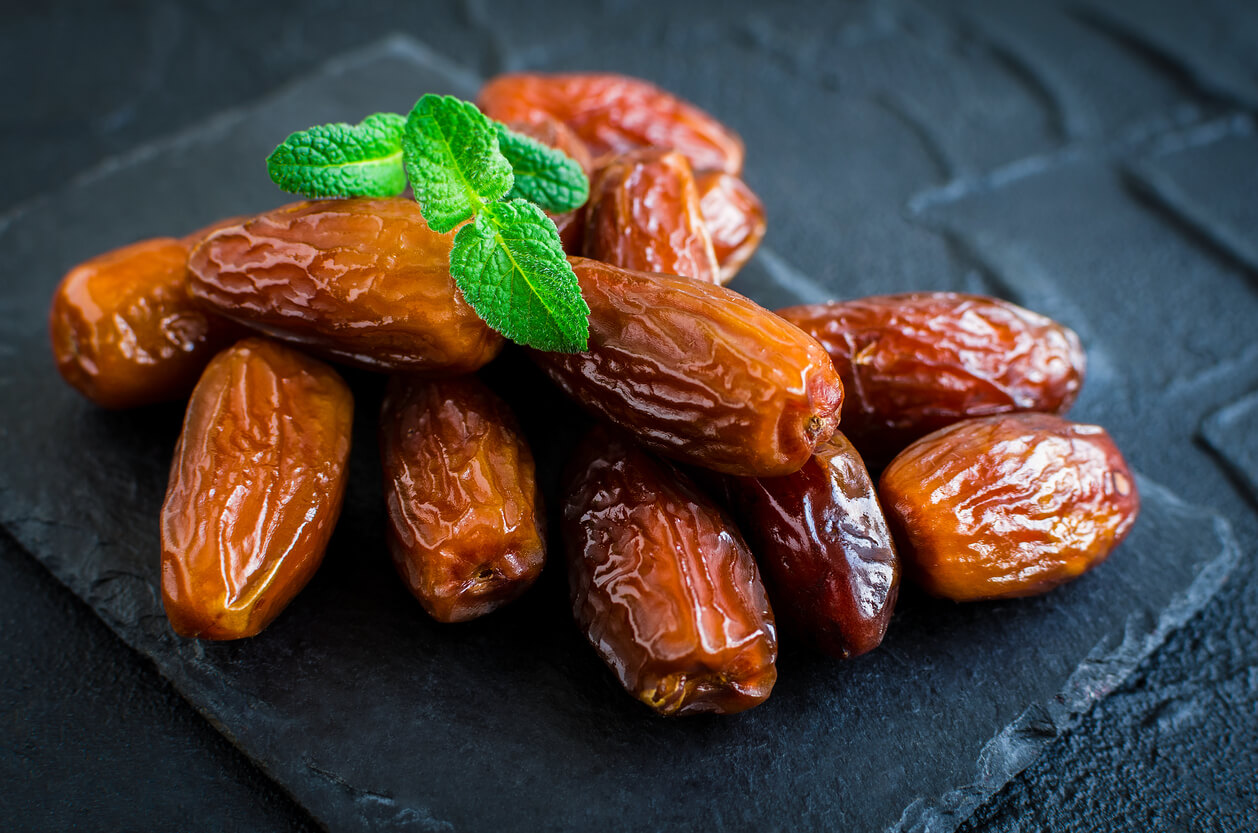 The food culture in Egypt has been heavily influenced by Lebanese and Indian cuisines; yet Sharm El Sheikh, being a famous tourist destination with visitors from all over the world, offers a variety of options ranging from Italian restaurants to Far Eastern delicacies of Chinese or Thai food.
Traditional Egyptian Cuisine: El Masrien Grill Restaurant (Old Market)

Oriental Food & Grill:  El Masrien Restaurant 

Seafood: Fish Market (Sultan Gardens Resort)

Hookah: Farsha Cafe (Umm El Sid Hill)

Barbecue and Kebab: El Kababgy

French Cuisine: La Fleur

Seafood: Fares Seafood

Italian and Vegetarian Cuisine: Frantogo

Indian Food: Rangoli
Shopping in Sharm El-Sheikh's: The Best Souvenirs to Buy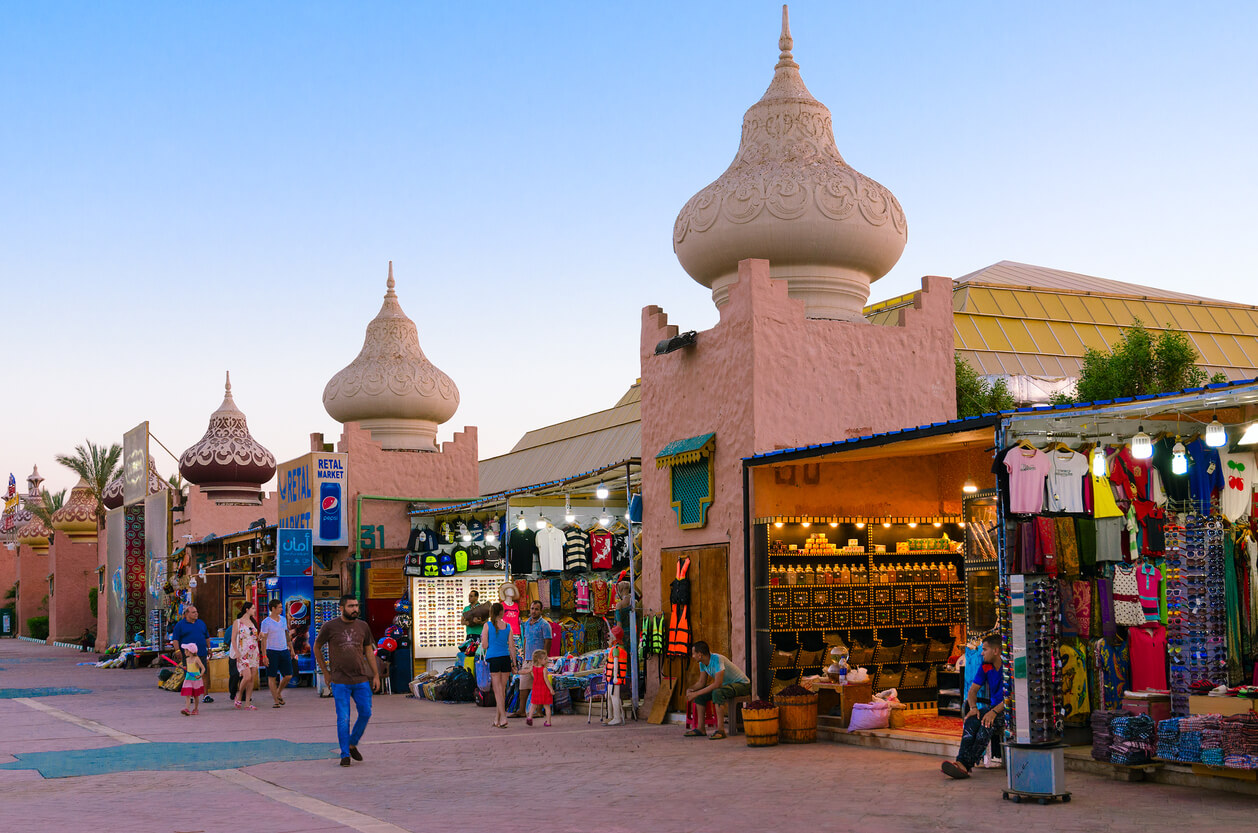 The Soho Street and Naama Bay are among the top spots for shopping. Al Khan and La Strada are two big shopping malls located in Nabq Bay. Another famous shopping place is the Old Bazaar, which is quite similar to the Grand Bazaar in İstanbul. Handmade jewelries, Egyptian pharaoh and pyramid statuettes, spices and traditional local clothing are among the top souvenirs to look for. 
Nightlife in Sharm El-Sheikh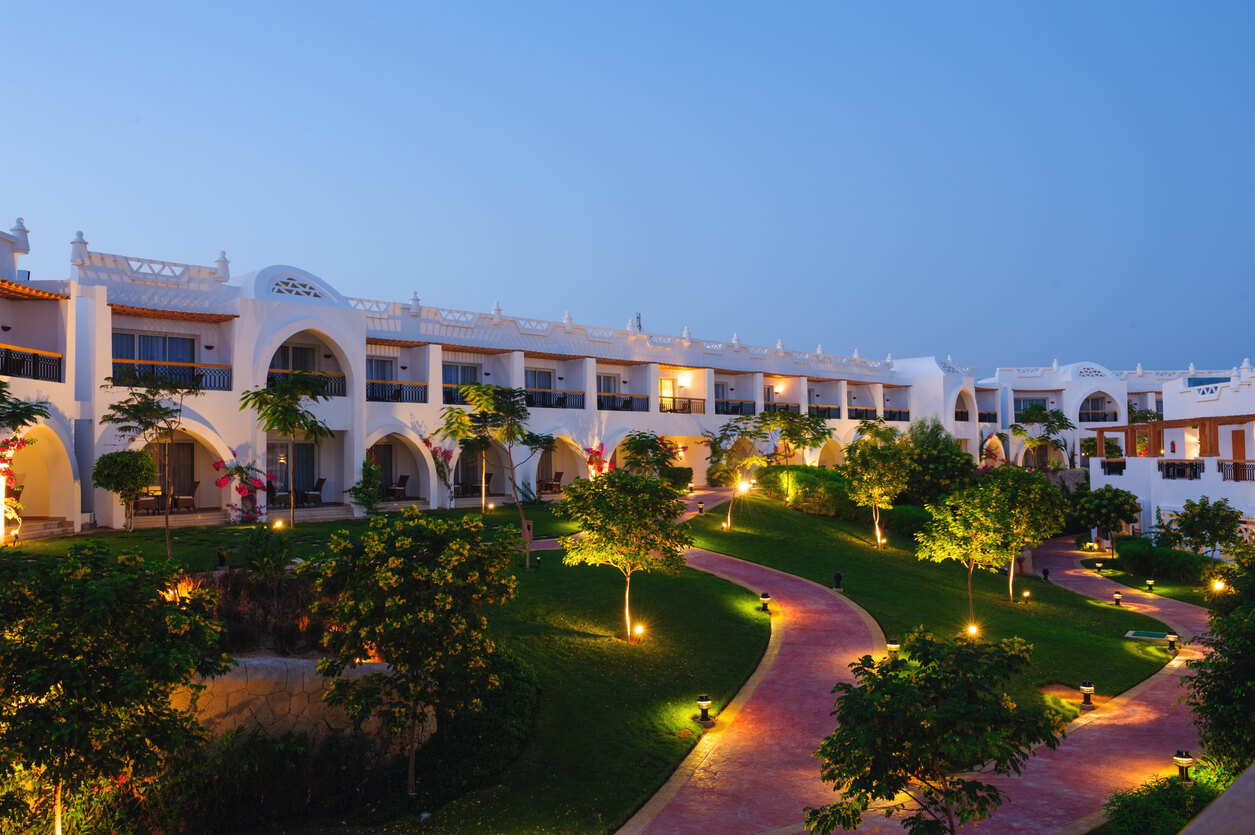 Sharm El Sheikh has a lively nightlife. Naama Bay is the most popular area of Sharm El-Sheikh to go out at night. Sinai Grand Casino, Dolce Vita Sharm El Sheikh -a night-club located right in the middle of the desert are the most preferred entertainment spots in the city.
Things to Know Before Visiting Sharm El-Sheikh

Egypt's official language is Arabic, but coins and bank notes are written in Arabic and English. 

If you need to use a taxi, go for the white and blue ones which has the sign on top, as they are officially registered. It is advised that you agree on the price before taking a ride. 

Bargaining is definitely part of the shopping culture here.

Security might be an issue of concern when considering a trip to Sharm El-Sheikh, but preemptive measures against terrorism have been strengthened and travel is deemed safe with due diligence. The government has increased security with the presence of a local tourist police in Sharm El-Sheikh.

Travelers are advised to be attentive against pickpockets, particularly in crowded places in the city center.
Essential Numbers 

Country Code: +20 69
Tourist Police: 126
Emergency Police: 122
Ambulance: 123
Fire Department: 180
Sharm El Sheikh International Airport: +20 69 360 1140