Alanya is the charming coastal district of Antalya and is a popular tourist destination. Alanya was named Pamphylia and Cilicia in the antiquity. Alanya offers countless experiences; you can swim in the bay where Cleopatra once bathed, explore the ancient ruins and relax in the world-class hotels.
The town is surrounded by Toros Mountains to the north and the Mediterranean Sea to the south. Alanya is located 130 kilometers away from the Antalya city center.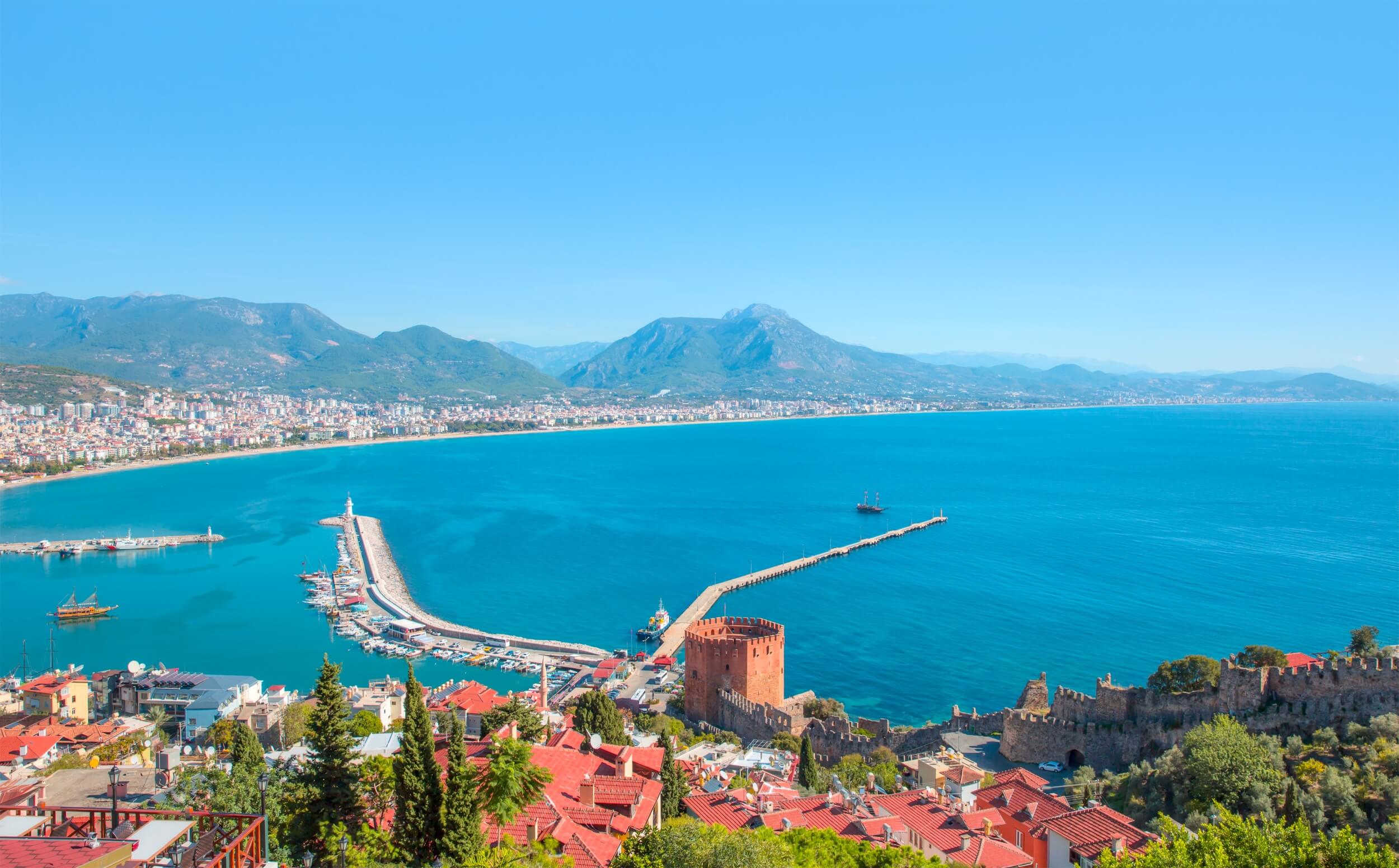 General Information
| | |
| --- | --- |
| Country: | Türkiye |
| Region: | Southern Türkiye |
| Area: | 1577 km2 |
| Language: | Turkish |
| Average temperature: | 18.8 Celsius |
| Climate: | Mediterranean Climate |
| Vegetation: | Typical Mediterranean Plants |
| The difference between GMT: | GMT+3 |
| Telephone Code: | +242 |
| Currency: | Turkish Lira |
| Socket Type: | Type C |

How to Get to Alanya?
Alanya attracts millions of tourists, especially with its all-around spectacular summer season. Pegasus Airlines offers direct flights to Alanya from İstanbul Sabiha Gökçen Airport with great prices. The flight takes approximately 1 hour 20 minutes. You can buy your Istanbul to Alanya flight tickets. 
Transportation from Gazipaşa Alanya Airport to City Center
Gazipaşa Alanya Airport is 41 kilometers away from the Alanya city center. You can get to the city center from the airport with a direct bus, taxi and car.
Direct buses are located just outside of the airport and leaves after 25 minutes for each arrival. The trip takes approximately 60 minutes and costs 20 Turkish Liras.
There are also many taxis in the airport that can take you to the city center. Taxis cost 6 liras per kilometer. In Alanya, you can also enjoy the city by renting a car. Pegasus Airlines car rental service has great offers for you.
Public Transport in Alanya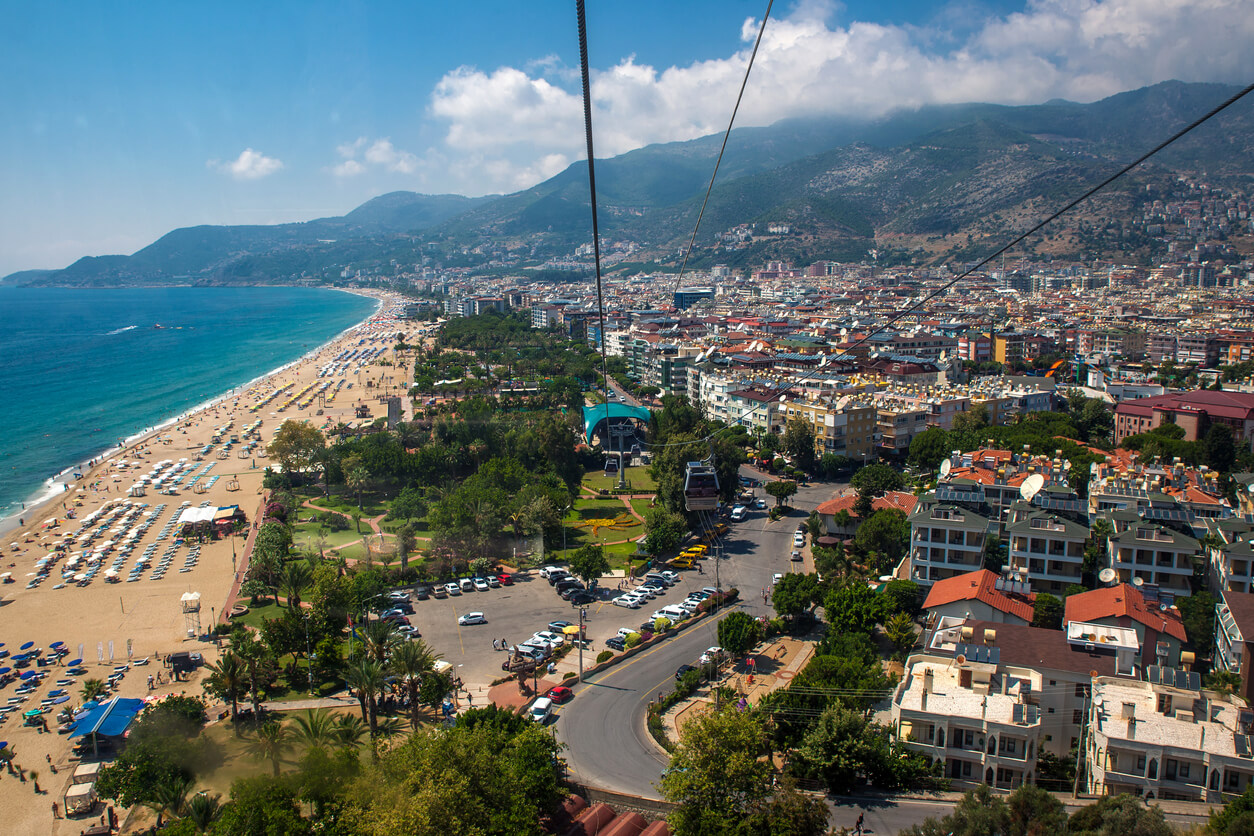 In the city center, you can get around with buses, small busses and taxis. 
Most busses are available from 6.00 to 23.45. You need to have an "Alanya Kentkart" in order to use busses. You can get the card from most kiosks and bus stops. One trip fare is 3 liras.
Small busses have fixed routes and fares. They are in route from 6.30 to 24.00 in every 5 to 10 minutes and is the most common means of transportation. You can find them in the city center and travel other parts of Alanya. 
Taxis are another way of transportation in Alanya. Alanya is a fairly small city and any visit in town should not take more than 40 liras.(2019)  
Best Time to Visit Alanya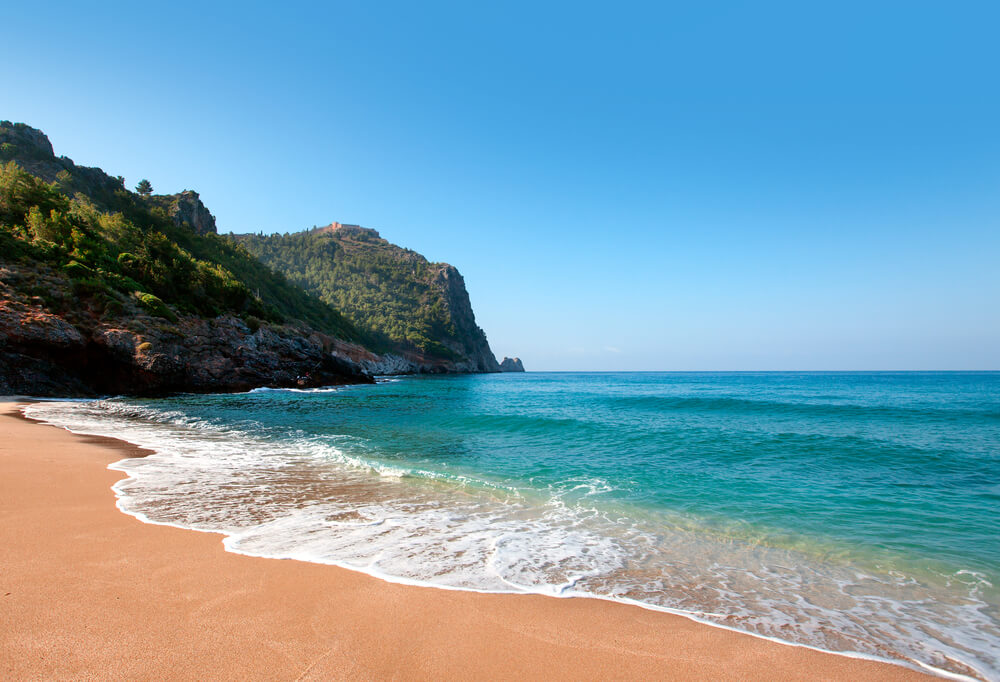 Alanya has a typical Mediterranean climate and records more than 300 sunny days a year. Summers are warm and dry and winters are pleasantly mild and rainy. The warmest month is July and the coolest month is January. Since the city is a popular tourist destination during summer, it gets very crowded. We suggest you to visit Alanya during late spring or early autumn. It is also recommended for you to enjoy Alanya at least three or four days.  
Places to Visit in Alanya
Although Alanya is an amazing summer destination with its gorgeous beaches and warm sea, the town offers the full package with many great historic and natural attractions scattered all around the town.  
Red Tower
Red Tower is the iconic structure of the town built in the 14th century by the Seljuk Empire. The tower is the unique example of medieval Seljuk architectural style. You can visit the Red Tower from 9.00 to 17.00 with an entrance fee of 5 liras. 
Alanya Castle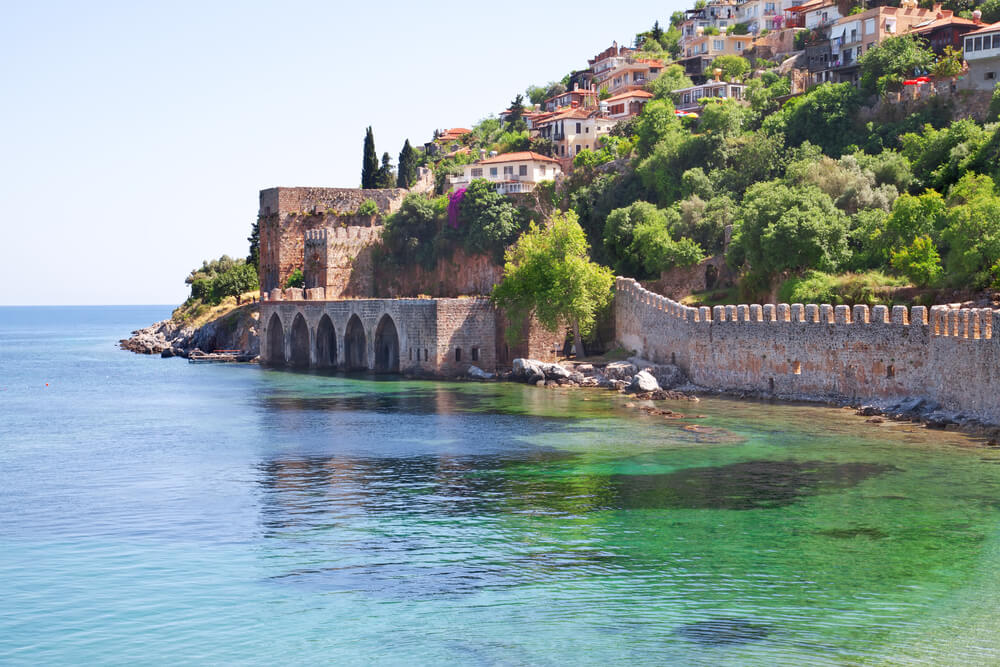 Alanya Castle was the main base of many pirates since its first foundation. Then the castle became a significant harbor for Rome, Byzantine, Seljuk and Ottoman reigns. The castle now serves as a huge open-air museum with various monuments and artifacts. You can visit the castle every day from 9.00 to 19.00. The castle is reachable with an aerial tram. There are many restaurants and souvenir shops in the castle streets.
Dim Cave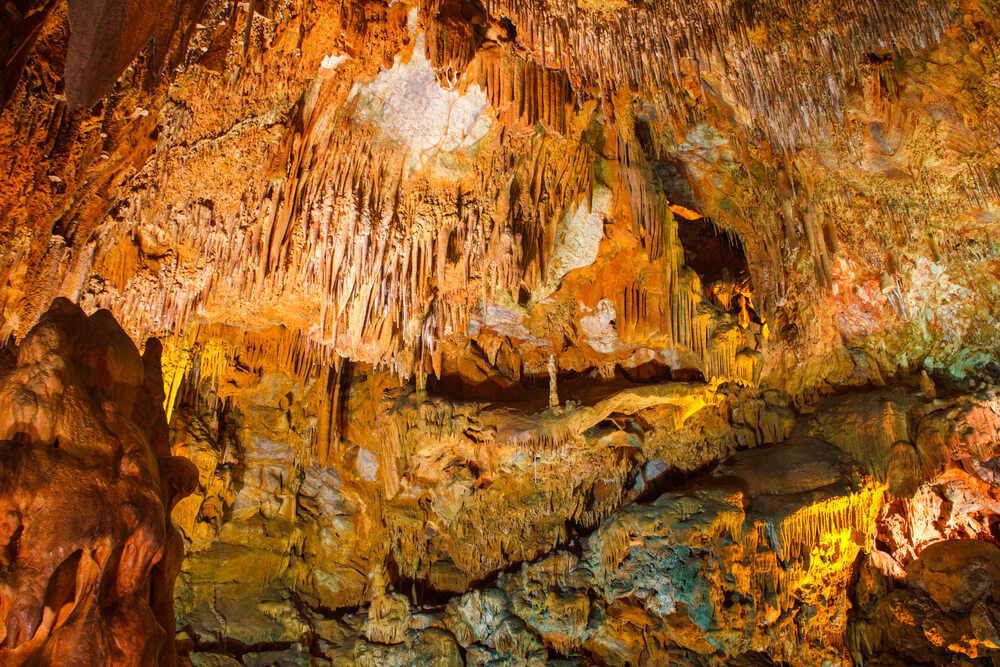 Dim Cave is the amazing natural attraction of Alanya. The cave is the second largest one in Türkiye and has spectacular interiors with limestone. Dim Cave is located 11 kilometers away from Alanya.
Cleopatra Beach
Cleopatra Beach is an approximately 2 kilometers long sandy beach and got its name from the Egyptian Queen Cleopatra. It is told that she was so impressed with the beauty of the beach she stopped her voyage to swim in Cleopatra Beach. The beach is open to public and there is no entrance fee.
The Ancient city of Syedra
The ancient city of Syedra's history dates back to the 7th century. The ancient city has ruins of a pillared avenue, bathing complex, a chapel and a basilica. The entrance is free and the city is located 20 kilometers away from the Alanya city center.
Festivals in Alanya
Alanya International Tourism and Art Festival (June)

Alanya International Jazz Festival (September)

Alanya International Bicycle Festival (October)
Where to Stay in Alanya?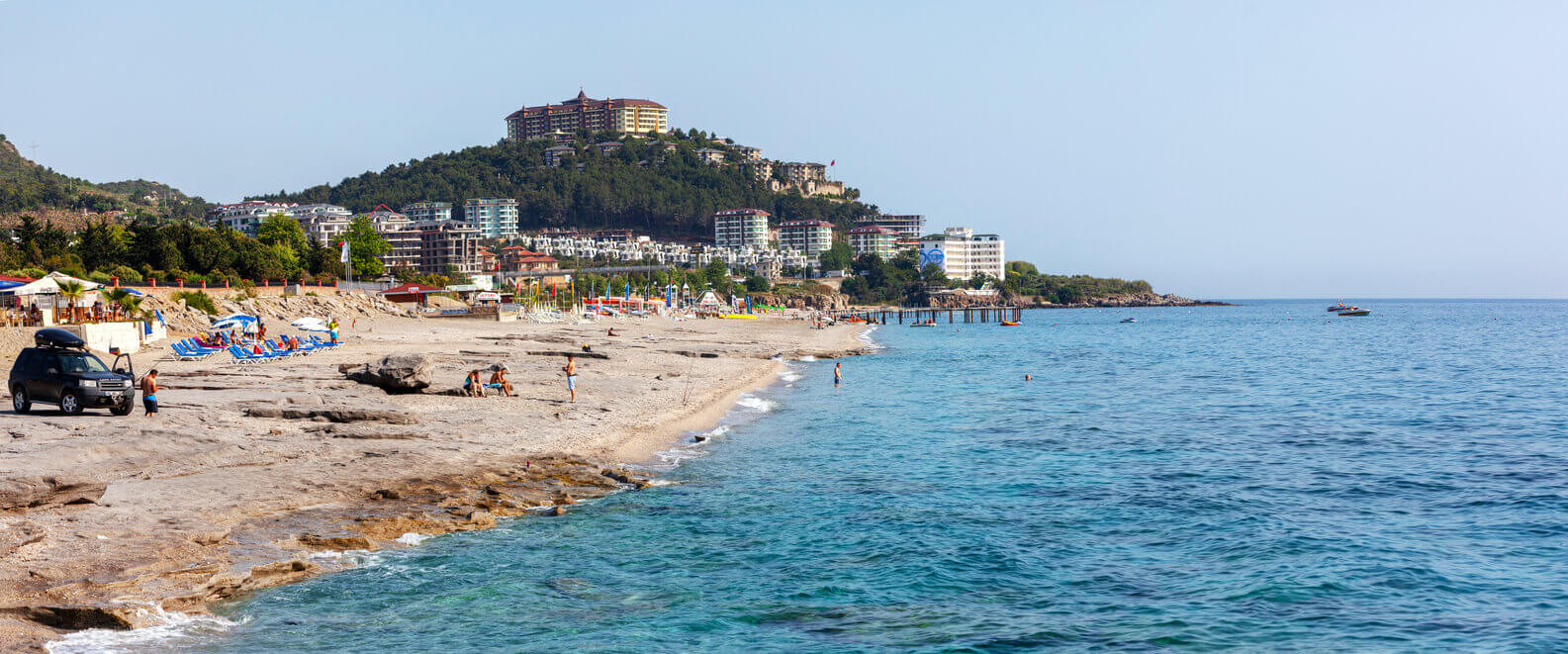 Alanya has a variety of accommodation options for its visitors ranging from low-priced hostels to luxury resorts. 
If you are in Alanya to enjoy its lively day and night to the fullest, it is best for you to stay in hotels in Çarşı district.
If you are looking for a more relaxing Alanya experience, it is best for you to stay in hotels located in Kargıcak district. 
There are also many boutique hotels in Alanya along the shores of the Mediterranean Sea.   
What to Eat in Alanya?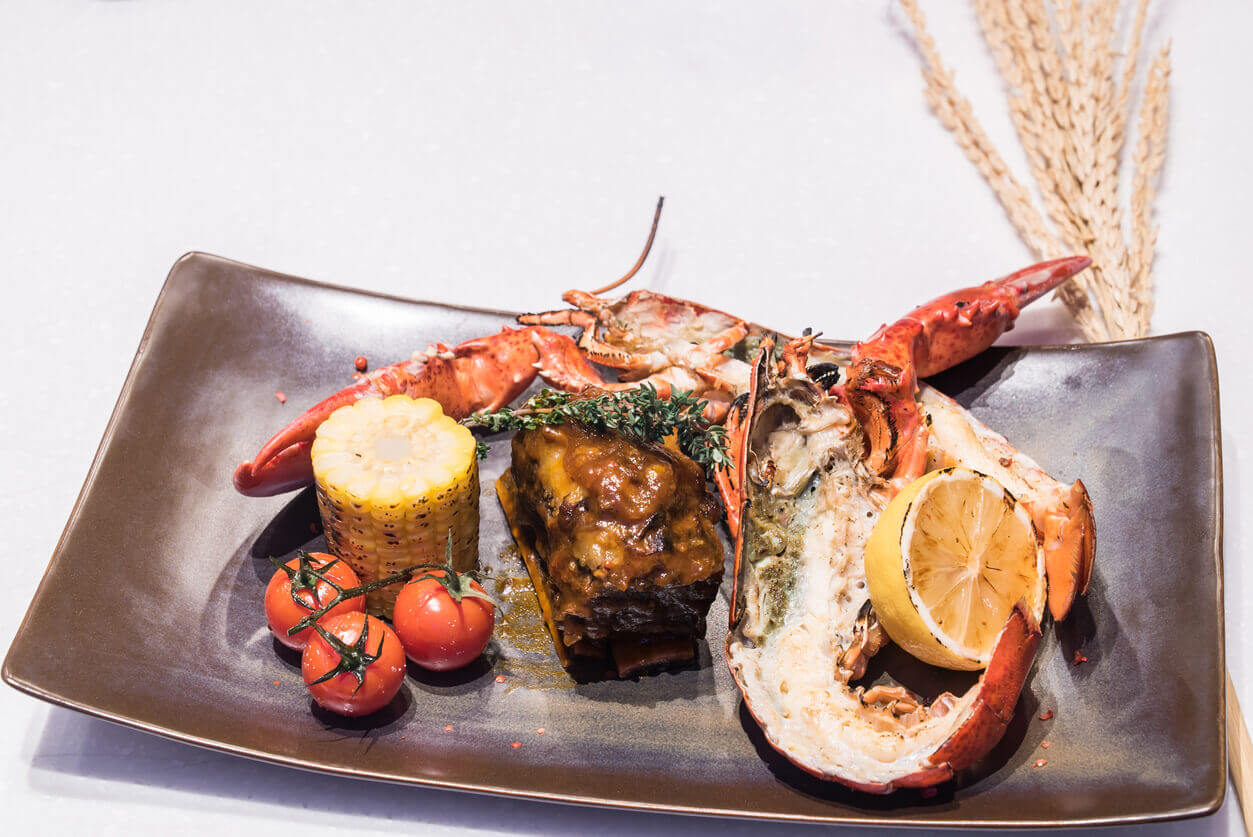 Turkish cuisine is great all around and Alanya is not an exception. Alanya cuisine has some specialties in Turkish cuisine. Fish, vegetable and olive oil are some of its essential ingredients. In Alanya, you can also find many international restaurants ranging from Russian to Mexican food.
Steaks, Kebabs: Mezze Grill Restaurant & Ocakbasi

Fish: My Balıkçım Balık Lokantası

Breakfast: Cemal Kahvaltı
Shopping in Alanya: Best Souvenirs to Buy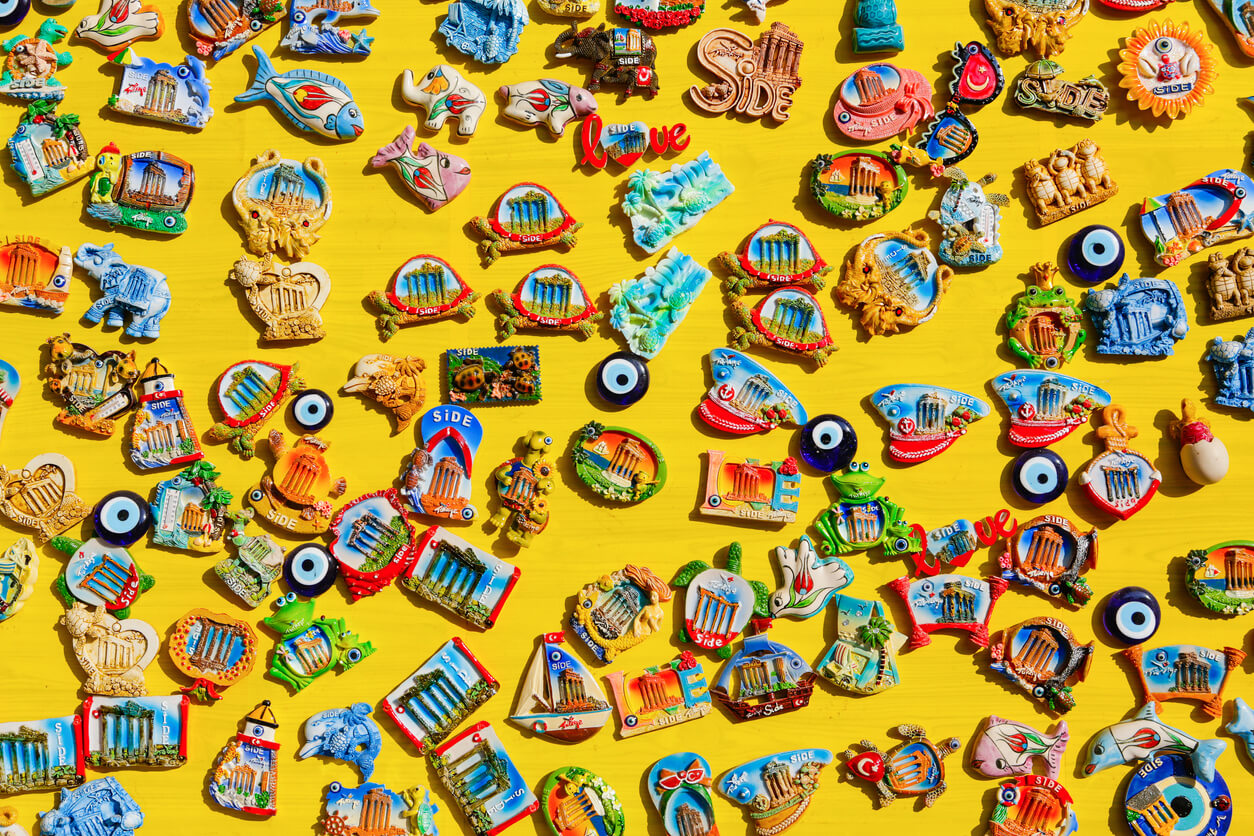 Alanya is a tourism city and you can find souvenirs or traditional crafts in almost every part of the town. Villages surrounding Alanya are famous for their delicious home-made jams. They make unique eggplant and watermelon jams. In Alanya, you can also get traditional silk scarfs for your loved ones. 
Nightlife in Alanya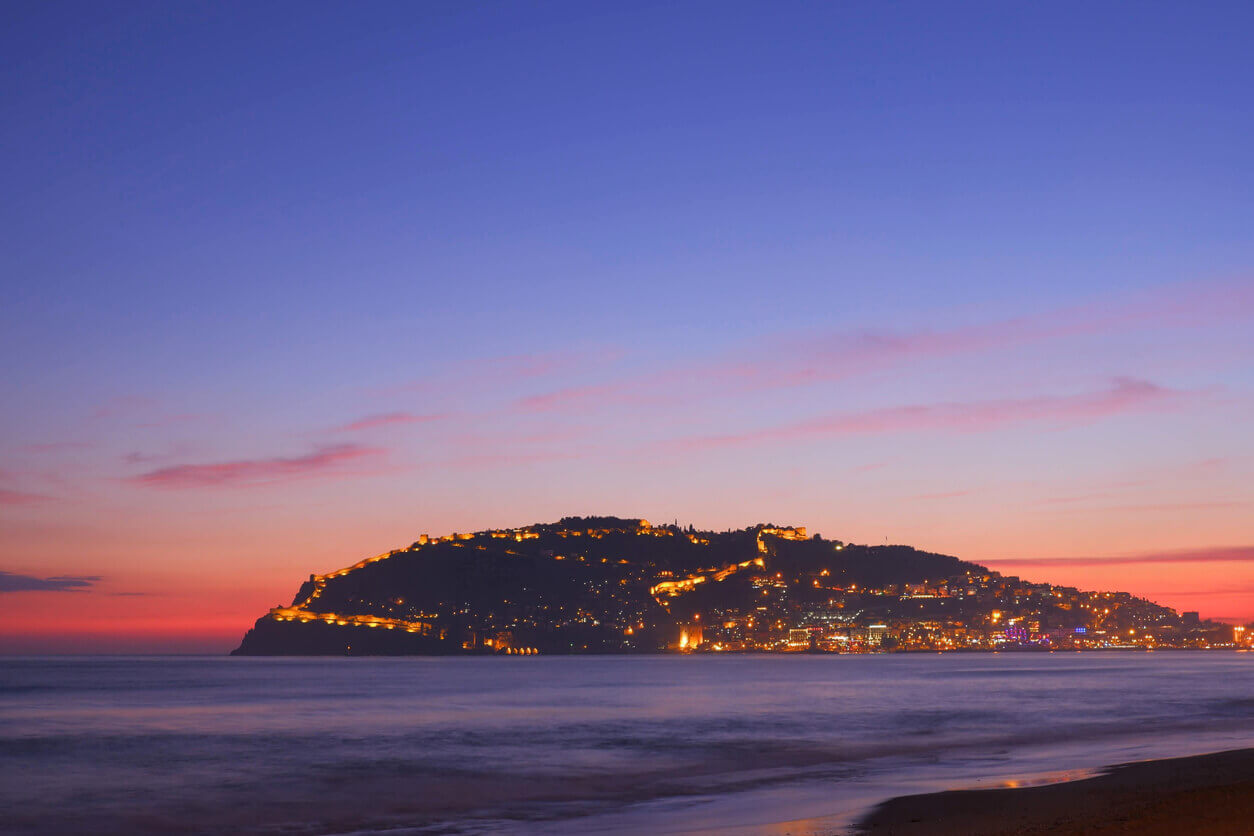 Alanya does not sleep in the summer season. There are many venues in Alanya with various sounds and foods. You can dance the night away in three-floor nightclubs or have a pleasant night in a tranquil atmosphere. 
Most of the places are scattered around the port area in Çarşı district. "Aloha Tiki Bar" offers a fun night to its visitors with great service all around. "Havana Beach Club" near the Kleopatra Beach is the most popular nightclub of Alanya. "Reggea Bar Alanya" has a relaxing atmosphere with amazing meals.
Things to Know Before Travelling to Alanya
Since the city is a popular destination among European tourists, Euro is commonly accepted. 

It is important to cover your skin with light, breathable fabric and apply sunscreen regularly as the weather is very hot and sunny.
Essential Numbers
City Code: 0 242
Gazipaşa Alanya Airport: (0242) 582 71 26
Airport to City Center Transfer Bus: 0850 222 0 487