Tel Aviv is Israel's second-largest city that attracts many visitors from all around the world and is often regarded as the 'Hill of Spring' in Hebrew. Tel Aviv maintains its attraction as the main economic, cultural and educational hub of the country which is home to major businesses. Located on the Mediterranean coast, the city was founded in 1909 as part of the ancient city port of Jaffa (Yafo). It is situated approximately 60 km far from the Israeli capital, Jerusalem which is considered as the holy land of three monotheistic religions; Islam, Christianity and Judaism. The metropolitan area of Tel Aviv offers a multicultural and vivid environment that is worth visiting throughout the year due to its mild Mediterranean climate accompanied by glorious beaches. Furthermore, its rich cultural background is marked by a wide range of sites worth to visit; Tel Aviv has one of the world heritage sites renowned for its Bauhaus architectural landmarks with its highly appealing 'White City'. Tel Aviv welcomes visitors with its rich culinary tradition and active nightlife as well. It is within 12 km distance to Petah Tikva, 13 km to Rishon LeZion, 30 km to Ashdod, 54 km to Jerusalem.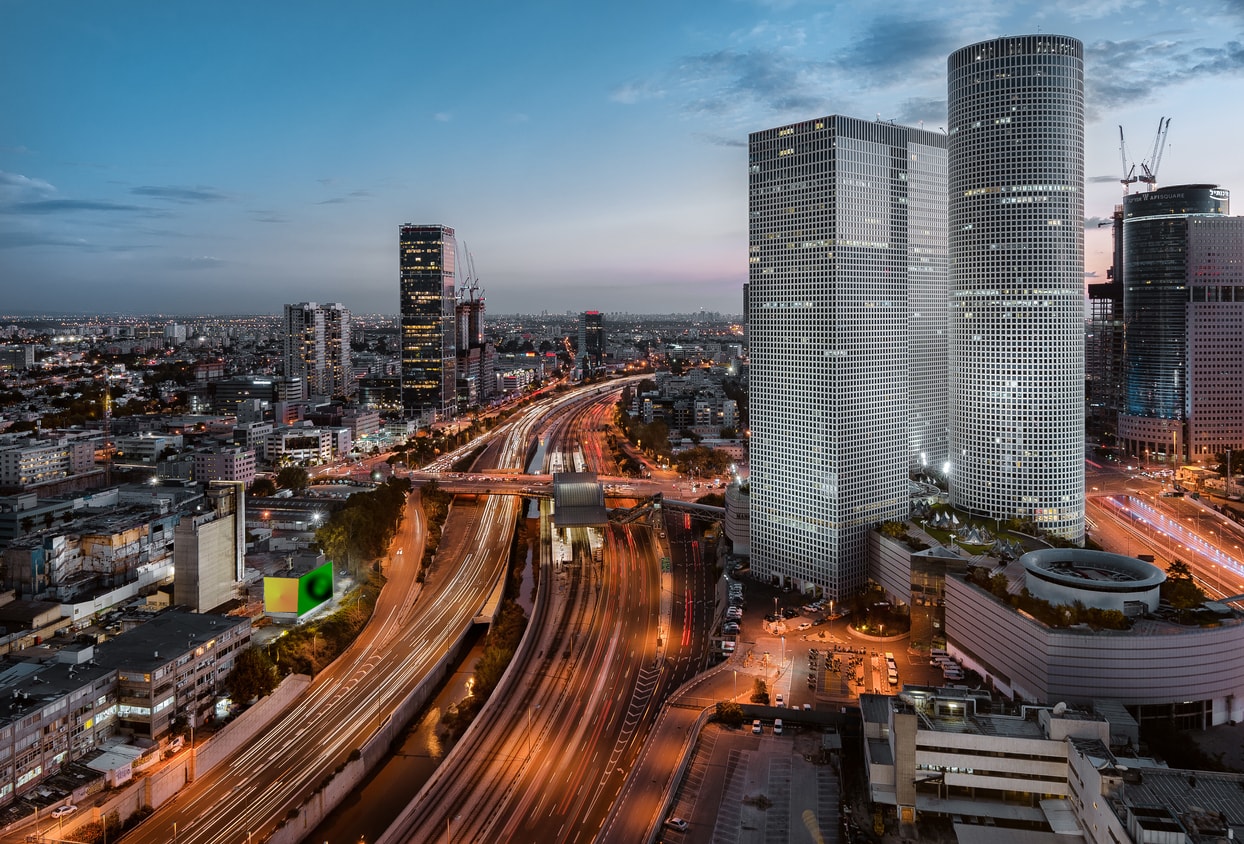 General Information

| | |
| --- | --- |
| Country: | Israel |
| Region: | Middle East |
| Area: | 52 km² |
| Language: | Hebrew |
| Average temperature: | 26 °C |
| Climate: | Mediterranean |
| Vegetation: | Maquis |
| The difference between GMT: | GMT +3 |
| Telephone Code: | +972 |
| Currency: | Israeli New Shekel |
| Socket Type: | Type C and H |

How to Get to Tel Aviv 

Tel Aviv is within a short distance from Turkey and easily reached with affordable flight tickets offered by Pegasus Airlines. There are direct flights from Istanbul and occasionally from Antalya. It only takes 1 hour 35 minutes from Antalya and 2 hours and 10 minutes from Istanbul Sabiha Gokcen Airport to Ben Gurion International Airport, which is the busiest airport in the country.  
Transportation from Tel Aviv Airport to the City Center 

Ben Gurion International Airport is located about 45 km northwest of Jerusalem and 20 km to the southeast of Tel Aviv, in the middle of two main cities.  There are various options to reach Tel Aviv city-center. Taking a taxi is probably the fastest and most comfortable way, as it takes only 20 minutes. The taxi lines can be found immediately outside the arrivals hall on level G of Terminal 3. The prices for taxi rides are usually fixed with the opportunity of pre-booking online.  
Buses are among the most common means of transport in Israel and public transportation can be another option to get to the city center, though it appears to be a bit more complicated with less frequent schedules. 
Travelers should first take the shuttle bus Number 5 to the Airport City station, found at the exit 21 and 23 of Terminal 3 and then change to a city bus according to the desired destination in Tel Aviv.  Tickets can be purchased from the driver on the bus. Taking the train straight from Terminal 3 on level S is an alternative method that gets to the center in about 20 minutes, but particular attention should be paid to the timetables, since they don't run on holidays or late at midnight.  
Travelers may also opt for benefiting from Pegasus Airlines' car rental services. Passengers can easily utilize the online platform to organize their journey by typing in city or airport name to manage their bookings beforehand. Making your trip flexible and reliable, a great range of transfer options will be offered suited to your needs and preferences. 
Public Transport in Tel Aviv

The best way to get around in Tel Aviv is on foot, since it is well connected within short distances. But there are various transportation options ranging from buses, trains, shared taxis, bike rentals and electric scooters for those we would like to consume less energy.  Rav Kav is the public transportation pass in Israel, that enables passengers to install the required credits ahead of the journey for the use of all public means of transportation, except for shared cabs. The Rav Kav card can be purchased at the airport or the central train station. There is also the Rav Kav mobile application, that makes online payment option possible. All the necessary information relating to fares, routes and timetables can be accessed on the website of main bus operator company, Dan. Furthermore, there are more environment friendly options provided by e-bike rentals services, such as Pole Position and O-Fun, that call for a fun ride along the coast.
Best Time to Visit Tel Aviv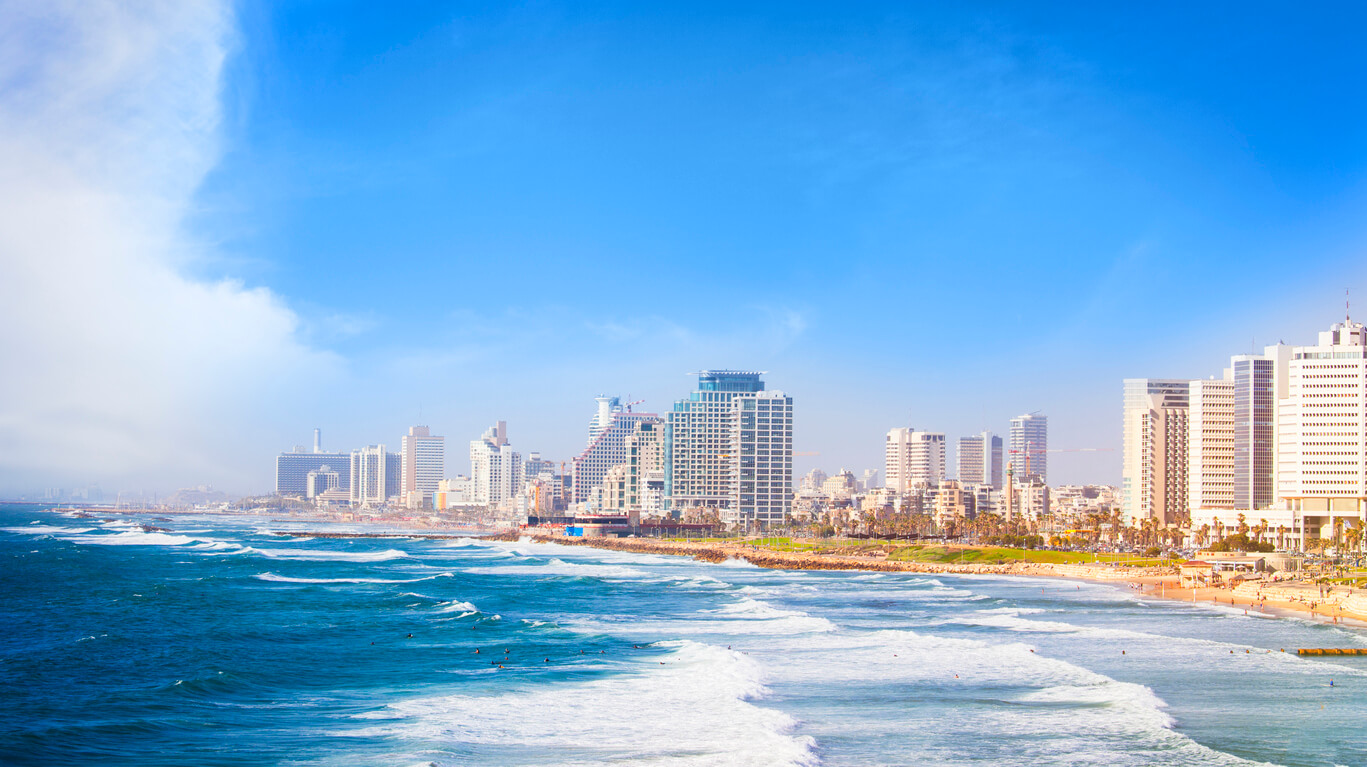 Tel Aviv has a warm Mediterranean climate characterized by warm dry summers and mild wet winters. It is known to be a sunny tourist destination with an average of 3300 hours of sunshine yearly. On average, the warmest month is August while the coolest one appears to be January that is accompanied with lots of rain. 
The city is often loaded with many tourists, especially during the long summer days of July and August. Hence, the off-season might seem as a better period to enjoy the city to the fullest. On the other hand, the high temperatures with soaring levels of humidity in summer time draws immense attraction to the fantastic beaches. Yet, the best time to visit Tel Aviv is probably spring and fall, in which travelers can still enjoy the fairly cooler temperatures while freshening up in the sea. Since the name of the city itself means 'Hill of Spring', the blooming season might as well be a joyful time to discover all the beauty the city has to offer.  Sparing at least a week in Tel Aviv to get the real feel of vibrant city life is highly recommended.
Festivals in Tel Aviv 

Tel Aviv is the host of a growing number of festivals each year, that keeps attracting many people from different interest groups. 
"White Night Festival" organized by the Municipality of Tel Aviv-Jaffa (June-July)

"Docaviv," the city's International Documentary Film Festival (May)

"DLD", Israel's largest hi-tech conference (mid-September)

"Tel Aviv Eat", the city food festival to experience the culinary world of Israel (usually held in May)
Places to Visit in Tel Aviv 

Tel Aviv never ceases to amaze its visitors with its golden beaches, world-class museums, vivid neighborhoods, savory restaurants and shopping hubs.  The city has just so many things to offer even if you are just taking a stroll outdoors. Its liberal and welcoming character fully embraces everyone. There are a variety of things to see in this city that never stops!
Take a stroll at the Neighborhood of Neve Tzedek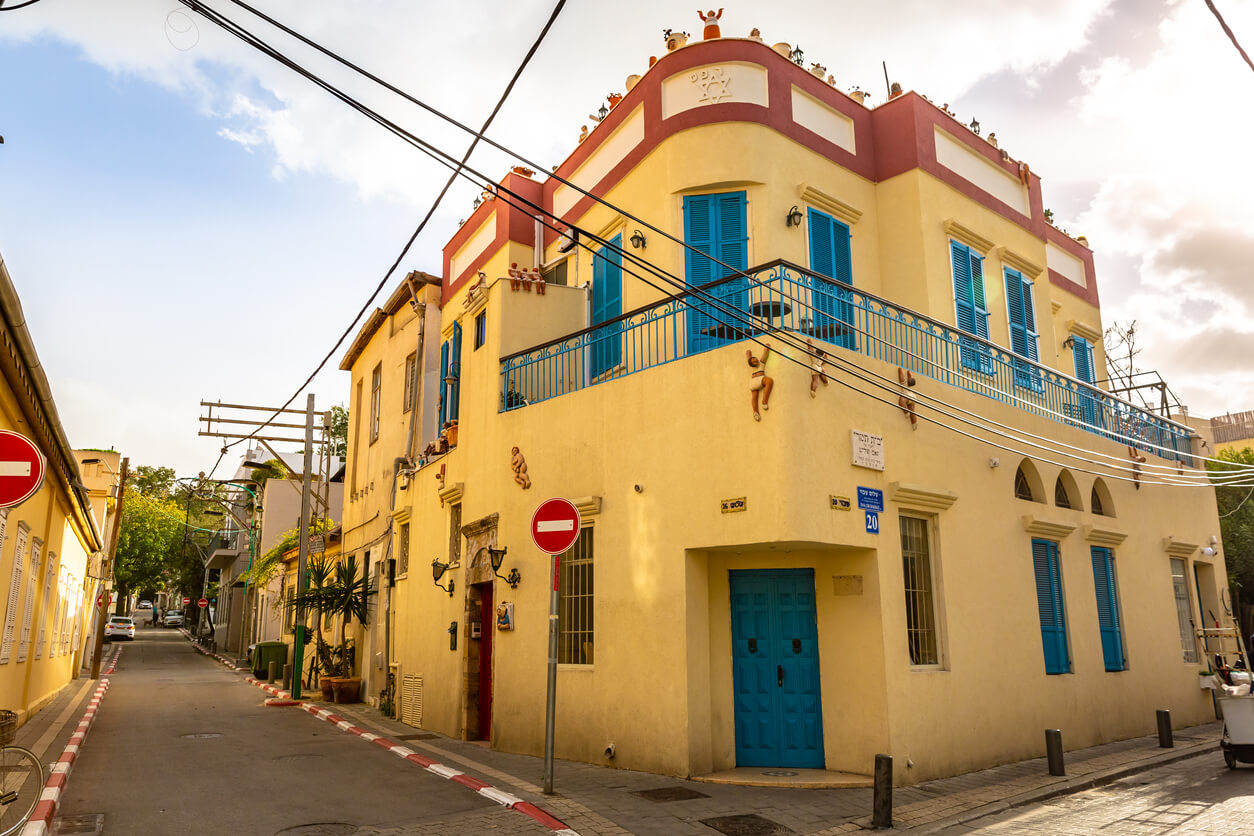 Referred as the prettiest district in Tel Aviv, Neve Tzedek is a must-see place with its adorable architecture and cultural characteristics. It is the first Jewish neighborhood outside of Jaffa. You can enjoy a peaceful walk in between the narrow street, on a calm afternoon. 
Discover the Carmel Market

Carmel Market is the biggest local market of the city, where you can get a real taste of Israeli culture. You can find a variety of goods here, including cheap clothing or little souvenirs to make you recall this amazing place. Be aware that the market can get overcrowded on Fridays, as many locals fill the streets to do shopping. 
Time Travel in Old Jaffa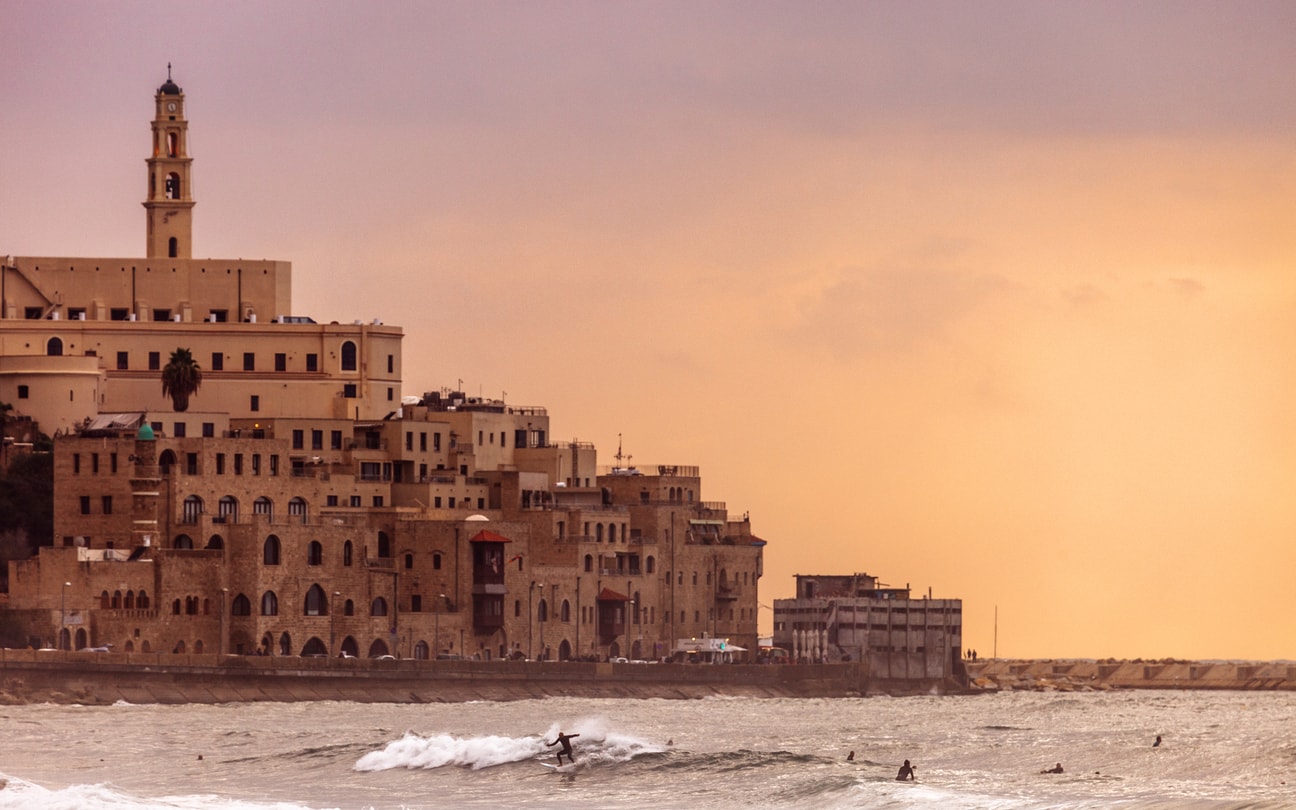 Old Jaffa is located at the southern end of Tel Aviv. It poses quite bit of a contrast with its historical heritage that endures time as one of the oldest port cities in the world! The old harbor has been transformed into a tourist attraction. You can cherish a spectacular view on the coast and then visit the Flea Market to sharpen your negotiation skills. 
Visit Tel Aviv Museum of Art

Tel Aviv Museum of Art hosts one of the most exclusive collections of Israeli art in the whole world, making it a real gem for art-lovers! The unique mix of pieces exhibited at the museum include contemporary art as well as the works of some old masters. You can even conclude your day with a night at the museum, since there are late openings on Tuesdays and Thursdays until 22 pm. 
Explore the Bauhaus Architecture in the White City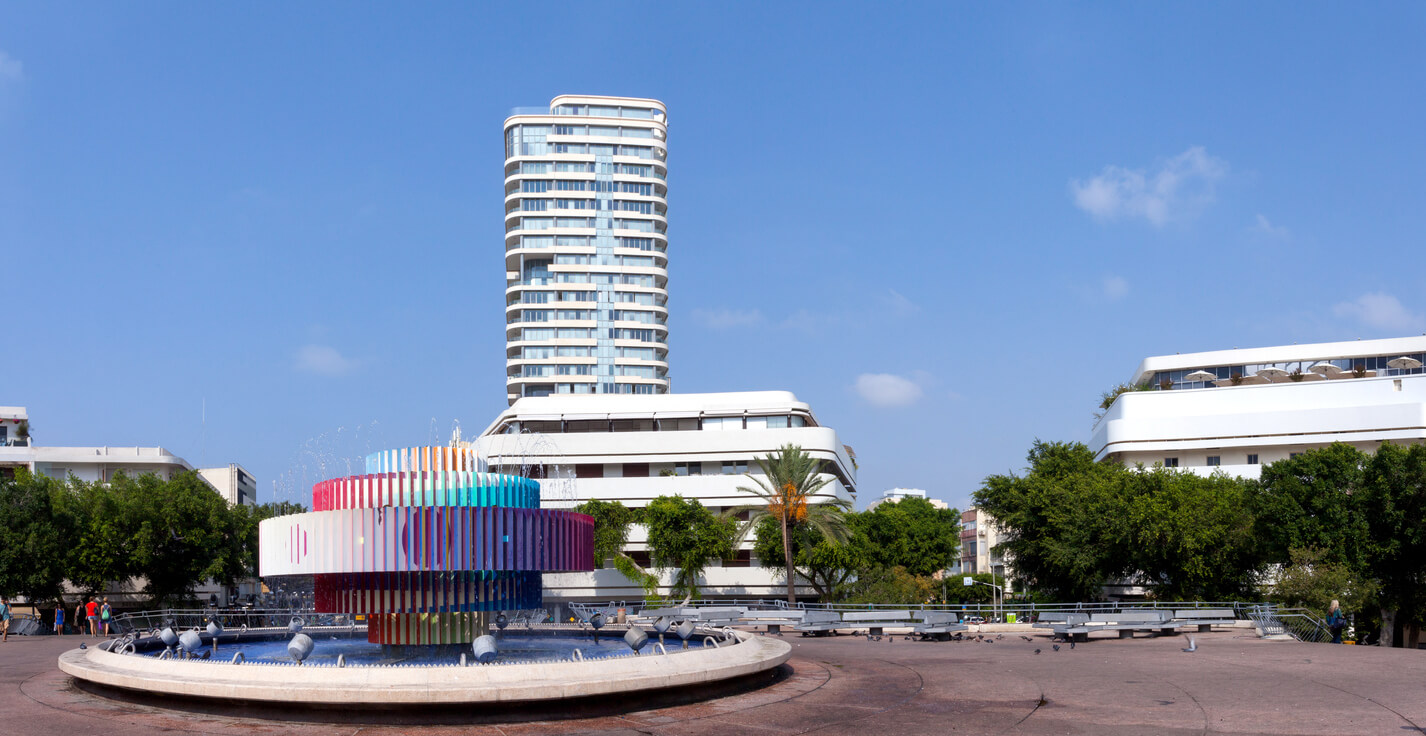 Bauhaus became particularly popular during the 1930-40s, when the city welcomed many immigrant German architects ready to redesign rapidly developing Tel Aviv. Thus, Bauhaus style can be observed in over 4000 buildings along the Rothschild Street (and the surrounding area of Shenkin, notably Gruzenberg, Mazeh), Dizengoff Street, Bialik Street. You can also join the free White City tour on Saturday mornings. Efforts to turn Tel Aviv into the White City culminated in achievement of its UNESCO World Heritage Site status on account of its Bauhaus architecture in 2003.

Where to Stay in Tel Aviv?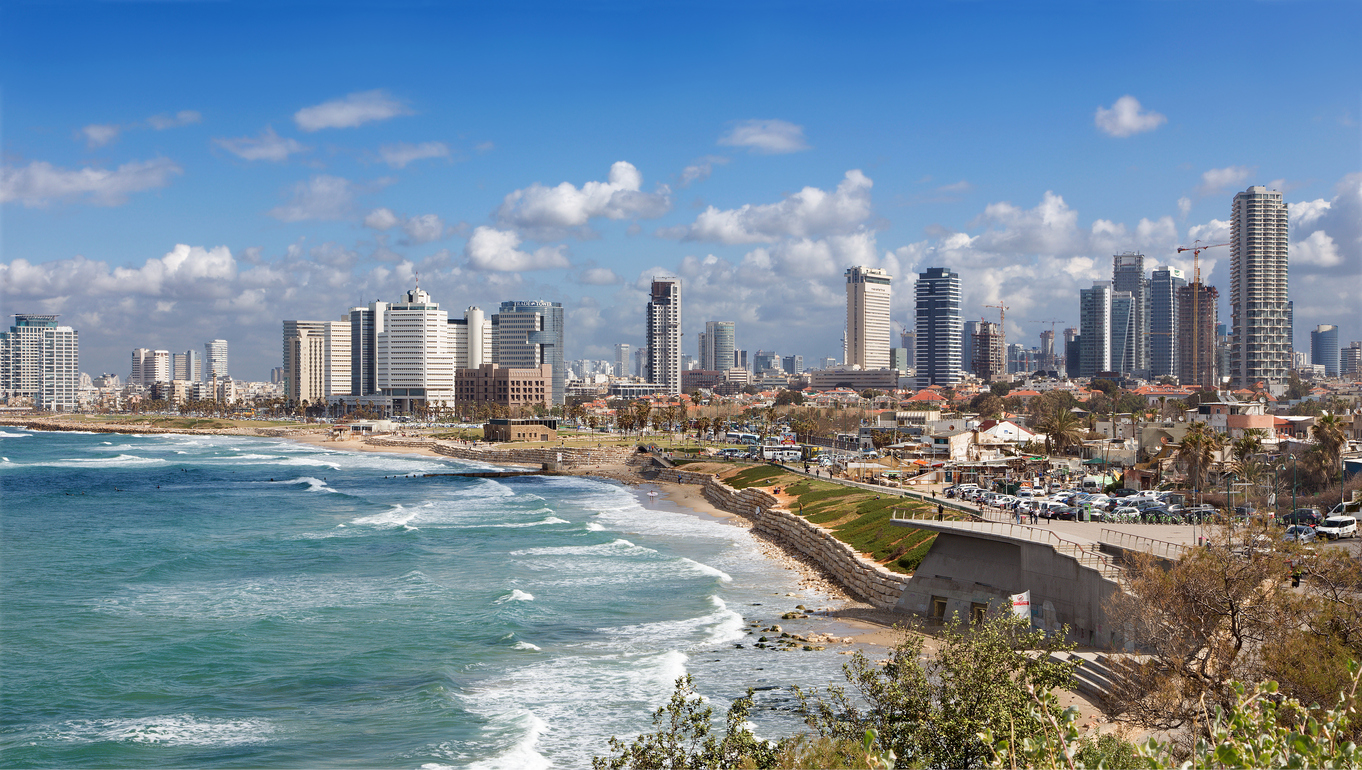 Tel Aviv has a wide range of accommodation opportunities besides the major hotel chains. There are also some cheap hostels, rental apartments and beautiful boutique hotels suitable to any budget and taste. Most of the hotels are located quite centrally, which makes it easy to get around the city. Neve Tzedek neighborhood is one of the major attraction points for tourists, as it is only within a short walking distance from the main highlights of the city, including the beach. This is also the area where most of the boutique hotels are located, which drives up the prices a bit high. For those who would like to get a sense of the bohemian life out of the main touristic circuits, Florentin is among the prominent areas. It's greatly appealed by artists and youngsters with its great pubs, clubs, urban art and affordable lodgings that also include a selection of rental apartments. Tayelet, is another area full of big hotels right in front of the beach that can be very comfortable for large families. Then, Lev Ha'ir ranks amongst the liveliest parts of the town, as it literally means 'Heart of the City'. It is home to the National Theater and the White City, a UNESCO World Heritage Site. Lev Ha'ir has become a trendy cultural and nightlife center of Tel Aviv, surrounded with some of the best hotels in the city.  
What to Eat in Tel Aviv?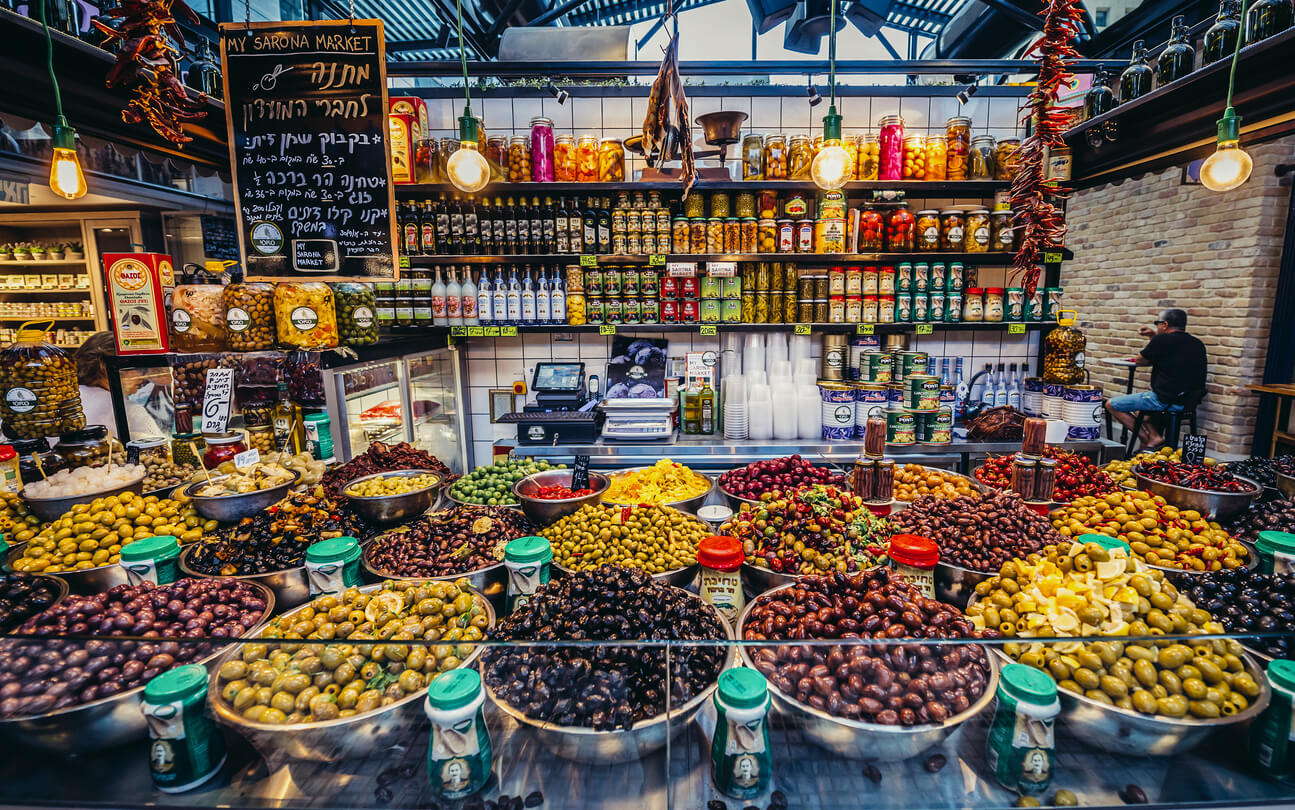 Tel Aviv never hesitates to treat the visitors with its distinctive culinary culture that is among the best in the world. 
It is a true melting pot marked by the influence from diverse backgrounds, that traces its origin back to Middle Eastern and Mediterranean flavors. Food appears to be a central element in Israeli culture that emphasizes the importance of family and social gatherings. Being a relatively young state, its culinary tradition mainly consists of a fusion of various cuisines such as shakshuka (from the North-African Jewish ethnic group), malawach (Yemenite-Jewish), cottage cheese (North American) and hummus/tahini (Mediterranean).
Have a look at our list for some tips to match the best flavors in town with the right places, including the secret gems of street food: 
Falafel: Hakosem or Frishman Falafel & Sabich

Pita: Miznon

Hummus: Shakshukia

Onza is a very trendy restaurant that presents modern Turkish food, at the heart of old flea market. 
Shopping in Tel Aviv: Best Souvenirs to Buy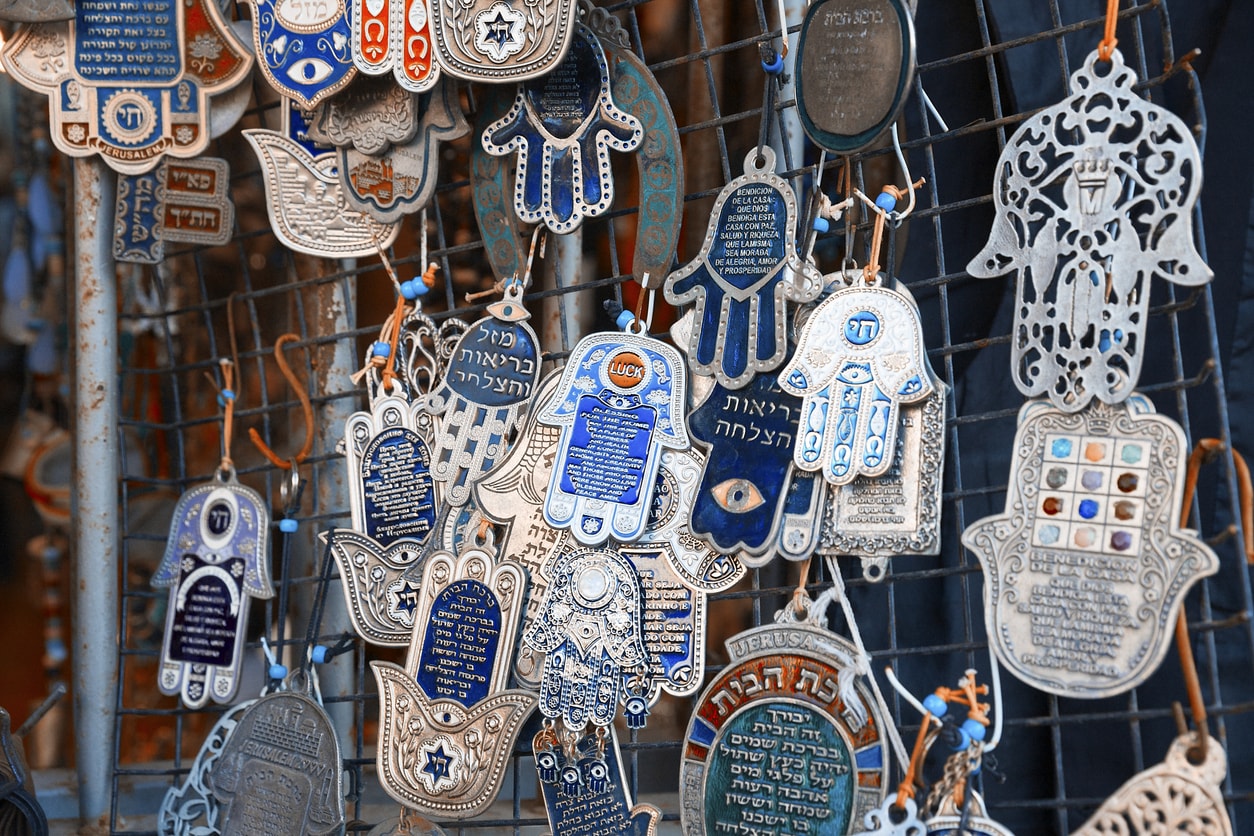 Tel Aviv maintains its diversity when it comes to shopping and proposes a unique experience for any taste. There are so many places to explore from shopping malls with luxury brands to local streets with small boutiques. Azrieli Mall, TLV Fashion Mall, Dizengoff Center, Gan Hair and Ramat Aviv Mall are the cities' major shopping centers. Sheinkin Street, Dizengoff Street, Neve Tzedek, Kikar Hamedina are among the best spots for those who want to wander around while doing shopping. Nahalat Binyamin Craft Market is the largest artisanal market in Israel, that runs every Tuesday and Friday in one of the oldest neighborhoods of Tel Aviv. It is definitely a true authentic setting that brings together various items sold by the artists themselves. Another popular place for tourists is Tel Aviv Port (Namal), where some shops of Israeli fashion brands are located. 
Nightlife in Tel Aviv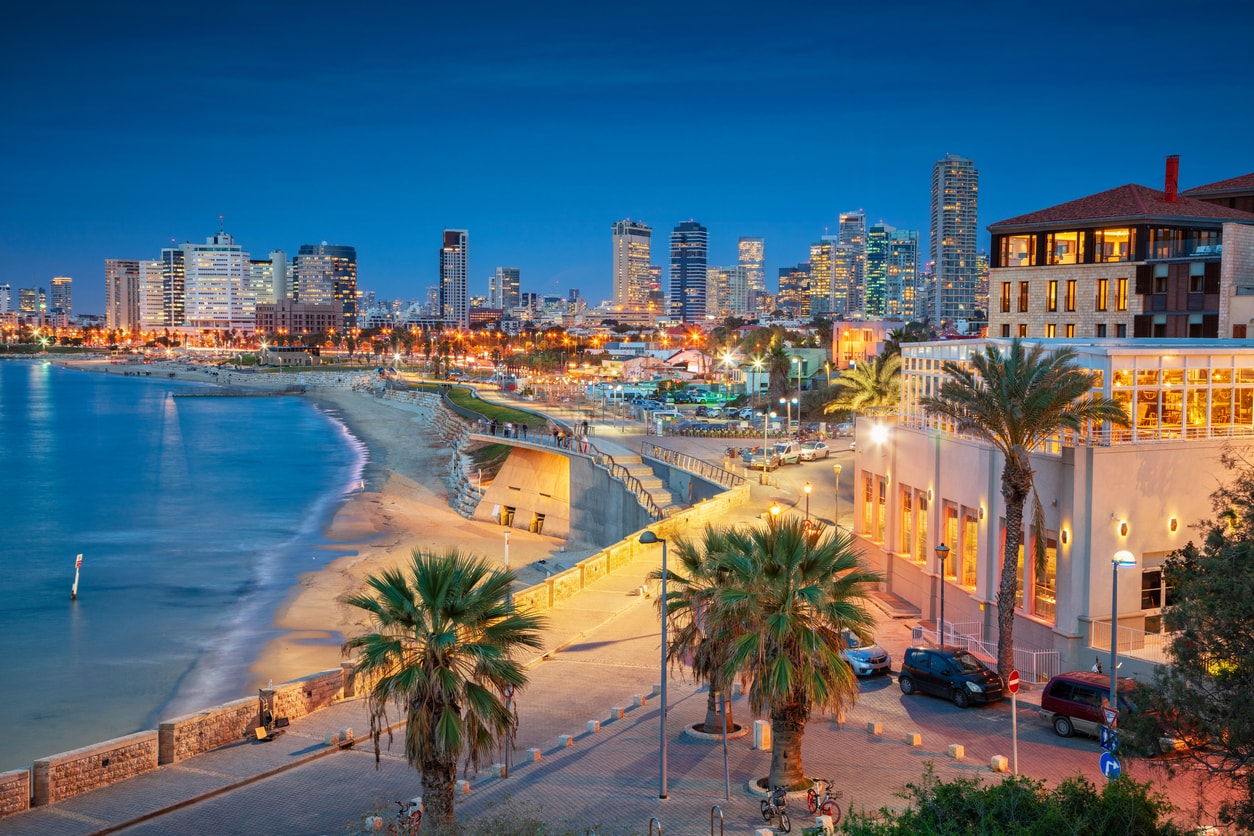 Tel Aviv nightlife scene has an international reputation that makes it one of the attraction points for many tourists. 
The city intrigues visitors of diverse interests with its mega-clubs hosting internationally renowned DJs, gastro-pubs, beach bars and many more! Rothschild Boulevard and the surrounding streets (Allenby, Levontin, Yehuda Halevi, and Lilienblum) are filled with the city's hottest spots. The city literally never sleeps once the sun sets. But there are also other options for travelers who are looking for a chill evening with good food and music. Jaffa's Flea Market is among the top allures to sit outside and enjoy a calm night out at one of the best gastropubs in town. You might as well choose to enjoy Tel Aviv's spectacular views at one of the rooftops bars. 
Things to Know Before Visiting Tel Aviv 

The security situation might come to one's mind when considering a trip to Israel. But it does not seem any more dangerous than other parts of the world. Tel Aviv is also a safe city for solo travelers because the city almost never sleeps!

Flights to Israel are subject to strict security checks due to tensions in the region but it is nothing to worry about. The passengers are often interrogated at the airport for merely precautionary purposes. Hence, travelers are advised to get prepared for possible questions about the details of their trip, such as the purpose and duration of stay. It might be useful to have the contact information of your planned accommodation. 

Be aware that passengers who have recently visited Arab countries (except Bahrain, Egypt, Jordan, Mauritania and Qatar) may be subject to further questioning.
Essential Numbers to Know

Country Code: +972
Dialing Code for Tel Aviv Area: 3
Tel Aviv-Ben Gurion Airport: +972 3 975 5555
Police: 100
Ambulance: 101