Nevşehir is located on the central part of Türkiye with a population more than 100.000 people. The is city neighbour to Kırşehir, Aksaray, Niğde, Kayseri, and Yozgat. Nevşehir's history dates back to prehistoric times and the city always held significant importance in its region during the reigns of numerous civilizations. Now, the city is a vibrant tourism destination in every season for both international and local tourists.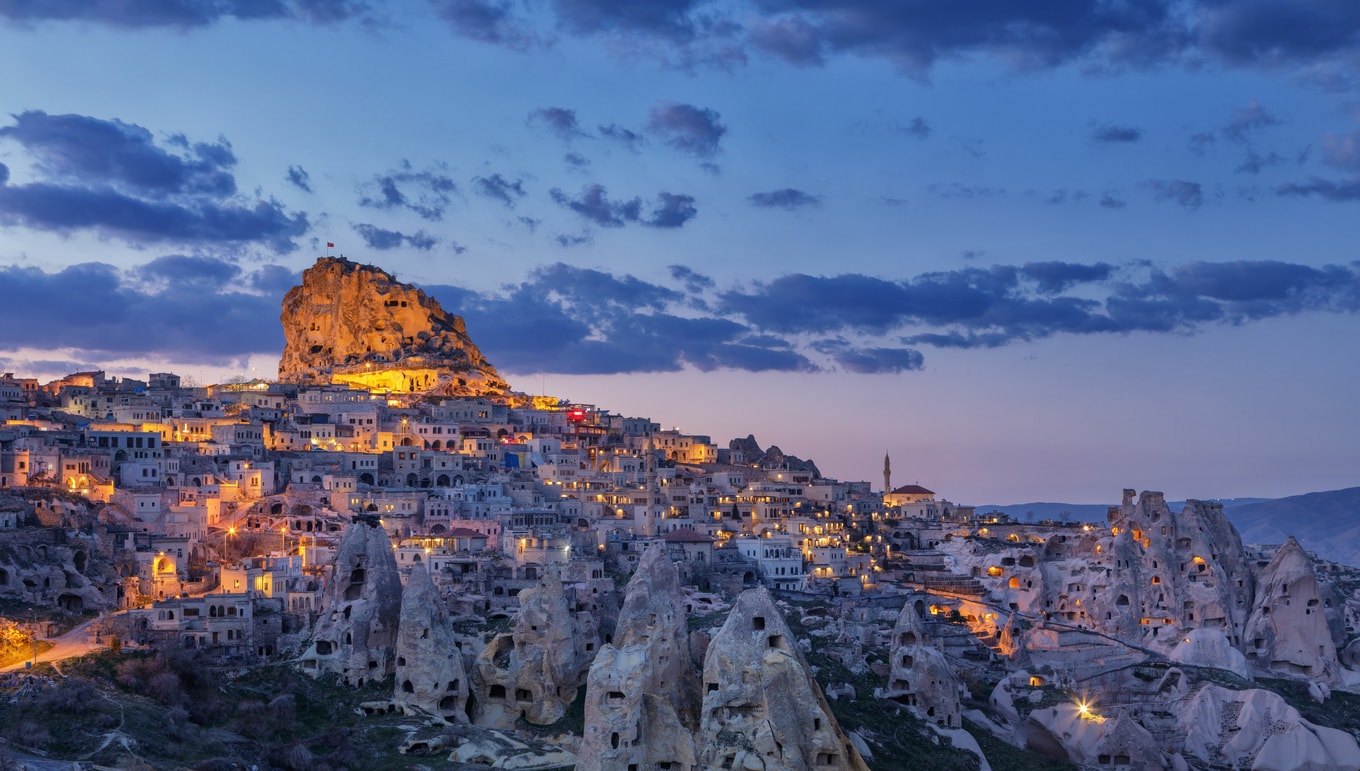 General Information
| | |
| --- | --- |
| Country: | Türkiye |
| Region: | Central Anatolia |
| Area: | km2 |
| Language: | Turkish |
| Average temperature: | 9.9 °C |
| Climate: | Continental |
| Vegetation: | Steppe |
| The difference between GMT: | GMT+3 |
| Telephone Code: | +0384 |
| Currency: | Turkish Lira |
| Socket Type: | Type C |

How to Get to Nevşehir?
Nevşehir is swarming with striking historic and natural attractions and attracts millions of local and international tourists every year. Pegasus Airlines offers flights to Kayseri Erkilet Airport which is located 90 kilometers away from Nevşehir. The flight duration to Kayseri from İstanbul is 1 hour and 25 minutes. 
You can buy your flight tickets to Kayseri from İstanbul from here. 
Transportation from Kayseri Erkilet Airport to City Center
Kayseri Erkilet Airport also serves to Nevşehir region and located 90 kilometers away from Nevşehir. You can get to the city center with shuttle buses and car.
You can use shuttle buses which are located just outside of the airport for 40 liras. The trip takes approximately 1 hour and 40 minutes.
You can also enjoy the city with a rental car. Pegasus Airlines car rental service has great offers for you in here.
Public Transport in Nevşehir
You can use buses, small buses and taxis to get around in Nevşehir. 
Buses and small buses are available in the city center. Most trips costs 2 liras within the city limits.
Taxis are another way of transportation in Nevşehir. The trip from Nevşehir city center to Cappadocia costs 55 to 60 liras.
Best Time to Visit Nevşehir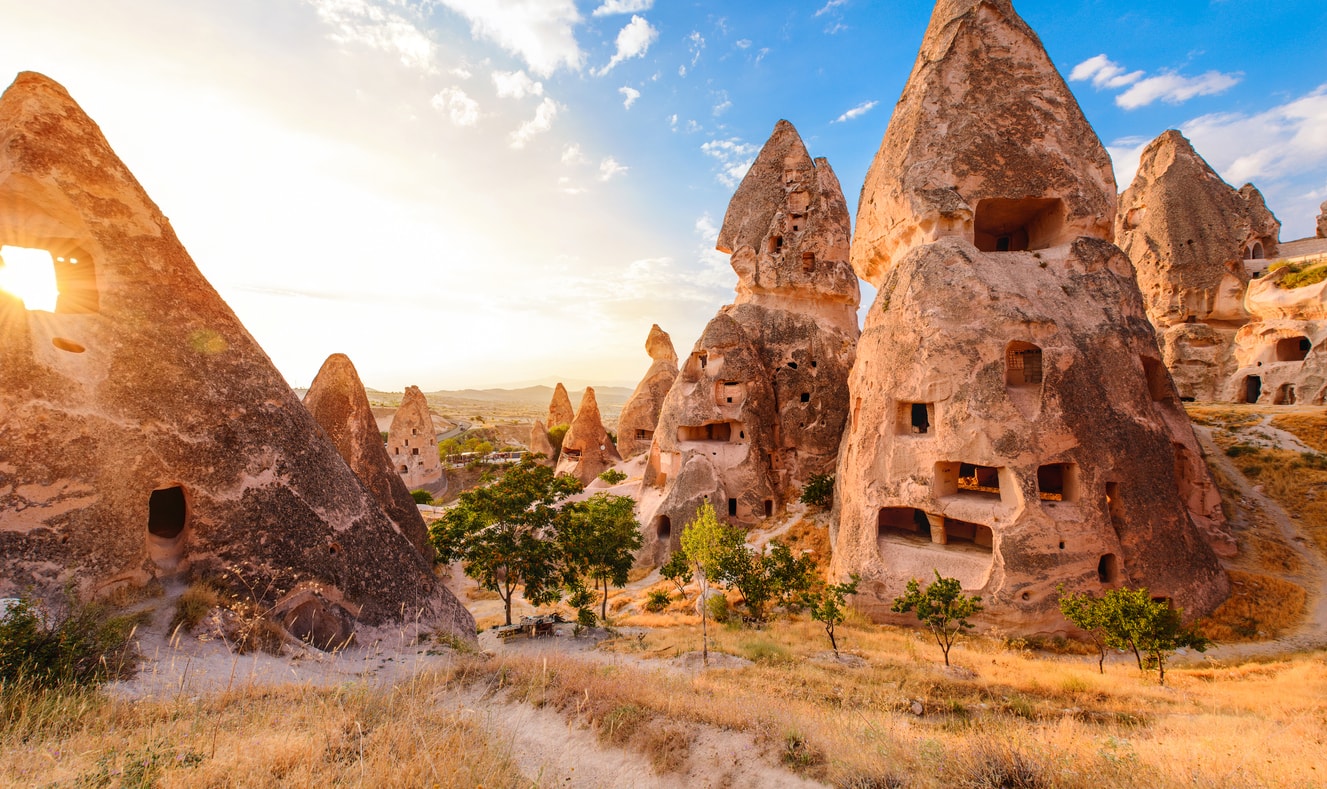 Temperatures and humidity vary drastically throughout the year in Nevşehir. Summers are hot and dry; winters are cold and snowy. Although every season exhibits its own remarkable sceneries in the city, we suggest you to visit Nevşehir during late spring or early autumn since the weather is cooler and more welcoming. It is also recommended for you to enjoy Nevşehir at least two or three days.   
Festivals in Nevşehir
Cappadox Festival (May)

Memorial Ceremonies of Haji Bektash Veli (August)

Ürgüp International Wine Competition and Vintage Festival (September)

Aksalur Cherry Festival (June)
Places to Visit in Nevşehir
Nevşehir is one of the most significant tourism destinations of Türkiye. The city attracts almost 3 million tourists annually with its gorgeous natural wonders, historic landmarks and cultural heritage. 
Three Beauties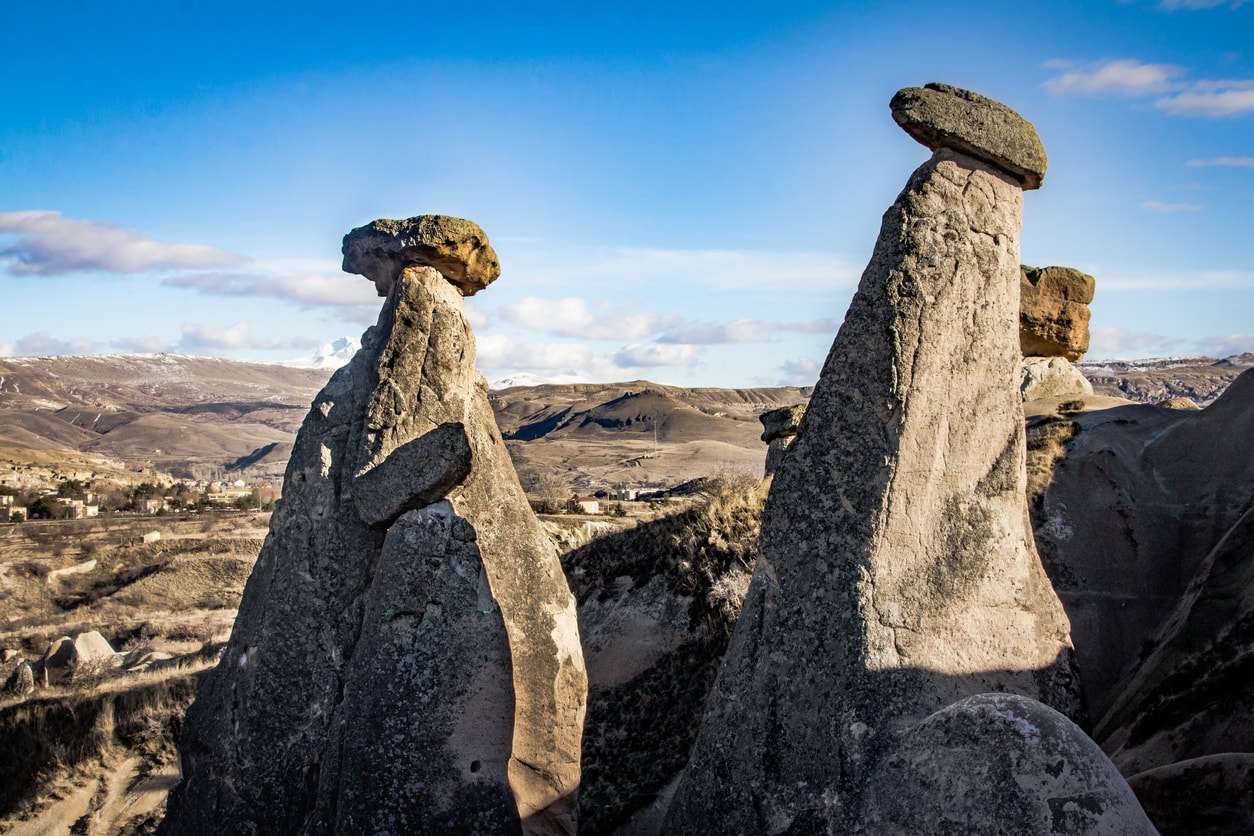 Three Beauties are the amazing three fairy chimneys located in Ürgüp. They are the iconic symbol of Cappadocia. The conic rock formations are inspired many legends. 
Underground Cities
There are more than 35 underground cities located in Cappadocia. Derinkuyu, Kaymaklı, Özkonak and Mucur are the largest and most famous ones. Ancient residents of the cities were used to live their lives in these cities with total secrecy.
Ihlara Valley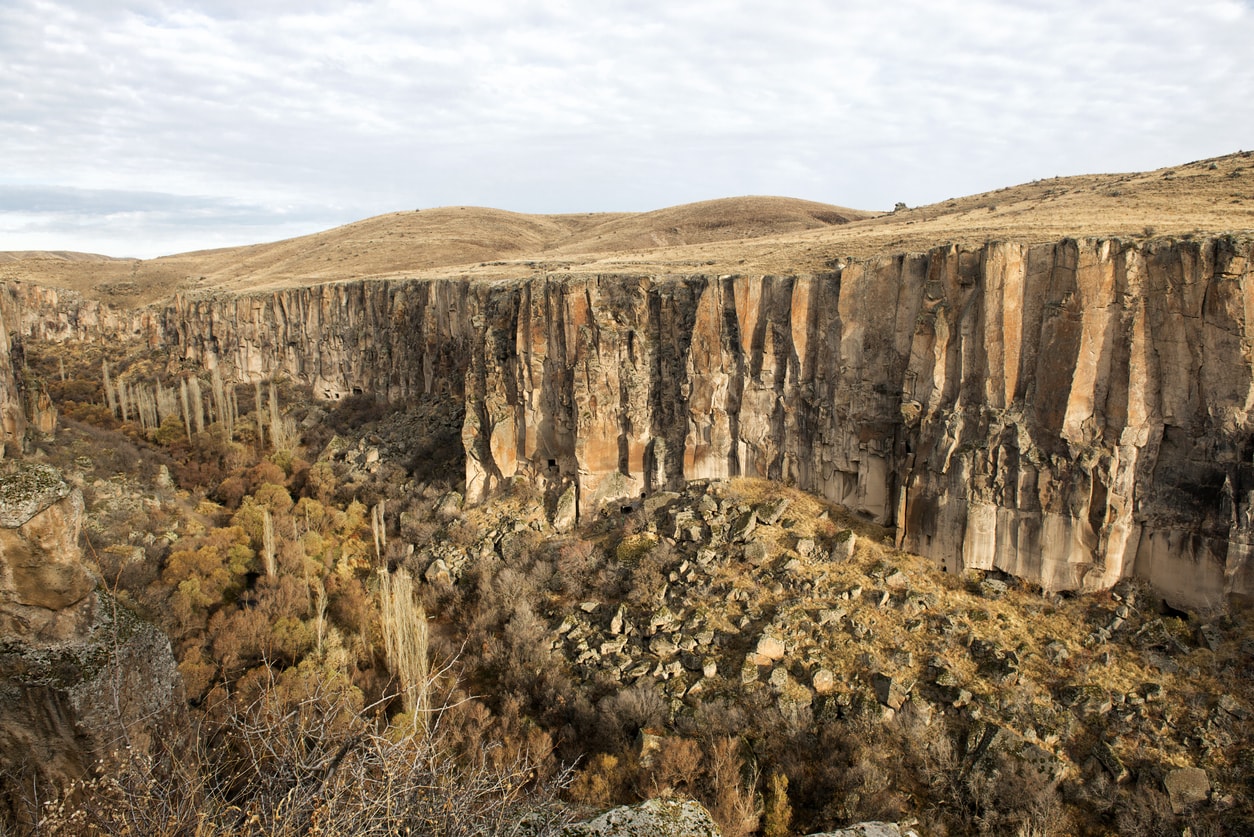 Ihlara Valley is 18 kilometers long and its caves were home to many people throughout the history. The valley also has many ancient stone churches through its course. Ihlara Valley is located 70 kilometers away from the city center.
Haji Bektash Veli Complex
Haji Bektash Veli was an influential philosopher of the 13th century and helped to shape the cultural and social life of Anatolia. Haji Bektash Veli Complex was completed in the 14th century and located in the district of Hacıbektaş. The district is 65 kilometers away from the city center. 
Göreme Open Air Museum
Göreme was home to many ancient monasteries from the 4th century to the 13th century. Those monasteries are greatly preserved and can be visited in Göreme Open Air Museum. The museum is located 13 kilometers away from the city center in Cappadocia. 
Where to Stay in Nevşehir?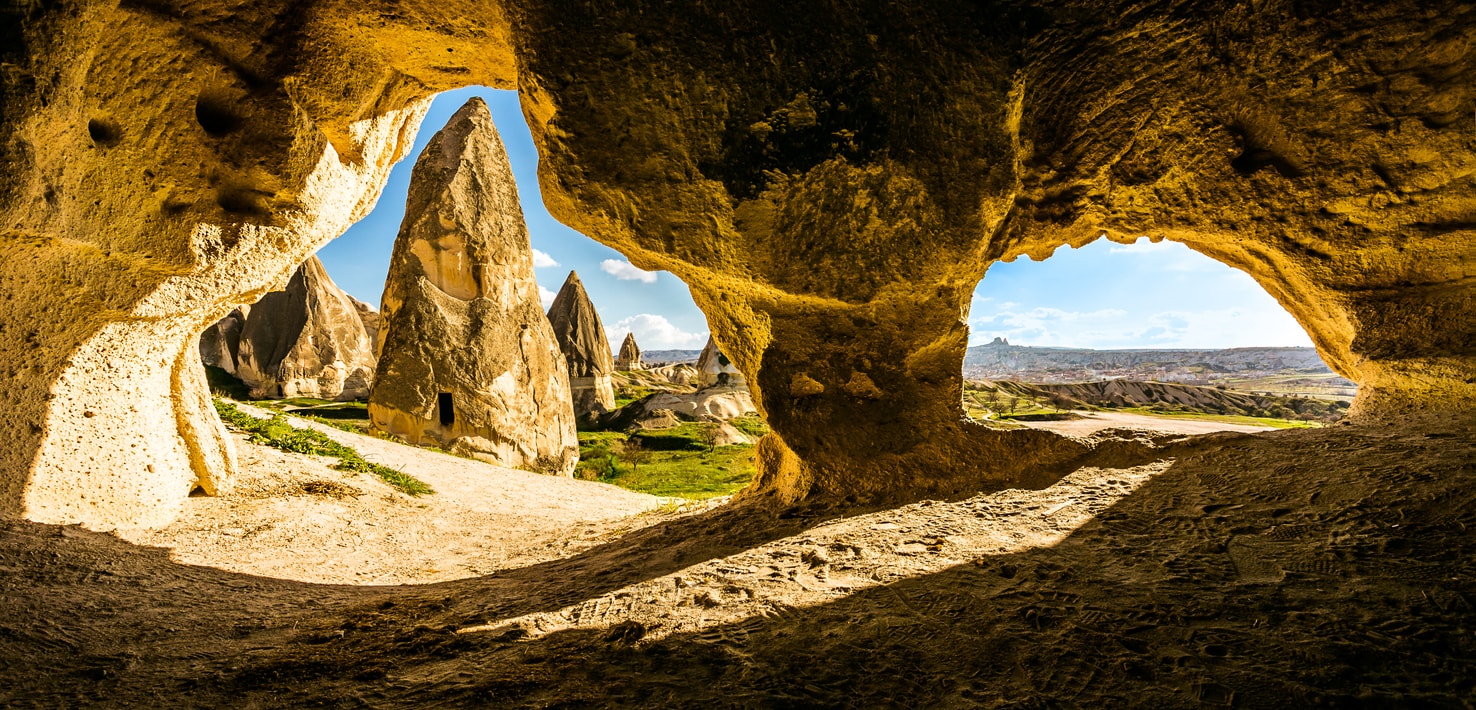 Nevşehir offers a variety of accommodation options to its visitors since the city is a great popular tourism destination both locally and internationally.
If you are in Nevşehir to enjoy Cappadocia and open for an authentic experience, it is recommended for you to stay in cave hotels. There are numerous cave hotels concentrated in Çavuşin, Üçhisar and Ürgüp districts. Fresco Cave Suites and Maya Cave Hotel offer a unique experience to its visitors. Fresco Cave Suites is located in the Ürgüp district and Maya Cave Hotel is located on the outskirts of Cappadocia in Üçhisar. 
There are also many international brand hotels in Nevşehir. They are scattered around Göreme and Üçhisar districts. 
Nevşehir also has many boutique hotels such as Karlık Evi Boutique Hotel. 
What to Eat in Nevşehir?
Turkish cuisine has great dishes all around and Nevşehir is not an exception. The city is famous for its soup, meat and pastry products. In Nevşehir, you can also find many international recipes ranging from Russian to Mexican. 
Testi Kebab: Haliçi Nevşehir Tavacı Mustafa, Şükrüoğulları Restoran

Traditional Turkish Cuisine: Turkish Ravioli

Aside Dessert: Nostalji Restoran

Sac Tava: Le Mouron Rouge

Meat Rolls on Clay: Han Odası Saklıbahçe Et Lokantası

Local Recipes: Seki Restoran
Shopping in Nevşehir: Best Souvenirs to Buy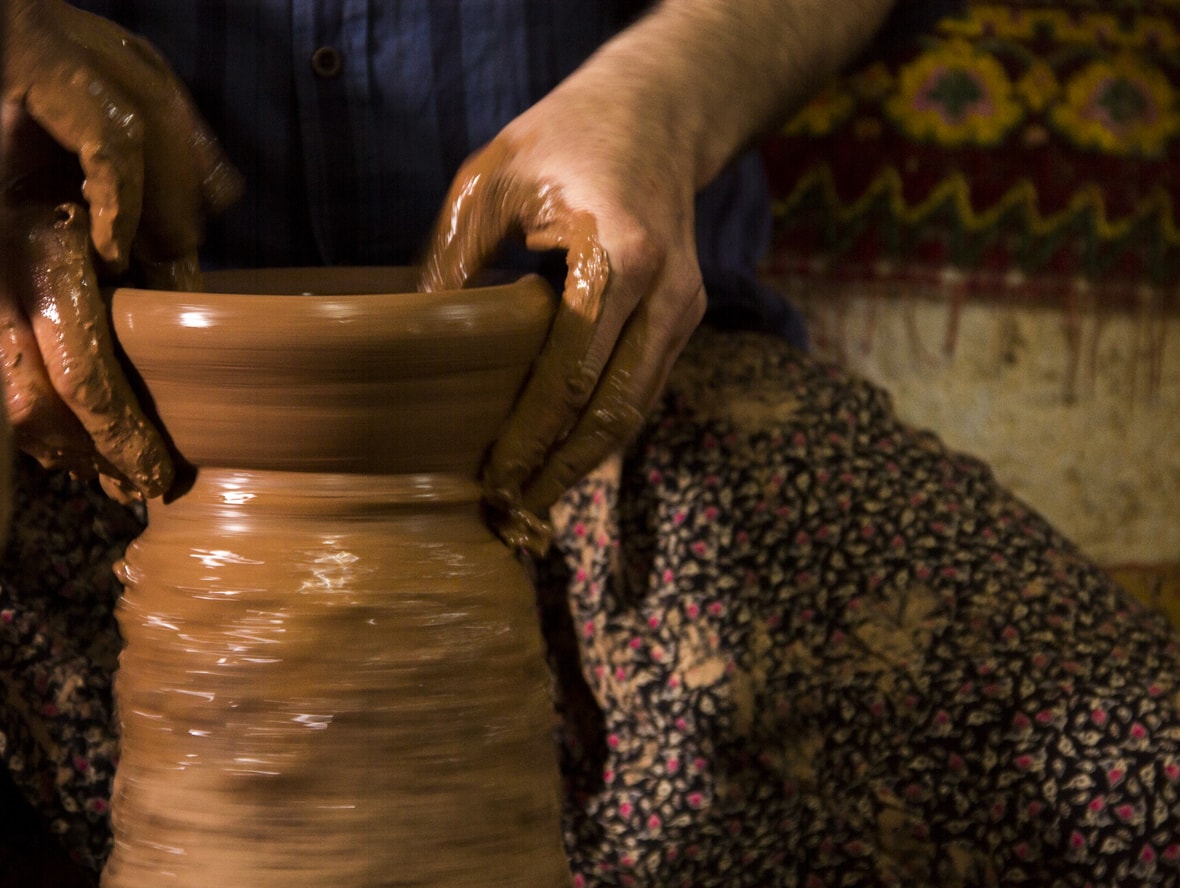 Nevşehir offers many great places to shop in. Avanos district has many ceramic workshops and outlets for carved handmade products. Nevşehir is also globally known with its antique handmade carpets. Bazaar 54 and Sentez Carpet are the most visited carpet shops in Avanos. The city is also famous with its grapes, molasses and fruit pulps which are available in most traditional shops scattered around Cappadocia. 
Nightlife in Nevşehir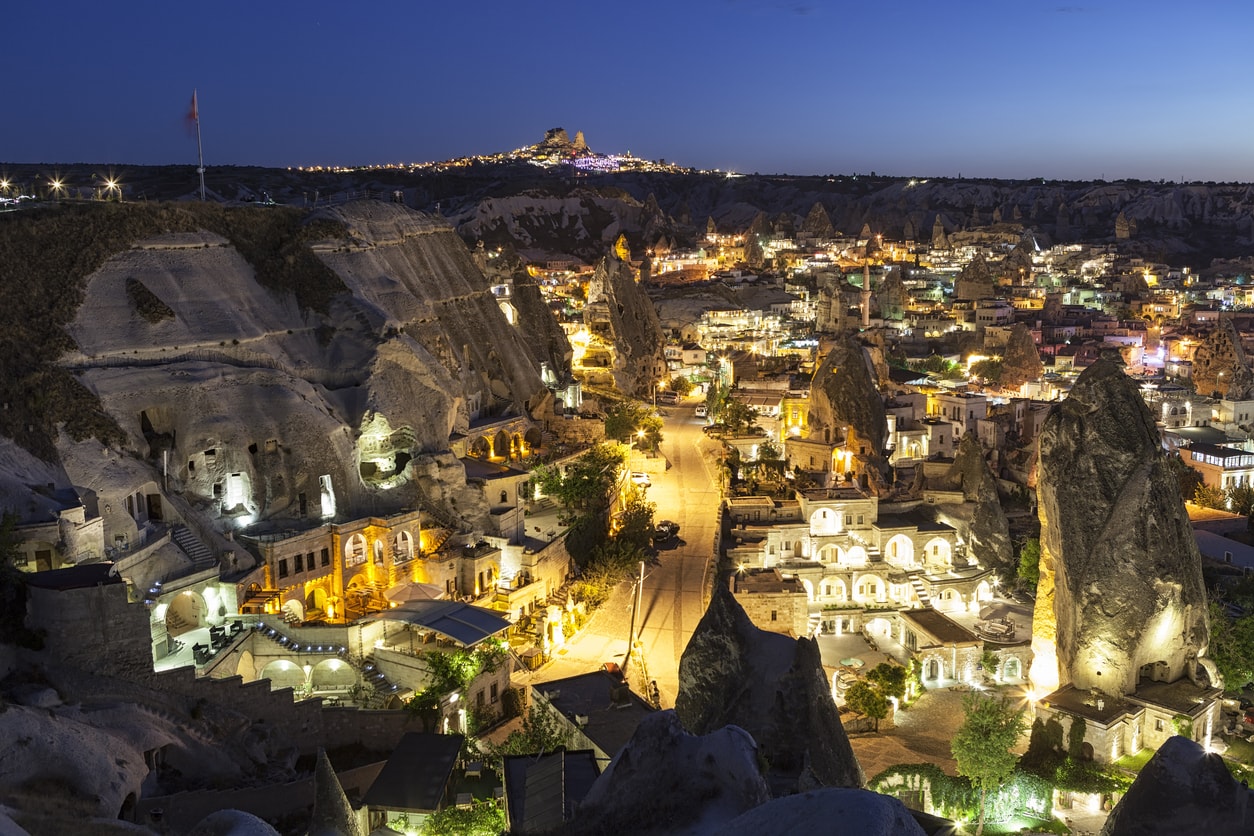 Nevşehir offers a wide range of nightlife options to its visitors. There are many live music venues, pubs, and dance clubs. Uranus Café offers a traditional Turkish night out with dance shows. If you are looking for a tranquil and calm night, it is recommended for you to go Red Red Wine in Göreme.
Things You Should Know Before Visiting Nevşehir
If you would like to have a balloon ride in Cappadocia, do not forget to be there at dawn since the balloons are capable to fly in certain temperatures.
Temperatures in Cappadocia vary greatly day and night.
There are many currency exchange vendors and ATMs around the city.
Essential Numbers to Know
City Code: 0384
Kayseri Erkilet Airport: (0352) 337 52 44
Airport to City Center Transfer Bus: +90 384 341 60 55