Bologna is a very touristic city, where you can see many historical landmarks and museums. Here are some of the places you should visit in this lovely Italian city.
Palazzo Comunale - Town Hall
It is located in Maggiore Square and is a historic building with Bologna city council. The building, which has survived from 1336 until today with its glory, was built in 14th-century architectural style. Here you can see the collections of paintings and sculptures from the 13th and 19th centuries, as well as the famous Neptune Fountain.
Le Due Torri - Asinelli Towers
The towers were built between the years of 1109 - 1119 by the Asinelli family are in the Porta Ravegnana Square. One of the towers, Torre, is 48 meters long and Asinelli is 97.6 meters long. It is one of the few towers left in the city from the Middle Ages. While the aim of such buildings remain a mystery, one popular theory is that noble families have built the towers to show how powerful they are. 
Pinacoteca Nazionale - National Museum
The museum, which is located near Le Due Torri, has a selection of works produced by Bolognese artists between the 13th and 18th centuries. The Academy of Fine Arts is also in the museum complex. The museum building was built in the 15th century, making it a beautiful sight to be enjoyed by itself. In the museum, you can also see the Estasi di Santa Cecilia by Raphael and the Pala del Voto by Guido Reni. 
Palazzo dell'Archiginnasio 
Founded in 1563, the University of Bologna, the oldest university in the world, remained in this building until 1805. The palace is two-story and has an interesting architecture. One of the most remarkable parts of the building is the Teatro Anatomico. Palazzo dell'Archiginnasio is located in Galvani Square and it contains the largest library in the province of Emilia-Romagna, with thousands of manuscripts, letters, books, drawings, and prints.
Basilica di San Petronio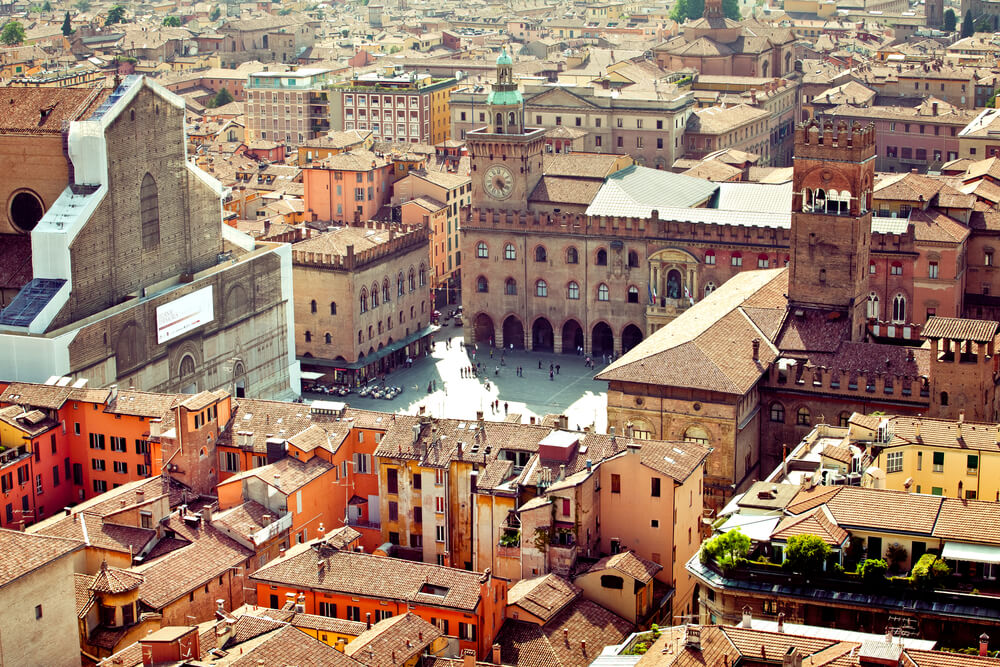 Builtin 1390 with Gothic style, the church is 132 meters long and 66 meters wide and is the 15th largest church in the world. The church, dedicated to St. Petronius, has 23 chapels dedicated to different saints and has a gigantic sundial on the eastern front, designed by Gian Cassini and Domenico Gugliemi. Basilica di San Petronio is a must-see for architecture enthusiasts. 
Basilica di Santo Stefano
The building, which was thought to have been built by Saint Petronius, the bishop of the city in the fifth century, is one of the oldest buildings in Bologna. Santo Stefano was a complex of 7 separate churches, but only 4 of these churches are still intact. In this basilica, you can also see the impressive mosaics from the Roman and Byzantine periods.