Notre Dame de la Garde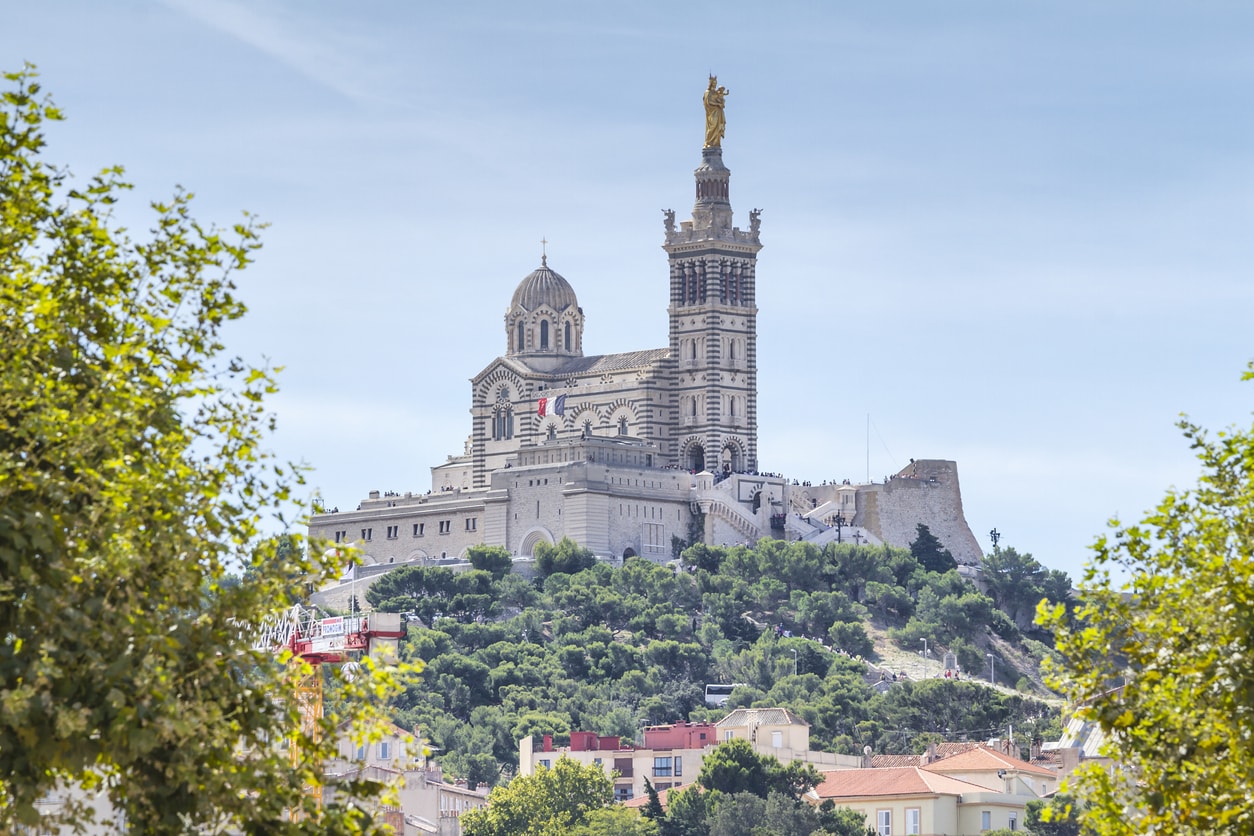 You can reach Marseille and pass under the famous mirror in the Vieux Port, and after a pleasant coastal walk along the Old Port, you can turn your route to the Basilica, which is built on the city's highest hill, Le Garde. Notre Dame de la Garde, which can be reached by open-top nostalgic trains or buses in about 20-25 minutes, will fascinate you with its magnificent structure designed with Neo Byzantine Architecture as well as its viewing pleasure. You can witness the history and culture of the Mediterranean geography from the past to the present in the Museum of European and Mediterranean Civilizations (MuCEM), which is built on 40 thousand square meters, next to Saint Jean Castle, right after the Basilica where you can watch the city from all its lines. In addition, Chateau d'lf Castle, Saint Jean and Saint Nicolas castles, where the Count of Monte Kristo is mentioned, are on our list.
Historic Streets
Like Paris, Marseille is one of the shopping paradises of the country. Because Rue de Roma, Rue Paradis, La Canebiere, Rue de la Tour, as well as the wide streets that host a wide range of domestic and foreign brands, home-made soaps, olive oil, lavender pouches, spices, antique shops, small colored chocolate shops to whet your appetite Rue de St Ferreol , Rue Edmond Rostand side streets will offer you more than you expect. 
Calanques
If you come to Marseille in the summer, you can go to Calanques, 20 minutes away from the city, to enjoy the sea and the sun, and immerse yourself in the turquoise waters at Casis, which is half an hour away. 
The Vieux Port
Although Marseille has a very old history, World War II has caused much damage to the city. The colorful houses you see especially in the Vieux Port have been rebuilt in accordance with the original after the war. After wandering around this area and seeing the fish market, you can turn your way into the neighborhood of Le Panier. The neighborhood to the north of the harbor is one of the most affected by the bombardment. You should definitely see La Vieille Charité in this region. It is an old nursing home and one of the few buildings that survived World War II with relatively little damage.