The beautiful architecture and its stunning harmony with nature, especially with Lake Geneva, offers visitors a feast for the eyes. Not only that, but being a "diplomatic capital", Geneva has many cultural landmarks to visit.
Jet d'Eau
Jet d'Eau is a large fountain at the mouth of Lake Geneva where it empties into the River Rhône. It was originally installed in 1886 as a safety valve for a hydraulic power network and could reach a height of 30 meters. Soon after, in 1891, the people of Geneva realised the fountain's potential for spectacle, and it was moved a little further upstream and was operated for the first time as a spectacle to commemorate the 600th anniversary of the foundation of the Swiss Confederation. The present fountain pumps 500 litres of water 140 metres into the air every second at a speed of 200 km/h. At any moment there are about 7000 litres of water in the air above the Jet d'Eau.
St. Pierre Cathedral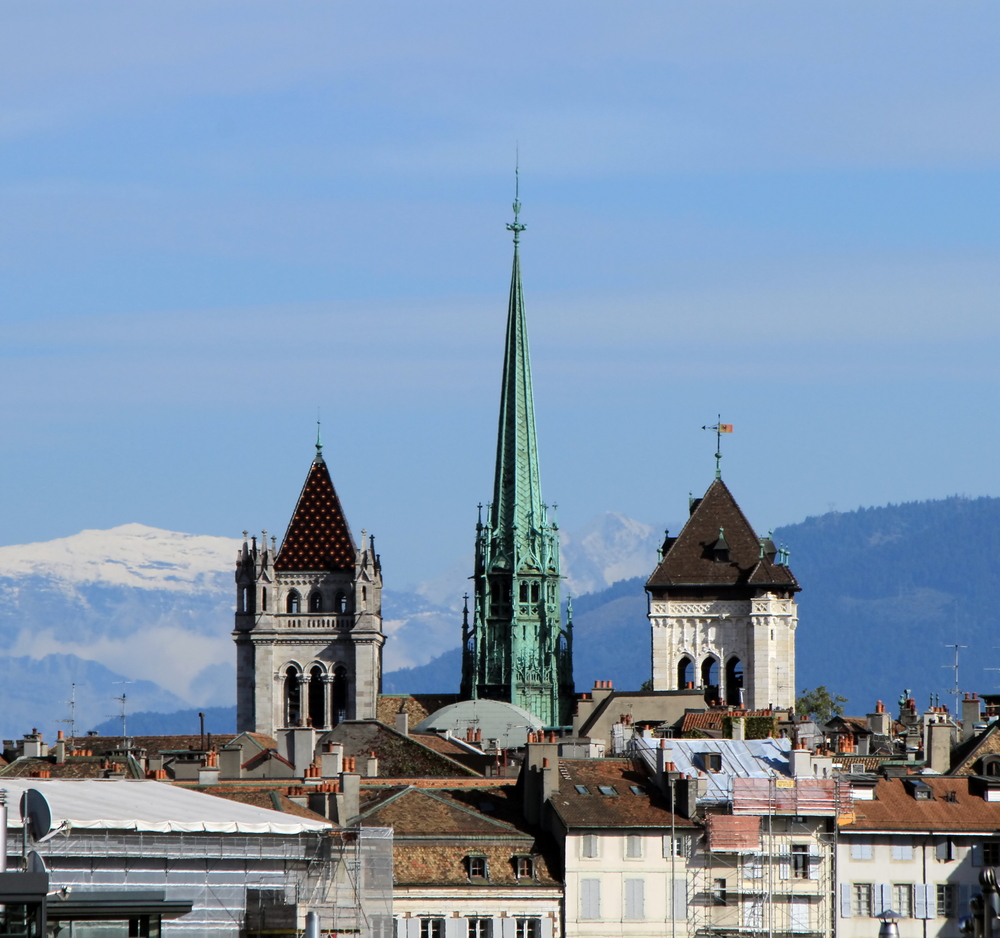 St. Pierre was a Roman Catholic cathedral that was converted into a protestant church during the Reformation. Famous for being the adopted home church of John Calvin, one of the foremost proponents of the Protestant Reformation movement. Originally a gothic cathedral, the interior was stripped of all decoration and art during the Reformation. In the 18th Century, a neoclassical main façade was added, giving the cathedral a uniquely Roman feel.
Russian Church
Officially known as "La Cathédrale de l'Exaltation de la Sainte Croix", this is a historical Russian orthodox church. It was built between 1863 and 1866 with the initiative of Grand Duchess Anna Feodorovna of Russia who had moved to Switzerland after separating from her husband Grand Duke Konstantin. Its golden domes and Byzantine striped arches, as well as the alien architecture, Russian revival, make this a fascinatingly beautiful little landmark in the city, one of the few examples of its kind in Western Europe.
Palais Wilson
Built originally in 1873-1875 as a hotel, it was renamed after U.S. President Woodrow Wilson, one of the founders of of the League of Nations, when Switzerland joined the League of Nations and the building became the organization's headquarters. It currently serves as the headquarters for the UNHCR. It must be said that despite never actually serving as a "palace", Palais Wilson (Wilson Palace) deserves its name.
Brunswick Monument
This monument is a mausoleum built in honour of Charles II, Duke of Brunswick. The Duke bequeathed his fortune to the city of Geneva upon his death in 1873 and asked that a monument be built in his name in the city. It is a breath-taking landmark built in the style of the Scaliger Tombs in Verona. The ornate decorations, the sculptures that adorn all sides, as well as the centre piece makes this monument a must see.