Venice has been among the foremost cultural capitals of Europe throughout history. The city was a major Italian capital for centuries before the Unification of Italy, and although the city itself is relatively small in size, there are still many landmarks to be seen. 
Il Ponte di Rialto (Rialto Bridge)
There are four bridges in Venice over the Grand Canal and Rialto is the oldest and connects the San Polo district to the San Marco district. The original bridge was first built in 1181 but has since been rebuilt many times. It is not only one of the primary tourist attractions in Venice but also one of its icons.
La Piazza San Marco (St. Mark's Square)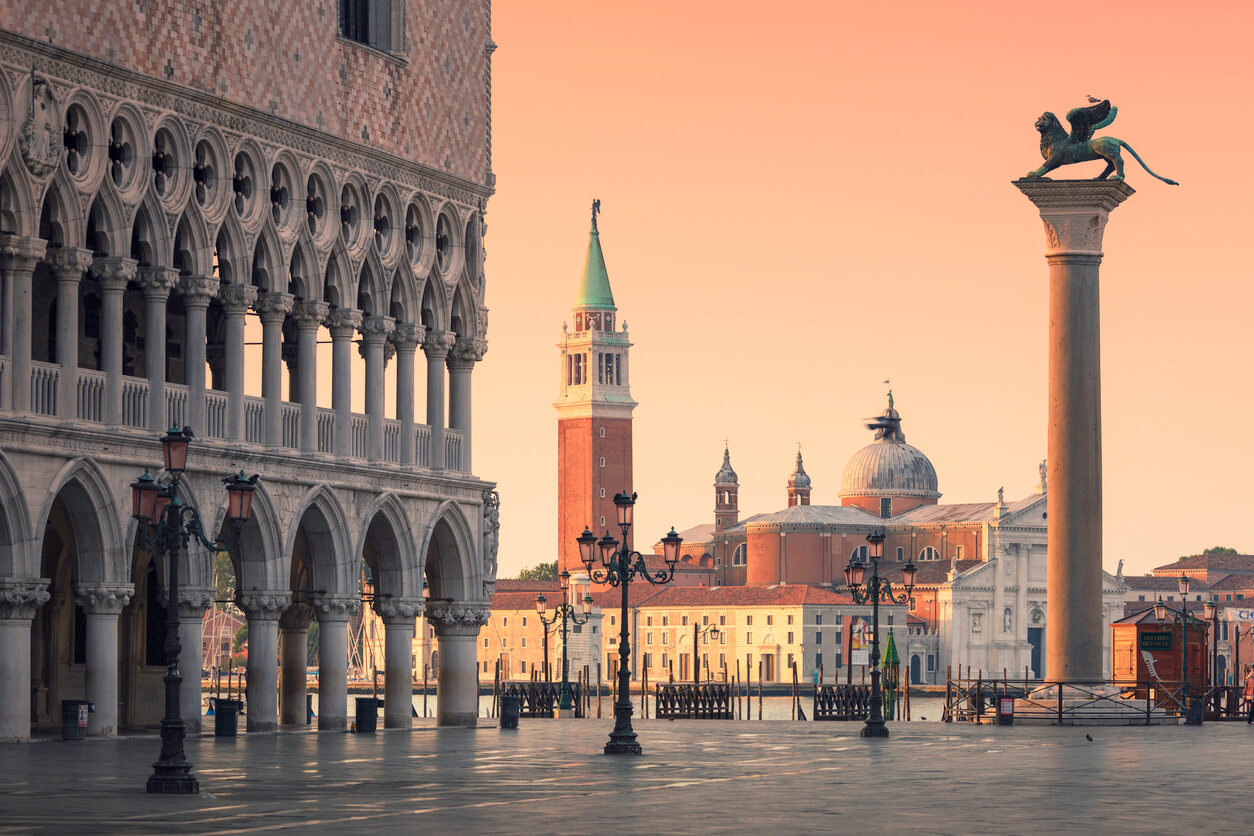 This is the main public square of Venice and is known by the locals as "La Piazza", the Square. As the social, political and religious centre of the city, the Piazza hosts many landmarks itself. The wonderful columns of St. Theodore, of the Lion of Venice, of the Judgement of Solomon and the Pillars of Acre rise above the square while The Doge's Palace and the Basilica of San Marco grace the square with their beauty.
Il Palazzo Ducale (The Doge's Palace)
Before the Unification of Italy, Venice was the capital of the Merchant Republic of Venice, the leaders, or dukes, of which were called "Doge". Found in the Piazza San Marco and built some time in the 10th Century, the palace is a wonderful display of Venice's glory days. The palace was more of a castle in its infancy, with towers and fortifications, and the Doges of Venice ruled the Mediterranean from this building for close to a millennium. It has, since then, however, was rebuilt and restructured, new sections were added and the old were remodelled and the Palazzo Ducale, in its current form, came to be more of a palace than a fortress. 
La Basilica di San Marco
St. Mark's Basilica, the full name of which is "Patriarchal Cathedral of Saint Mark" (Basilica Cattedrale Patriarcale di San Marco), is the most famous and most awe-inspiring church in the city as well as one of the best examples of Italo-Byzantine architecture. Found in the Piazza San Marco, adjacent to the Palazzo Ducale, the very first sections of the Basilica were built in the 11th century. It started out as the Doge's personal church and was therefore the symbol of the Doge's and in turn of Venice's power along with the Doge's Palace. This is much evident in the gold mosaics that adorn the Basilica and cover almost all the interior. This basilica is without a doubt the most glorious and magnificent part of the city.