What would be more romantic than spending Valentine's Day in Istanbul, "the city of lovers"?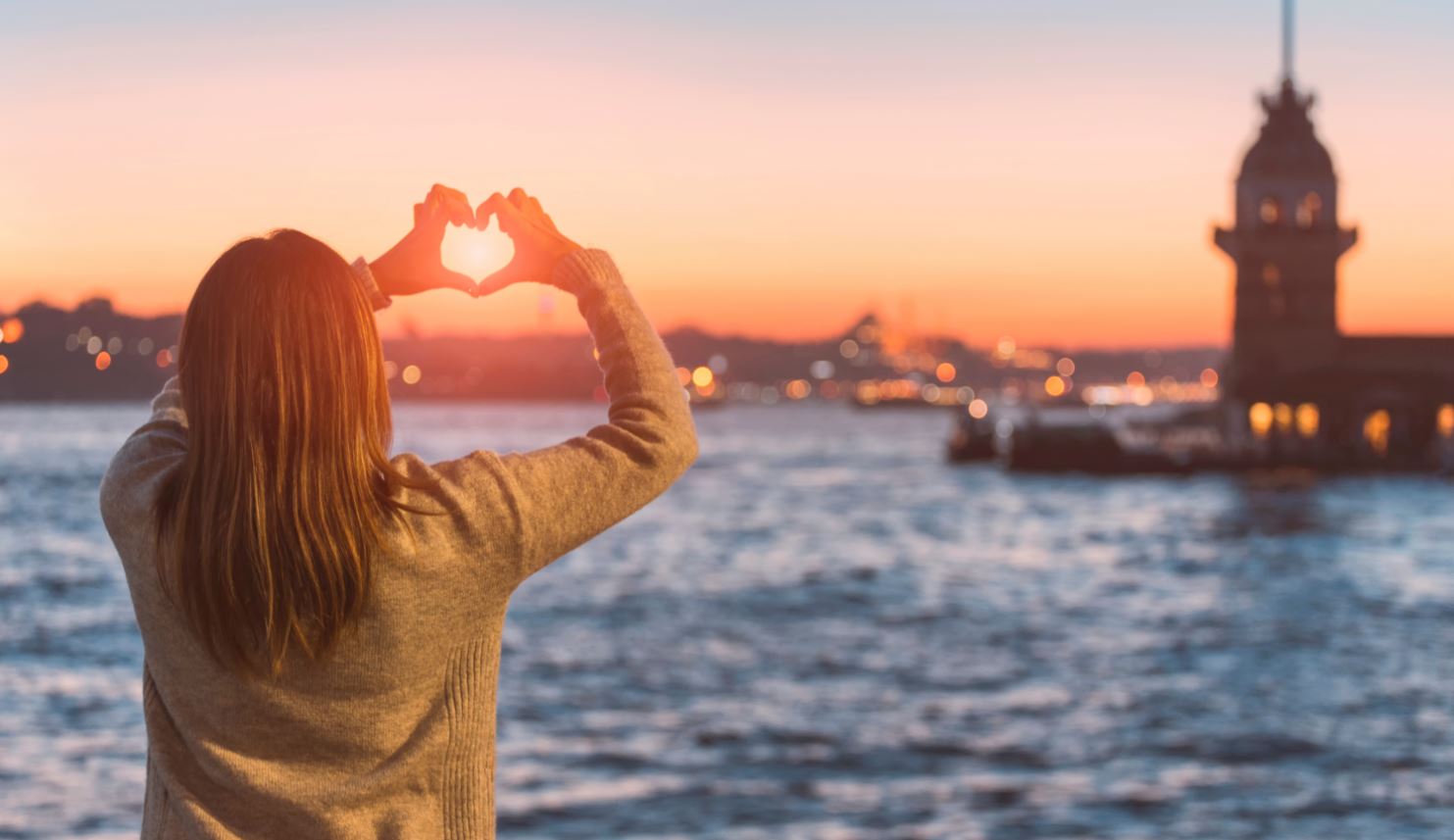 Nevertheless, it is a city of rich history where many people fall in love with it, at the first sight. Istanbul is among the most beautiful cities in the world which charms visitors with its exotic atmosphere, breathtaking sceneries along the Bosphorus Strait as well as its unique architectural and historical structure that never ceases to impress.   The most vivid place in Türkiye, Istanbul never sleeps. You can always find many cool events, tailored for special occasions whether you would like to go to a local concert or have a romantic dinner with your loved one. Therefore, you can make sure that there will be plenty of great local events on Valentine's Day. We compiled a list of well-curated suggestions comprising of things to do, places to go and gifts to buy on this special day spent in Istanbul with your Valentine.  
Best Things to Do on Valentine's Day in Istanbul
 

Tour on Bosphorus- Feed the Seagulls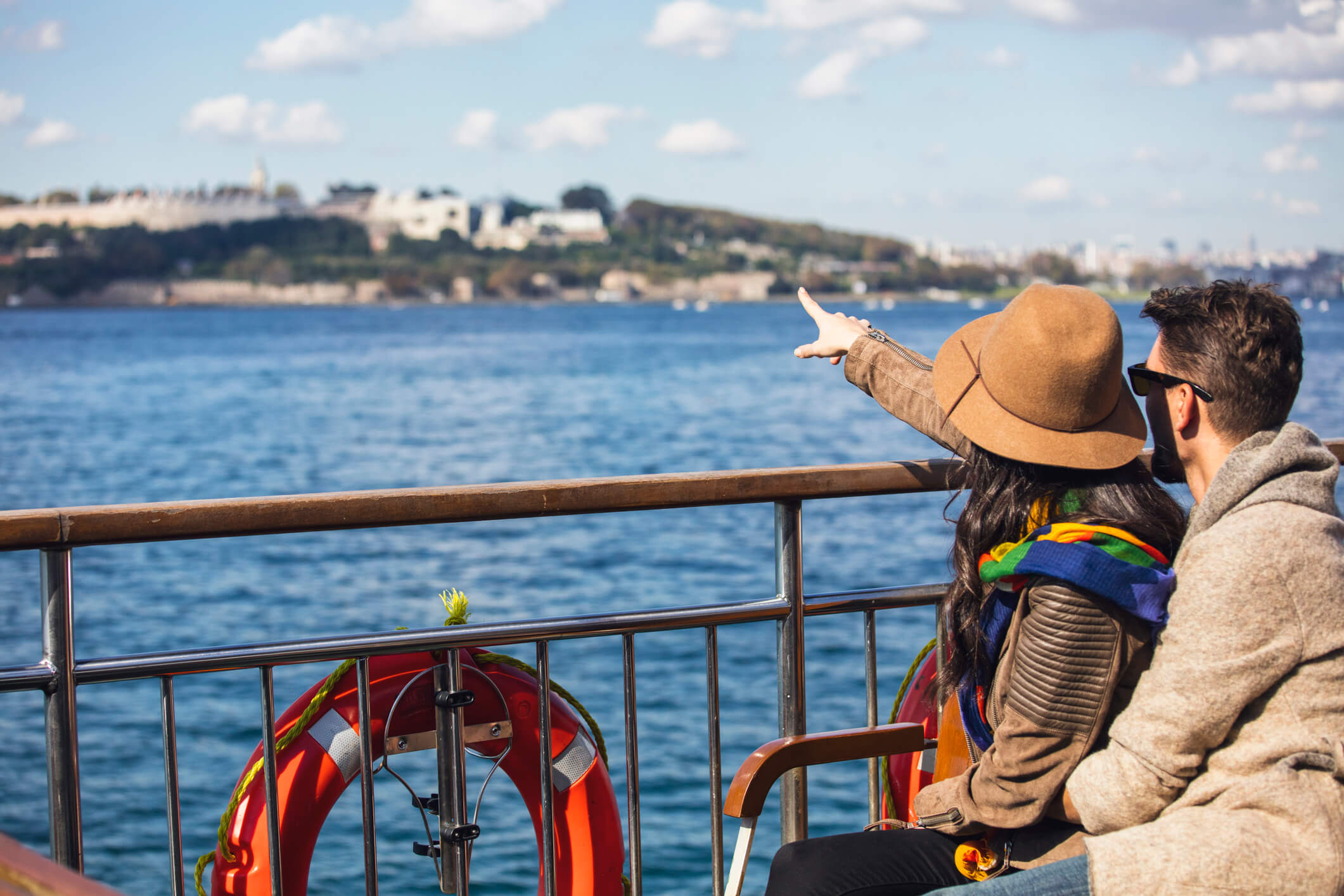 As the major landmark of Istanbul, Strait of Bosphorus is the official connection point between Europe and Anatolia, dividing the city into two parts. You can embark on a cruise along the Bosphorus, starting from "Ortaköy or Beşiktaş Pier" and explore the city's highlights that you will pass by from the sea. Do not forget to feed the seagulls, as they patiently wait for the boats to make company.  You can see the historical waterside mansions and buildings throughout the tour. Have you ever thought of proposing your beloved one in the Bosphorus, right in the middle of two continents at the capital city of romance?
Refresh your love at Pierre Loti Hill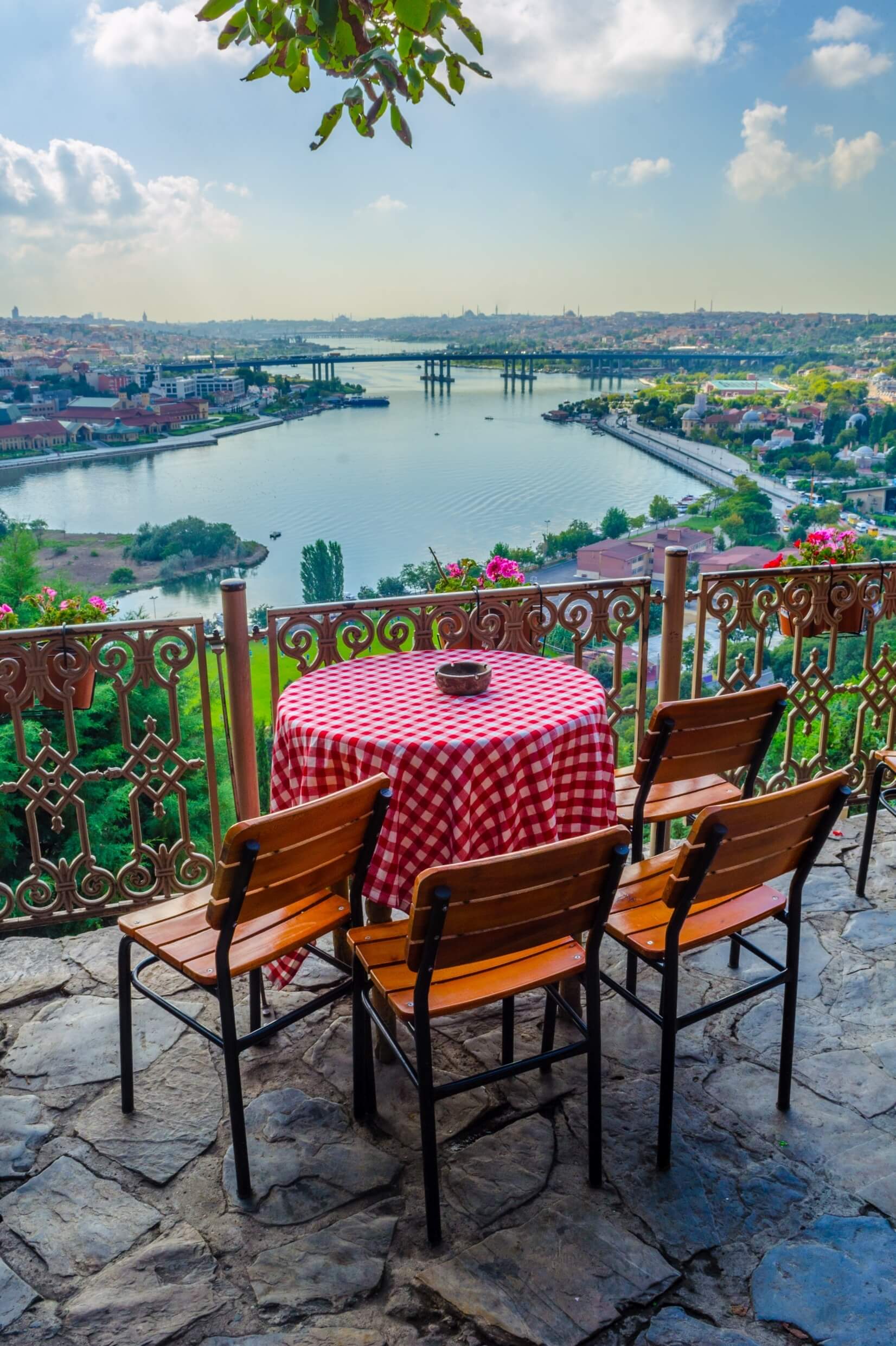 The famous view extending over the Golden Horn provides a dreamy scenery for visitors of Pierre Loti. You can drink Turkish tea and enjoy the romantic atmosphere at one of the authentic cafes and restaurants located on the hill.
Get lost on the Historic Peninsula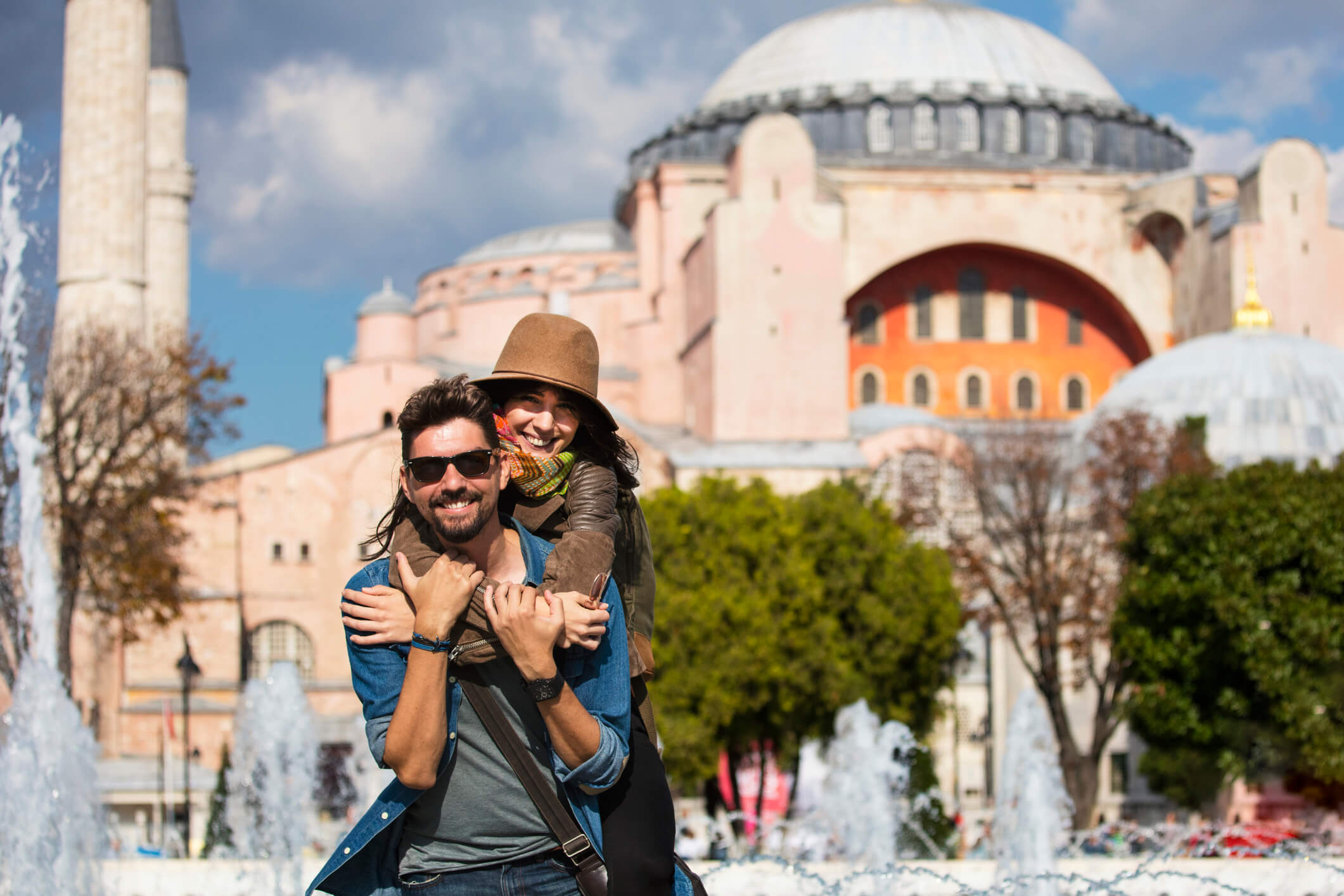 Historic Peninsula of Istanbul includes the most famous touristic places such as Blue Mosque, Hagia Sophia, Sultanahmet Mosque, Topkapi Palace and the Basilica Cistern, all of whom hold great cultural value, representing the ancient Istanbul.
Walk along the Bebek Waterfront
Having a savory Turkish breakfast at one of the cafes situated along the waterfront extending from Bebek until Sarıyer, and enjoying the fresh breeze coming from the sea through a stroll is loved by locals to spend a chill weekend in Istanbul.
Ride bicycle on the Princes' Islands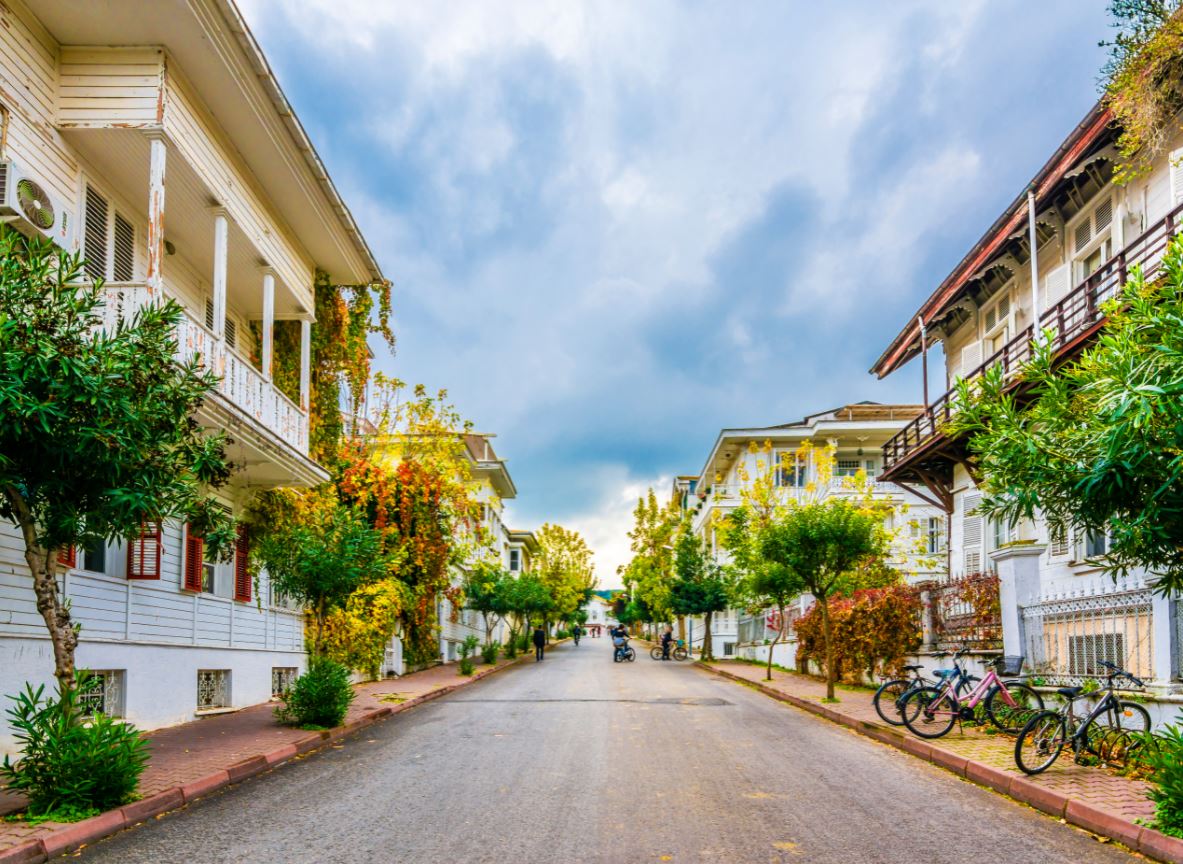 You can take a ferry to go to the Princes' Islands and spend a very romantic day with your lover. Cars are not used on the islands which will allow you to get around by bike between the historical summer mansions. "Büyükada" (Grand Island) and "Heybeliada" are the most popular ones among the archipelago of Princes' islands, where you can watch the amazing sunset.
Watch Istanbul from the top of Galata Tower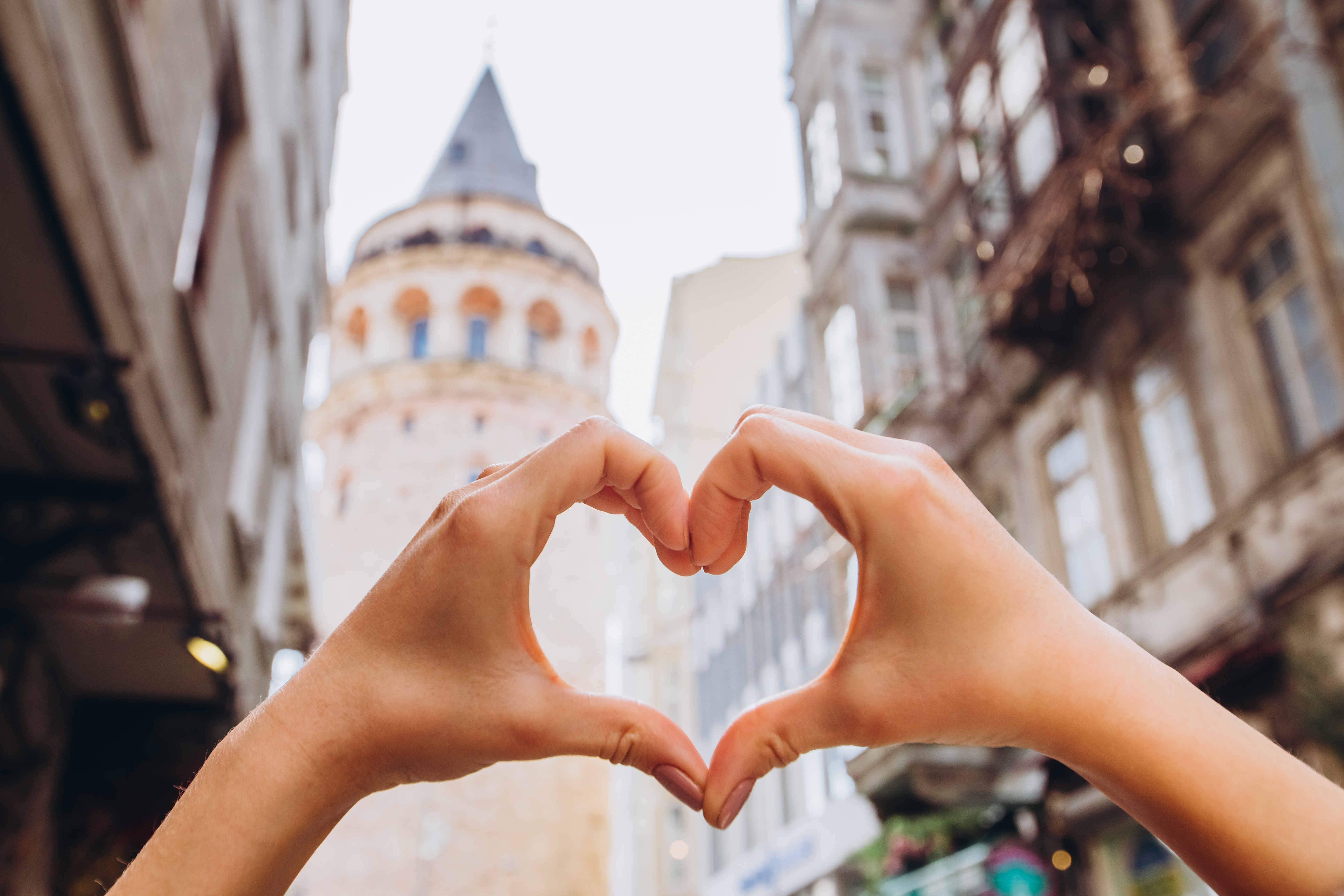 One of the prominent landmarks of the city, Galata Tower provides a unique scenery of the Bosphorus, Golden Horn and Historic Peninsula. History of the tower dates back to Byzantine era. It was later reconstructed by the Genoese. Today, it is a famous tourist attraction as well as observatory tower.
Massage-Spa-Turkish Hammam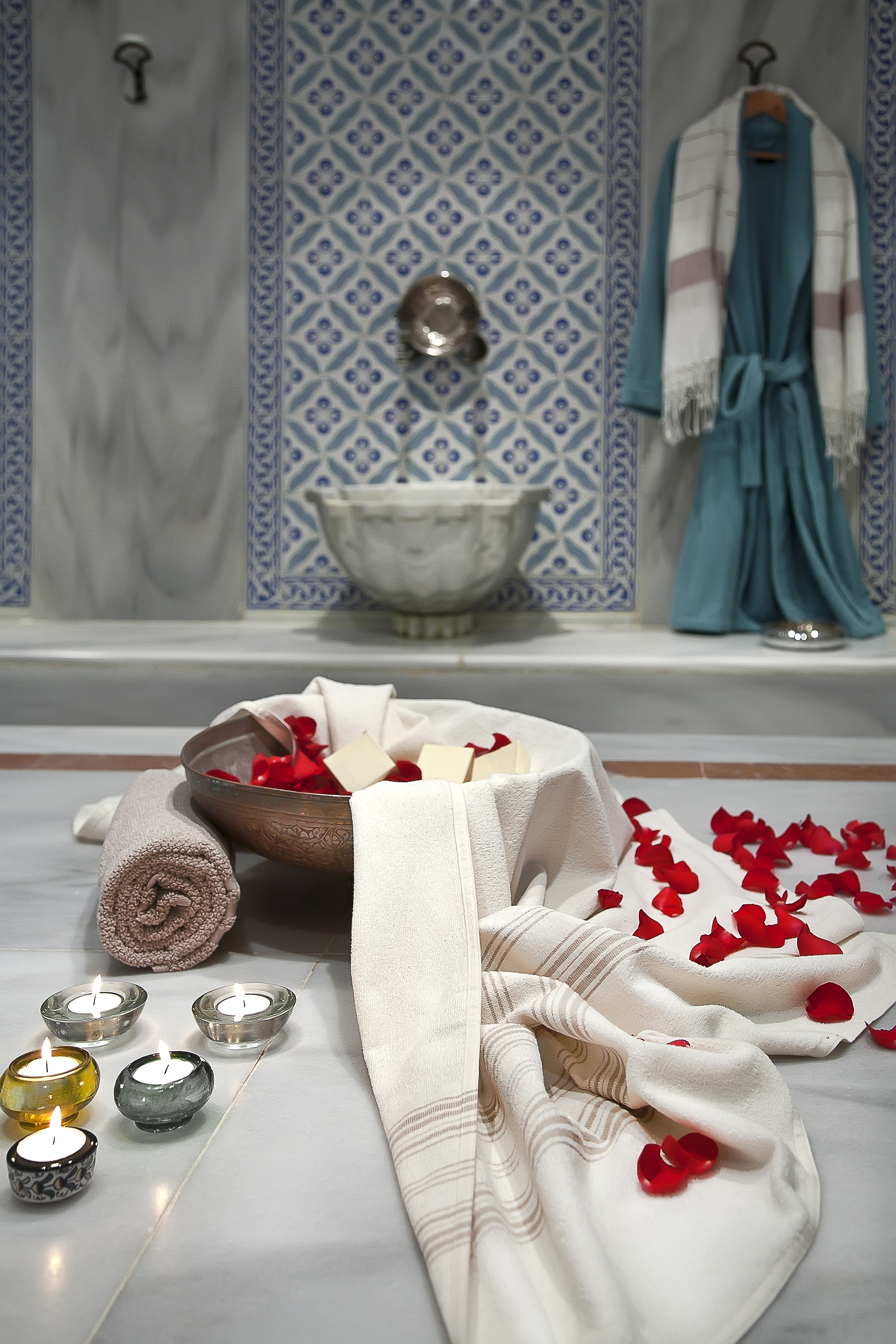 The most unique experience you would have in Istanbul is trying out the traditional Turkish baths. Hammam has been an indispensable component of self-care rituals since the Ottoman periods. You can spoil yourself to relax while pampering your skin at the luxurious Turkish baths.
Many places such as Kılıç Ali Paşa Hamamı, located in Karaköy district offers top-notch services for lovers, including couples massage selections.
Maiden's Tower
The renowned symbol of Istanbul which is located on a small island in the middle of Bosphorus, Maiden's Tower is a beautiful part of Istanbul's skyline.  Called as "Kizkulesi" by the locals, it hosts an exquisite restaurant as well as a museum open to visitors. You can reach the Maiden's Tower by shuttle boats from Üsküdar.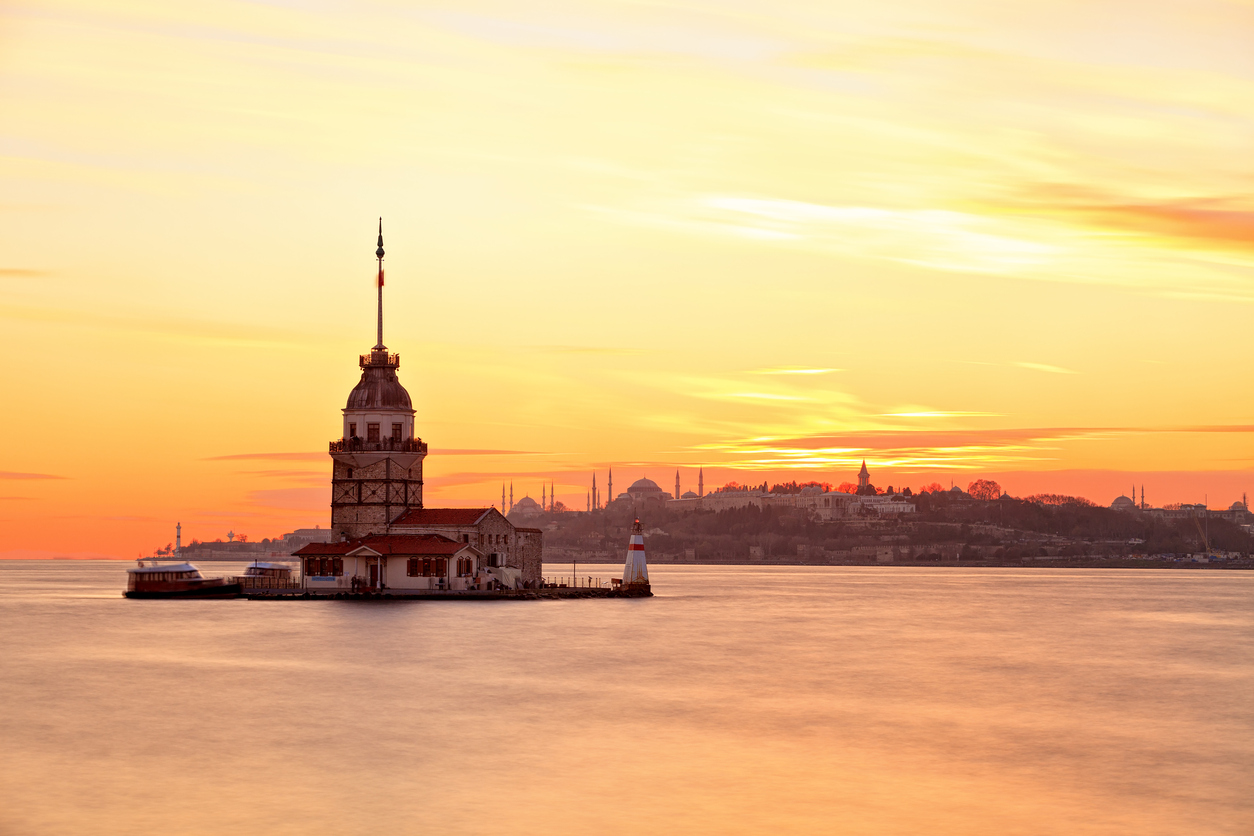 Maiden's Tower is probably one of the best locations to make a marriage proposal at an exclusive dinner surrounded by the romantic lights of Istanbul. Maiden's Tower has been subject to many legends, among which the most famous one includes the Byzantine emperor's daughter.  The story goes that the emperor locked his beloved daughter in the Tower upon learning about a prophecy that had predicted her death by a snake at age of 18. Nevertheless, the princess was not able to run away from her destiny as a snake hidden in a fruit basket killed her eventually. (The Maiden's Tower (Kız Kulesi) is under renovation and will reopen in April 2022.)
A Romantic Dinner in Istanbul
Many restaurants in Istanbul organize delicate dinner experiences for couples, on this special day. There are a great variety of options for every taste and budget, whether you would prefer spending your evening at a chill historical setting with fascinating views of Istanbul or opt for rather moving alternatives where you can enjoy live music.
You must try out the delicacies of Turkish cuisine once in Istanbul. Tasty plates ranging from all kinds of "meze", "çöp şiş", "mantı", "dolma", "kebap" and "ızgara köfte" are some of the mouthwatering culinary selections that you cannot find elsewhere, but in Türkiye. Turkish cuisine is regarded as one of the richest in the world, with desserts such as "baklava", "künefe", "kadayıf" and "kazandibi" to enjoy with your Turkish coffee.     Historical Places for Dinner   You can consider fine dining options at the historical heart of Istanbul. It would be thrilling to spend an unforgettable evening in an authentic place, where you can embark on a romantic time travel.  
Our Restaurant Suggestions:  
Basilica Cistern (Sarnıç Restaurant)
Within walking distance from the touristic Old Town, Sarnıç Restaurant serves its customers delightful selections of modern Anatolian cuisine in a magical setting inside the Byzantine Cistern, accompanied with live music from the piano.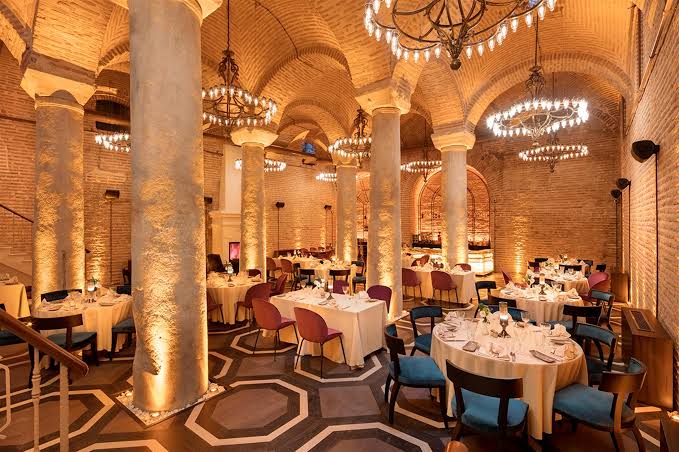 Address: Soğukçeşme Sokak Ayasofya Pansiyonları Hotel.  
Maiden's Tower
If you would like to have a once-in-a-lifetime experience dining in this historical lighthouse, in the middle of Bosphorus, Madien's Tower is the place to go!
Address: Salacak, Üsküdar Salacak Mevkii.  
Galata Tower
The restaurant located on top of the city's prominent landmark Galata Tower offers a charming evening along with the scenic view of Istanbul from above.
Address: Bereketzade, Galata Kulesi, Beyoğlu.                    
Restaurants on Bosphorus
Istanbul's most beautiful restaurants are situated on Bosphorus, both sides of two continents with an astonishing view. You can surprise your loved ones with a dinner table overlooking the picturesque view of the city.
Our Restaurant Suggestions: 
Lacivert
Renowned as one of the best seafood restaurants in the city, you can enjoy the gorgeous sunset at Lacivert.
Address: Anadolu Hisarı, Körfez Cd. 57/A, Beykoz  
Sunset Grill & Bar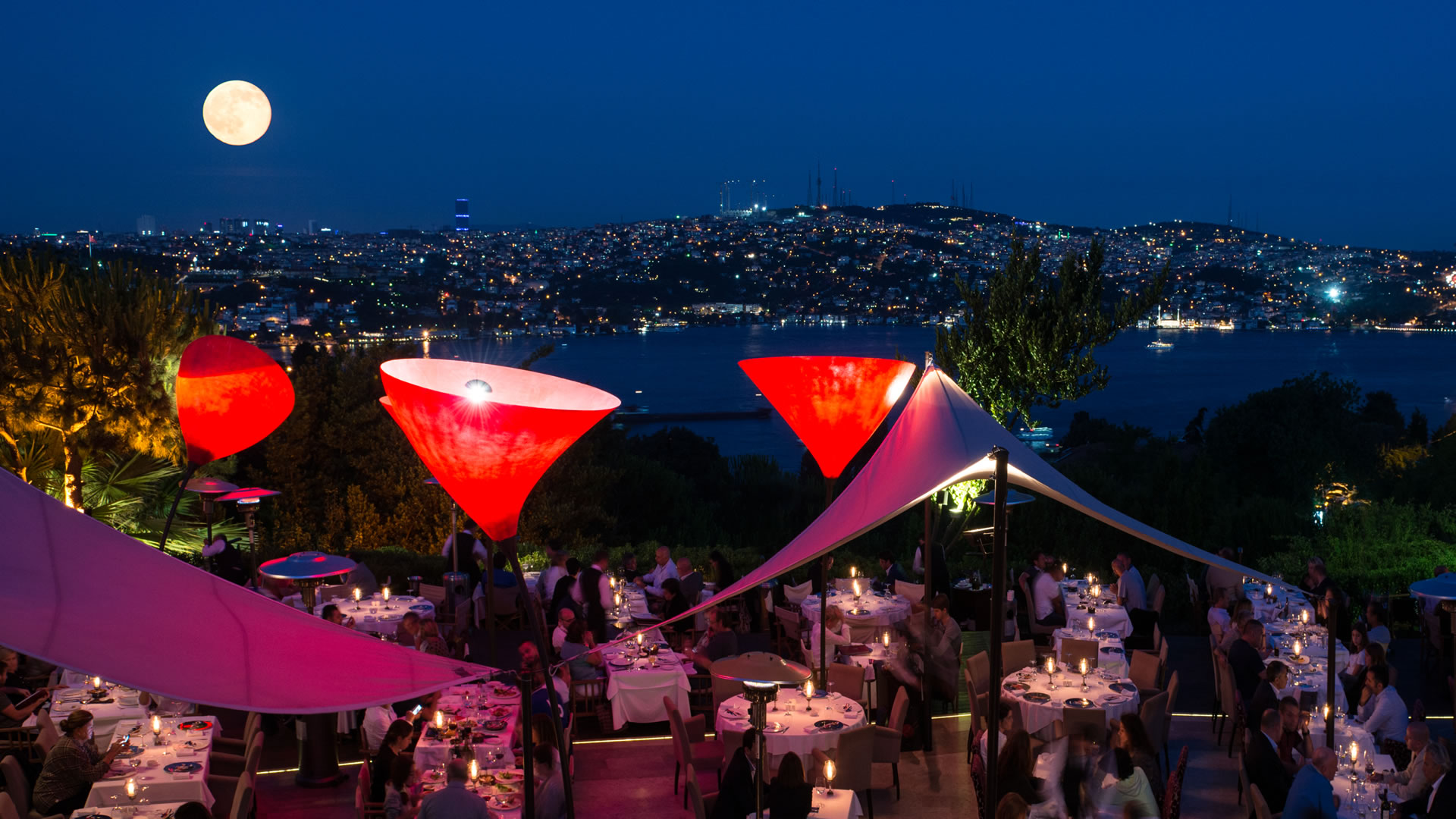 Sunset Grill & Bar is a particularly famous restaurant among the tourists who want to have a chic dinner experience accompanied by one of the most spectacular views of Istanbul.  
Address: Kuruçeşme Mahallesi Ulus Park, Yol Sokağı No:2.    
Leb-i Derya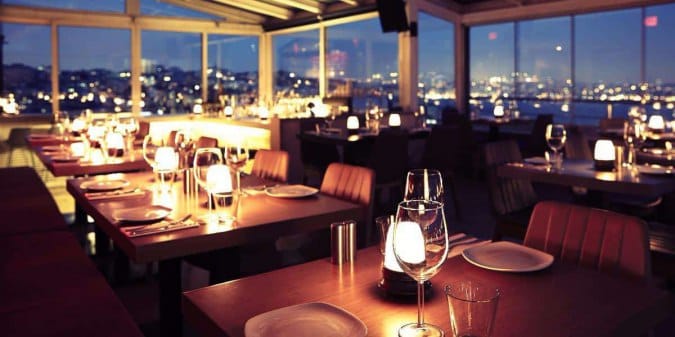 Leb-i Derya appeals to its customers with finely selected dishes along with a breathtaking view of the Bosphorus.  
Address: Şahkulu Mah., Kumbaracı Ykş. No:57, 34425 Tünel/Beyoğlu  
Mangerie
If you would like to have brunch with a lovely glimpse of Istanbul, Mangerie is the place to go.  
Address: Bebek, Cevdet Paşa Cd. No:69.    
Baylan
The historical patisserie located in one of the most elegant neighborhoods of Istanbul, Bebek Baylan is quitefamous for its ice-cream dessert "kup griye".  
Address: Bebek, Cevdet Paşa Cd. 52-54  
Tuğra: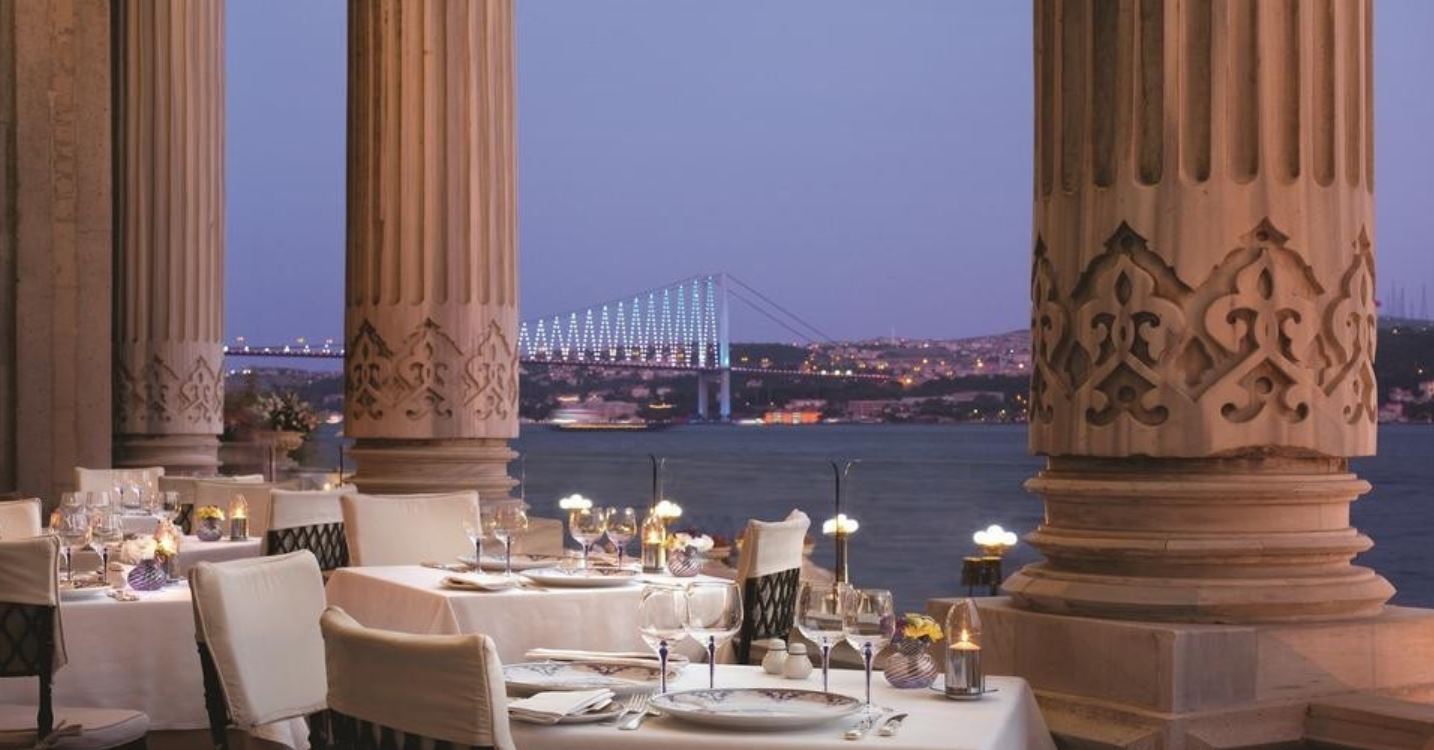 You can have the most romantic dinner while watching the ships pass by on Bosphorus, over the silhouette of the city in the background.
Address: Çırağan Cad. Çırağan Palace Kempinski No. 32.                          
Places with the View of Historic Peninsula
The restaurants with the scenic look of the historic peninsula offer an unforgettable dinner experience. You can enjoy the gourmet foods with a spectacular panoramic view of Istanbul.     Our Restaurant Suggestions  
360 Istanbul
If you would like to have the 360 degrees view of the whole city while enjoying mouthwatering food, 360 Istanbul is the place to go! Situated on the penthouse of one of the historical buildings in Beyoğlu, 360 turns into a night club on the weekends.
Address: Tomtom, İstiklal Cd. No:163 K: 8, Beyoğlu  
Mikla
This top-notch restaurant offers gastronomic delicacies, accompanied with high quality service and a stunning view extending to Hagia Sophia, from the rooftop of Marmara Pera Hotel.
Address: Asmalı Mescit, The Marmara Pera, Meşrutiyet Cd. No:15
 

Peninsula Terrace Restaurant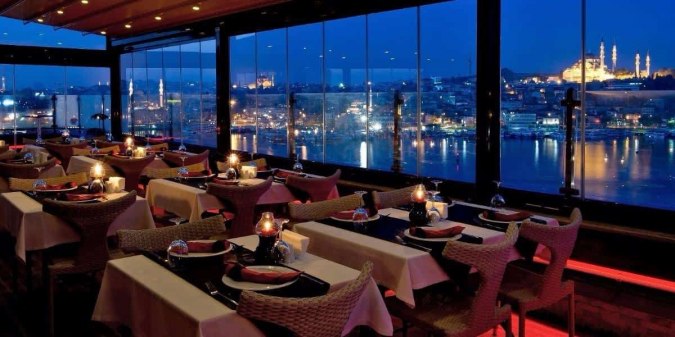 As a hidden gem located at Hotel Golden City, you won't have enough of the picturesque scenery.
Address: Azapkapı, Tersane Cd. No:111, Beyoğlu.  
Alternative Entertainment Places of Istanbul for Fun Couples
Istanbul is famous for its lively nightlife. If you would like to have lots of fun listening to music or dancing with your precious other, consider the following districts with the trendiest alternatives: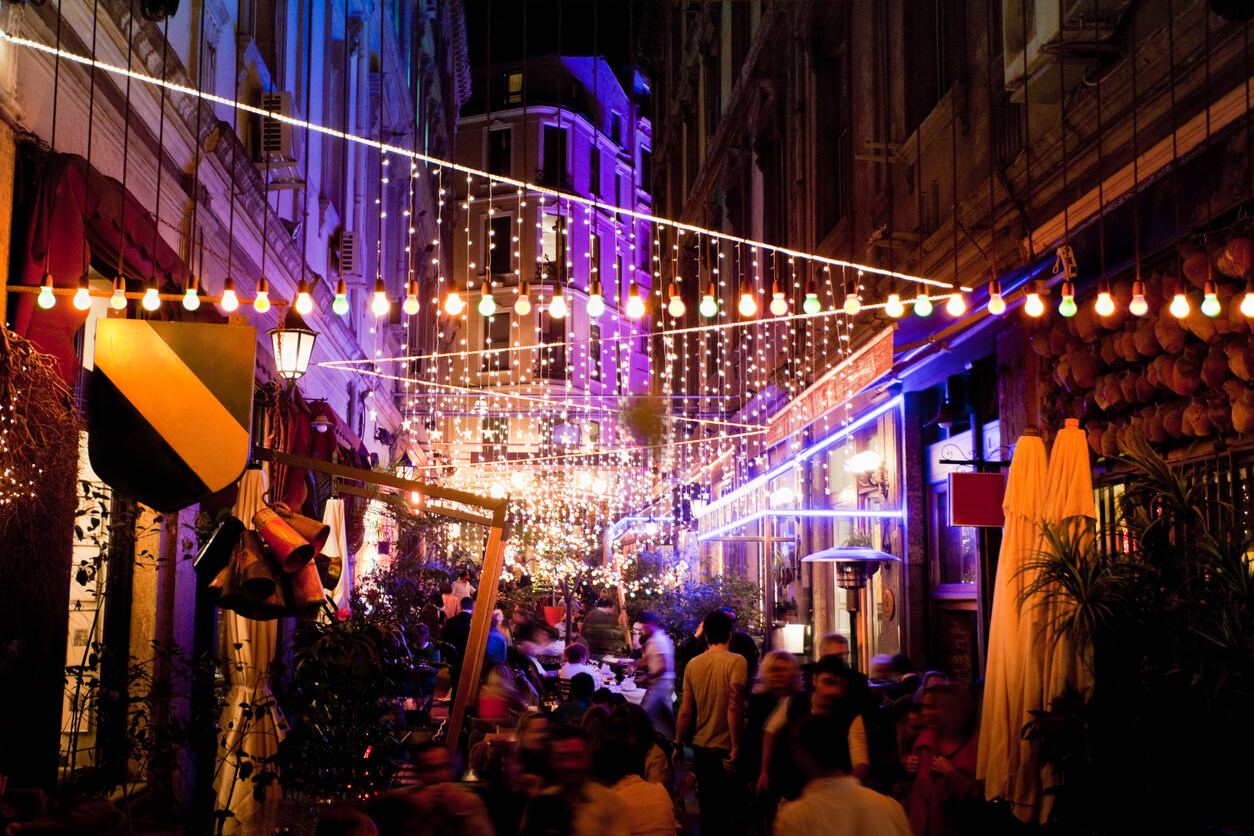 Kadıköy
Kadıköy is renowned for its colorful streets filled with art and culture activities and vibrant entertainment life. It is located on the Asian side of Istanbul where you can reach by taking a ferry. Kadife Street and Moda Street are among the popular entertainment venues with lots of bars such as Monks, Buddha Bar, Incir Pub where you can listen to great music and dance.  
Bebek
There many fancy cafés, bars and restaurants in Bebek, the most beautiful neighborhood of Istanbul. You can spend a fun night dancing at Bebek Chilai accompanied with an exclusive view of the Bosphorus or dine at the buzzing restaurants right in front of the Rumeli Fortress.  
Beşiktaş
Beşiktaş is a very lively quarter for nightlife, due to presence of highly popular pubs and clubs. Here, you can have a glimpse of the entertainment habits of the locals.  Lock Bar, Limoncello, Sahne Istanbul, Beer Hall, Long Bar Raffles Istanbul are some of the nice places in Beşiktaş.  
Beyoğlu: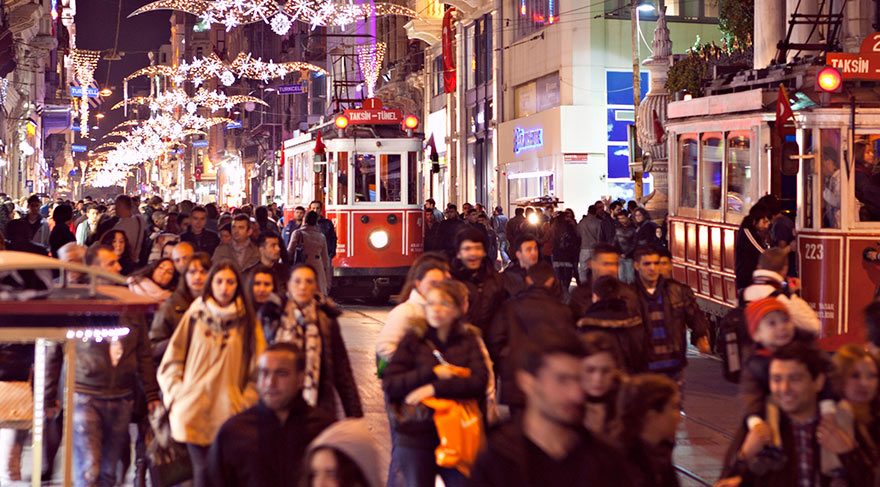 Beyoğlu is among the most authentic districts of Istanbul. Renowned with the famous Istiklal Street, it is home to many traditional restaurants as well as pubs and night clubs at the very heart of the city. You'll find many great entertainment options where you can have a cheerful night at the most popular venues of Beyoğlu such as Mama Shelter, Klein Garten, Birdy Pera, Oktoberfest, Anton Peran, Monkey Istanbul and Up Lounge.
Arnavutköy
Originally a historical neighborhood marked by wooden waterside residences, Arnavutköy has gradually become a hotspot for entertainment life over the past years. Any, Alexandra Coctail Bar and Luzia Istanbul are favorite places to go in Arnavutköy.    
Gift Ideas
What is a more authentic present than buying your loved ones "Pegasus Gift Card" in order to discover the most romantic places of Türkiye together?
You can discover the perks of having Pegasus Gift Card and purchase it online at the selected amount. It is also very practical to use, since all you need to do would be typing in the code of your gift card to buy a ticket to your dream destination!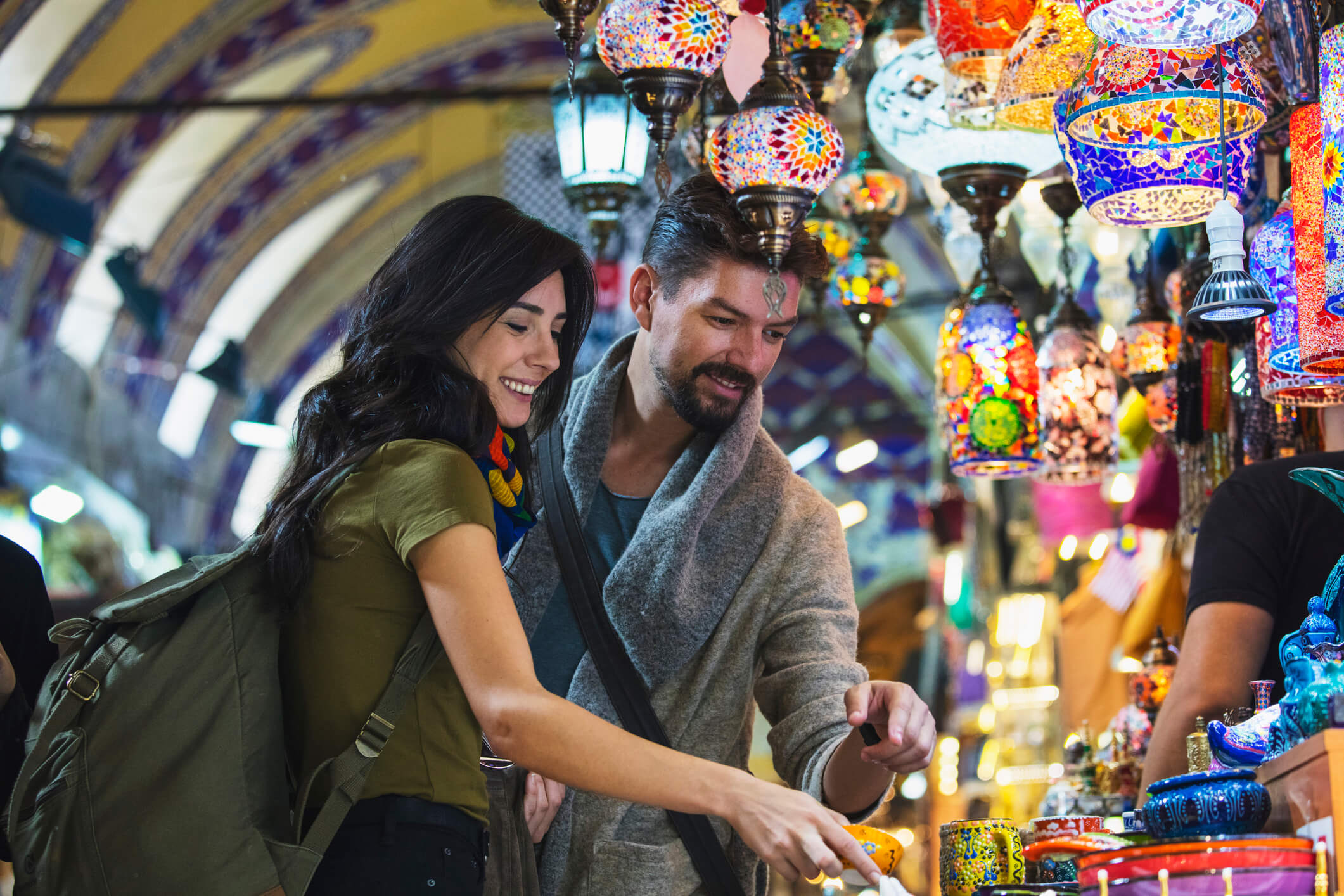 Other authentic gifts may be found among the hidden gems of Grand Bazaar, one of the largest markets not only in Istanbul but in the whole world. You can bargain for traditional goods, precious jewelries and handcrafted souvenirs while interacting with the locals. If you would like to opt for more high-end brands, Istanbul is a true shopping heaven with its renowned malls such as Zorlu Center, Emaar Square Mall or Istinye Park.      
Romantic Accommodation Suggestions in Istanbul
Many hotels in Istanbul make sure to provide high quality service with finely curated events ranging from romantic dinner programs, special buffets and live performances on Valentine's Day. You can cherish time in your hotel room, with a spectacular view of the Bosphorus or utilize offers made specifically for this exceptional day.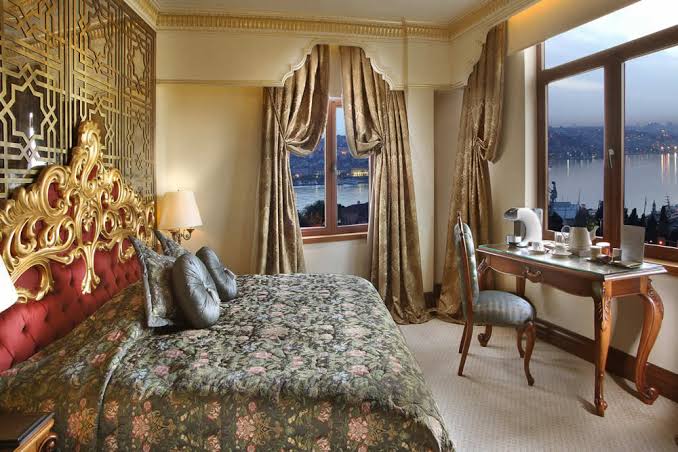 (Daru Sultan)
Mövenpick Golden Horn offers a picturesque view of the Golden Horn as its name suggests. It provides excellent service through its modern facilities, at the heart of historical area of Istanbul. 
Hilton Istanbul Bosphorus is within easy reach from the city center, close to the popular districts of "Taksim", "Nişantaşı" as well as the main tourist attractions. It provides a spectacular view of the Bosphorus from Terrace Restaurant, which offers fine dining options.  
Marriott Hotel is situated in Istanbul's city center, at "Şişli". The restaurant of five-star hotel makes available top-notch menus planned by professional chefs on special dates, including the most famous time of the year, Valentine's day. One of the most popular venues for shopping in the city, Cevahir Mall is within 450 meters from Mariott Hotel Istanbul.  
Conrad Istanbul Bosphorus offers luxury accommodation alternatives. Located at one of the most central areas of Istanbul within easy reach from the city's highlights, Conrad Istanbul Bosphorus offers a breathtaking view of the Marmara Sea. You can spend an unforgettable evening at Summit Bar & Terrace Restaurant and the hotel's rooftop.  
Radisson Blu Bosphorus Hotel also guarantees a delightful stay on the banks of Bosphorus, revealing one of the most terrific views of the city from Istanbul's most enthusiastic quarter, "Ortaköy".    
Daru Sultan Beyoğlu:  Daru Sultan Galata is a highly popular lodging selection of many travelers due to its proximity to historical sites such as Basilica Cistern and Hagia Sophia. The Hotel is also famous for its romantic ambiance where you can have a unique experience as a couple.  
Mr. CAS Hotel: Located at the cultural heart of Istanbul, Mr. CAS Hotel introduces the concept of "an urban vintage" experience. You can truly enjoy your time at Mr. CAS Hotel through a privileged combination of modern and historical patterns, where you'll feel at home.  
Search Flight to Istanbul