Krasnodar, the cultural center of southern Russia, is famous for its history and modern museums. Also, it attracts attention with its festivals, nature, and an active nightlife. You can take tours on the Kuban River and visit the city's many parks and monuments on foot. Thanks to its regular but natural city structure, Krasnodar is a beautiful city that can make your holiday pleasant.
Red Street
Red Street, which is the busiest street of the city, is a must-see for those who go to Krasnodar. Due to its central location and being closed to car traffic on weekends, it is a particularly preferred location by tourists and is, therefore, a very lively street. Also known as Krasnaya Street, there are many shopping centers, cafes, bars, and statues. You can go for a walk during the day on this long tree-lined street, watch the performances of street artists and buy souvenirs. There is also a fountain built in the name of Catherina II and the monuments of Shurik and Lida on the street.
Kovalenko Art Museum
The Kovalenko Art Museum is the oldest art museum in the North Caucasus region and is a very important museum with more than 9,000 artworks in it. Located in Krasnaya Street, the museum was built in 1904 and is a place where you can see Soviet art closely. The museum attracts attention with its architecture. Especially in the evening, night lighting creates a great background for photographs. An hour's visit is enough to see the museum completely. 
St. Catherina Cathedral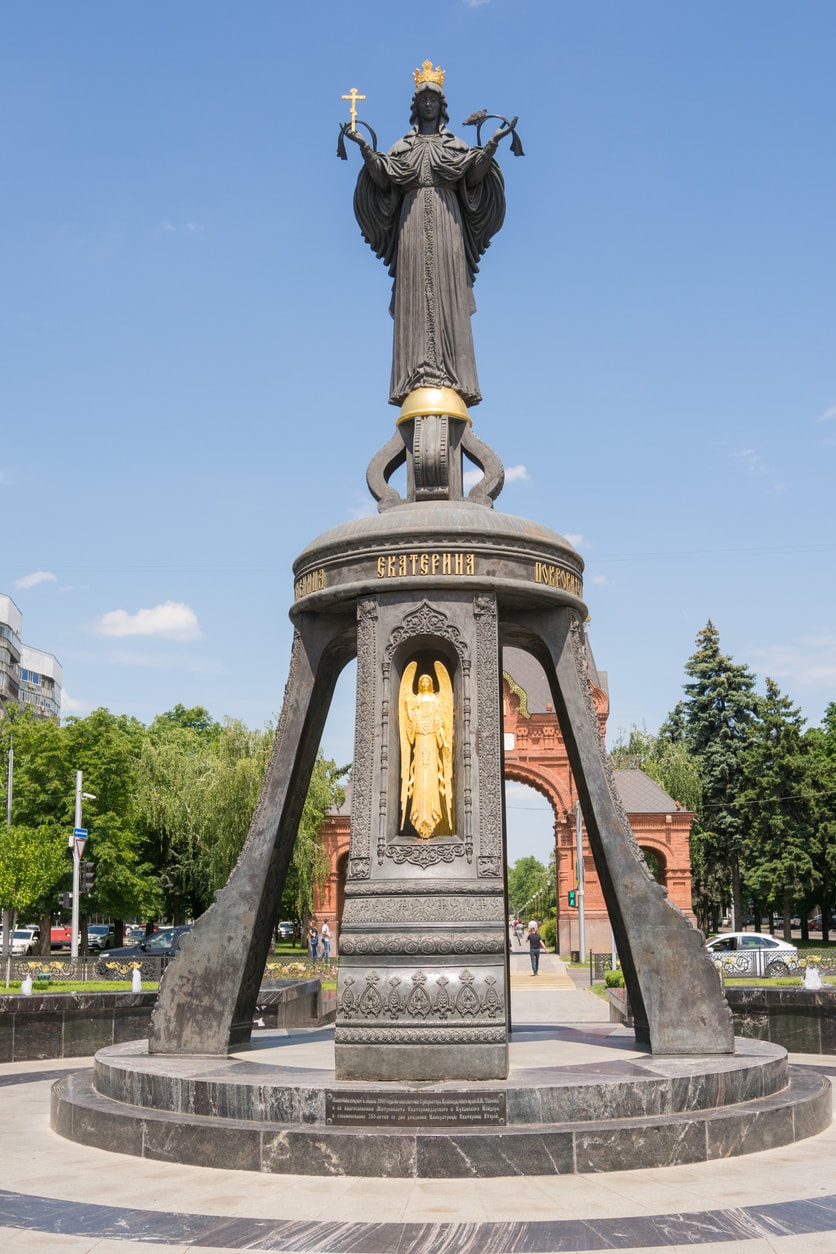 The cathedral of Catherina II, which attracts attention with its magnificent architecture, is known as the center of Kuban Orthodox. This magnificent structure which is built in 1890 on behalf of Catherina II, the founder of the city, gives an older historical feel with its architectural texture. The cathedral, which has been subjected to many looting and deformation from the past to the present, has regained its former glory with the restorations. The wall decorations and paintings inside this Orthodox center, which welcomes tourists from all over the world, are sure to attract the attention of history and architecture enthusiasts.
Krasnodar State Historical and Archaeological Museum
Another museum that should be visited in this city famous for its museums is Krasnodar State History and Archeology Museum. The museum building attracts attention with its magnificent architecture. The museum exhibits antique ornaments and archaeological artifacts, manuscripts and military documents. Scythian gold is also on display in the museum, which has a rich scientific library where you can access a lot of information about Kazakh and Russian peoples. The entrance to the museum is 150 rubles, and a two-hour excursion is enough for you to see the entire museum.
Professor Kosenko Botanic Garden
Professor Kosenko Botanical Garden, one of the most beautiful natural areas of Krasnodar, is one of the places where you can have a peaceful time during your tour into the city. This large botanical garden has different trees and flowers and is very suitable for a picnic. Squirrels and birds are very friendly and you can feed them by hand. We recommend you to see the Kosenko Botanical Garden, which has a natural work of art every season.