As a city that is a current fashion capital and a historical capital, there are many things to see in Milan.  Here are the places you must see while you're visiting.  
Duomo di Milano
The symbol of the city, Duomo Cathedral is a place that must be seen. The architecture of the building proves that Milan is a complex place with its beauty. 
Located in Piazza del Duomo, it is the fourth biggest cathedral in Europe and its construction took 500 years. The construction finally finished in 1965 but the restoration process is still going on.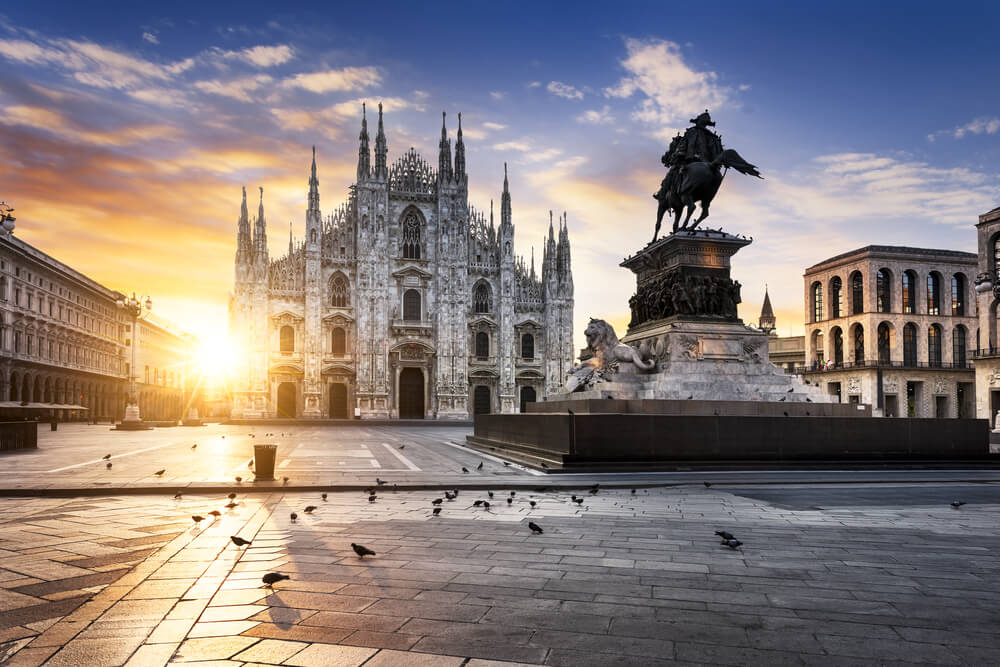 With its glorious statues, magnificent architecture and realistic paintings; Duomo di Milano carry the soul of time and art. Madonnina welcomes you to the large square and to this beautiful building.   
Castello Sforzesco
Built by the Duchy of Milan Francesco Sforza, Castello Sforzesco is one of the biggest castles in Europe. It contains 10 museums and art galleries inside. In the galleries, it is possible to witness the masterpieces of Canaletto, Tiepolo, Vincenzo Foppa, Titian, and Mantegna. 
Entrance to the castle is free except for some art galleries as they require a guided tour. Behind the castle, there is Park Sempione which is often visited by tourists and people to isolate themselves for a little bit. And its natural beauty helps you to rest and refrain from being lost in the hustle.  
Santa Maria Delle Grazie
Despite being small, this basilica manages to captivate hundreds of visitors with its delicate yet rich texture. This small basilica is quite important thanks to the Renaissance artist Leonardo Da Vinci, who painted "The Last Supper" on its wall. Visitors wait for hours in the queue to witness this magnificent piece of art and to see it with their eyes. Tickets can be bought on the Internet or from the entrance counter.  
Galleria Vittorio Emanuele II
One of the oldest shopping malls in the world, Galleria Vittorio was named after the first king of the Italian Empire. This place proves that Milan is the capital of fashion and art. With its magical atmosphere, Galleria Vittorio's ceiling is made of glass. 
And this place holds a rumor as well. If you turn around with one foot in the middle of the bazaar; luck is with you. But since all the visitors tried doing that, now there is a hole in that part of the place. 
Teatro alla Scala
La Scala is one of the most elegant opera houses in the world. Being the birthplace of Othello, Nabucco and Madame Butterfly, La Scala stands proudly with its rich and naïve style. It can contain more than 2000 people and it is a school for artists as well.