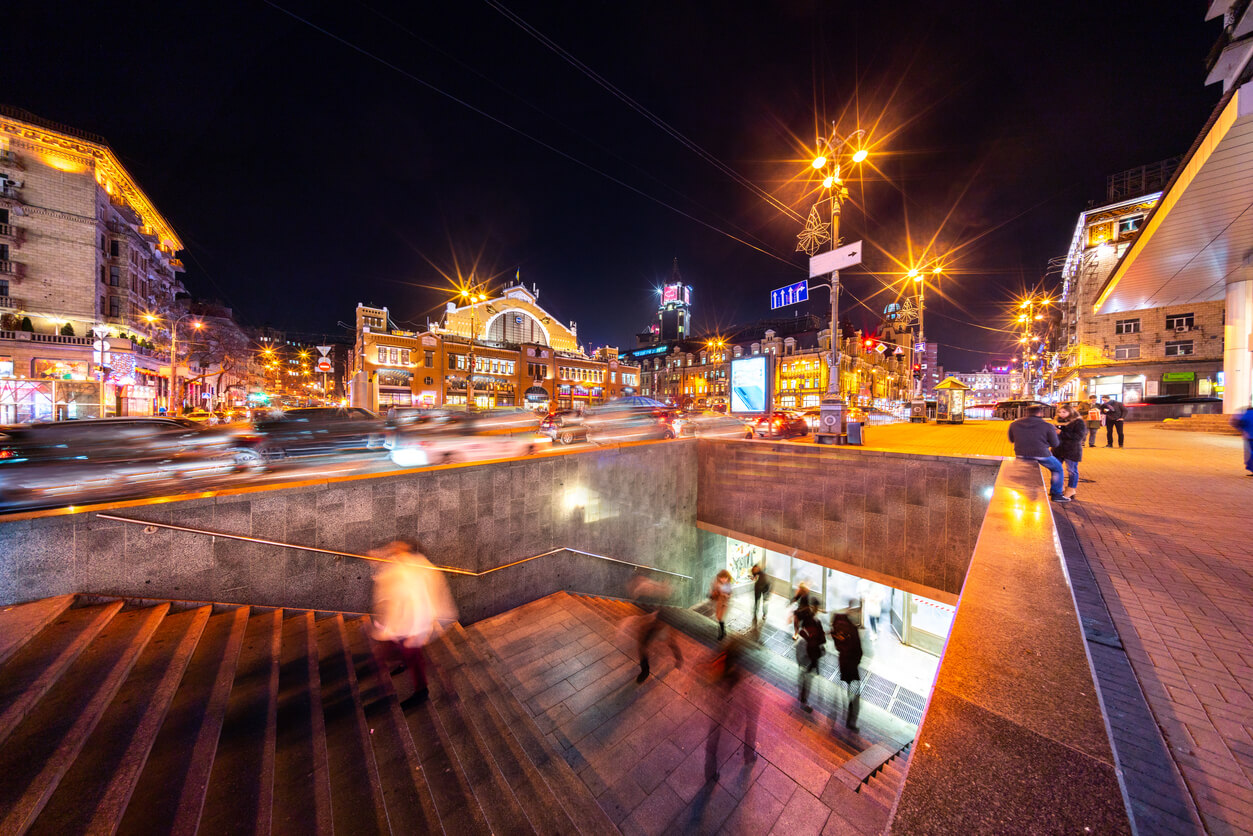 There are many transportation options in Kyiv. Taxis are commonly used. Metros, trams, funicular, trolleybus, bus, marshrutkas (public minibus), railway train, light rail, and suburban are public transportation options in Kyiv. All the information about each public transportation including the map, name of the stations, tickets, ticket price, distance, intervals, work days and time information can be reached from Kyiv Public Transportation Web page and Ukraine Travel Center web page. 
Metro lines (M1-red, M2 – blue  M3 – green) go through the city center. There are 3 transfer points: "Majdan Nezalezhnosti" (blue) to "Kreshhatyk" (red), "Teatralna" (red) to "Zoloti Vorota" (green) and "Palatc sportu" (green) to "Ploshcha Lva Tolstogo" (blue). All the stations are announced and displayed on the screens in the metro. Maps are translated into English. Metro working hours are between 6:00 to 24:00. There are different versions of metro tickets (monthly, PayPass, cards with magnetic tapes, refillable metro cards). You can buy a simple token from the ticket machines in stations. 
The best transportation ticket option for tourists is "Kyiv Smart Card", which is one ticket for all Kyiv public transportation including trams, trolleybuses, funicular, suburban electric train, marshrutkas, subway, and buses. The Smart card is not refundable and expires in 1 year after its first use. In addition, the balance is not transferable. 
You can obtain this card from Kyiv Metro Ticket Offices. Moreover, you can purchase the smart card from self-service boxes (Ibox, EasyPay, PrivatBank, 2Click),  kiosks ( "Press", TourInfo, T-Kiosks), on payment portals (Ipay, Portmone, EasyPay, Privat24) and over Privat24 App. 
Kyiv smart card price changes according to the number of trips that are covered. Currently, there are six types of tickets based on trip numbers; 1-9 trips, 10-19 trips, 20-29 trips, 30-39 trips, 40-49 trips, and 50 trips.